On the second Friday of each month in 2019 we have been studying one of the most memorized chapters in the Bible: PSALM 23. Join me for this last installment in the series.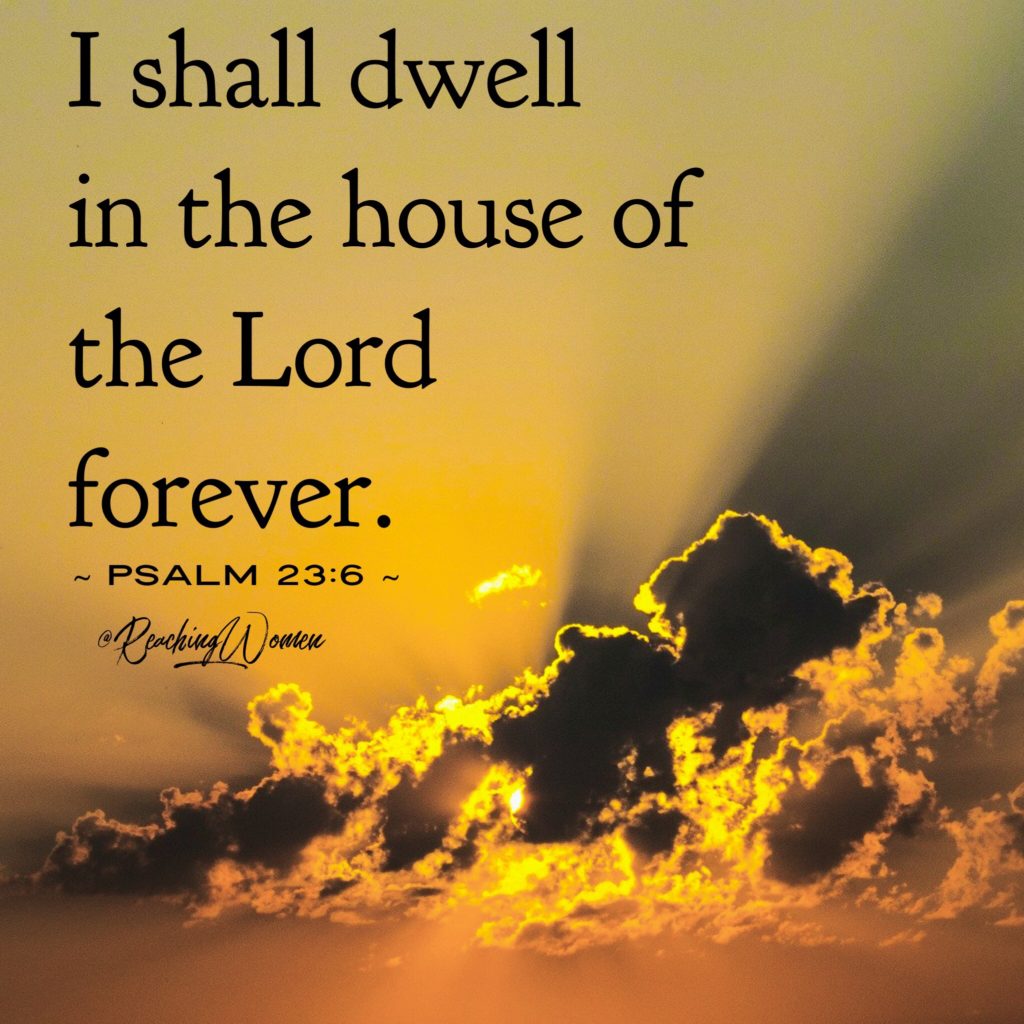 As we near the end of the year and our Psalm 23 study, I'm ruminating on ways to describe this famous chapter of Scripture. It is beautifully inspiring and certainly one of the most memorized portions of Scripture ever written.
For many, myself included, Psalm 23 is a place of solace and security; a place of hope and healing; a source for meditation during times of difficulty, loneliness and anxiety.
I can't count the times I've prayed Psalm 23 while tossing and turning during a sleepless night. Or in times of uncertainty, indecision and just plain exhaustion trying to deal with life… again Psalm 23 consistently brings a balm of comfort and peace.
This particular stanza we have before us today encourages us of the future we have for eternity with Christ. No matter what we may be experiencing today, we can rest in the hope that one day we will be at home with God, in that beautiful mansion Jesus told His disciples that He was going to prepare for all of us. What a vision of peace and glory to hold on to!
If you haven't put this chapter to memory, I highly recommend you take some time to do that. There's nothing like having Scripture hidden away in your heart, when it's needed at  a moment's notice.
Now let's take a look at the full chapter of Psalm 23.
Each of the stanzas below are hyperlinked to their corresponding columns that we've been studying this year for you to review. Enjoy…
HE MAKES ME TO LIE DOWN IN GREEN PASTURES;

HE LEADS ME BESIDE THE STILL WATERS.

HE LEADS ME IN THE PATHS OF RIGHTEOUSNESS FOR HIS NAME'S SAKE.

YEA, THOUGH I WALK THROUGH THE VALLEY OF THE SHADOW OF DEATH, I WILL FEAR NO EVIL; FOR YOU ARE WITH ME;

YOUR ROD AND YOUR STAFF, THEY COMFORT ME.

YOUR PREPARE A TABLE BEFORE ME IN THE PRESENCE OF MY ENEMIES;

YOU ANOINT MY HEAD WITH OIL; MY CUP RUNS OVER.

SURELY GOODNESS AND MERCY SHALL FOLLOW ME ALL THE DAYS OF MY LIFE;

AND I WILL DWELL IN THE HOUSE OF THE LORD FOREVER.
As you contemplate this poignant portion of Scripture I hope you will take a few moments to watch/listen to Audrey Assad's version of Psalm 23 exquisitely put to music. Love, peace and blessings…