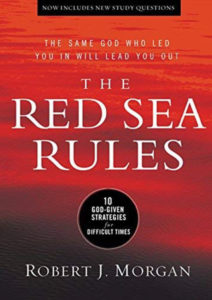 The Red Sea Rules: 10 God-Given Strategies for Difficult Times
by
Difficulties and challenges are not strangers to most of us. And during these trying times it's helpful to have a voice of experience that can help walk us through. This is what The Red Sea Rules by Robert J. Morgan does for us.
A dear friend recently introduced me to this simple, yet profound, little book. She's been through trying times these last few years and told me that this book has helped her make it through. Because it was so important to her she kept her copy of The Red Sea Rules on her night stand so she could read it regularly.
After I was able to look at my friend's book I quickly ordered my own copy. I've been going through it as a devotional on the weekends for the last couple of months.
Using the Exodus 14 story of the Israelites as an example, Robert Morgan shares 10 God-given strategies for walking from fear to faith during difficult times. Here is a sampling:
Red Sea Rule  #1:  Realize that God means for you to be where you are.
Red Sea Rule  #2:  Be more concerned for God's glory than for your relief.
Red Sea Rule  #3:  Acknowledge your enemy, but keep your eyes on the Lord.
Red Sea Rule  #4:  Pray!
Red Sea Rule  #5:  Stay calm and confident, and give God time to work.
Red Sea Rule  #6:  When unsure, just take the next logical step by faith.
Red Sea Rule  #7:  Envision God's enveloping presence.
Red Sea Rule  #8: Trust God to deliver in His own unique way.
Red Sea Rule  #9:  View your current crisis as a faith builder for the future.
Red Sea Rule #10:  Don't forget to praise Him.
I've really been enjoying these sweet inspirational readings. The chapters are short which makes The Red Sea Rules perfect for a devotional reading time. Each chapter offers a few questions for reflection at the end.
I highly recommend The Red Sea Rules by Robert J. Morgan. This book is one I'll be reading over and over again. I hope you will consider getting copy. It's a great gift idea for the upcoming Christmas season. Another wonderful thing… The publisher has provided a discount for bulk purchases. If you want to give them away as gifts you can buy them here in bulk for less.
Enjoy this brief video of Robert J. Morgan telling about his wonderful book: The Red Sea Rules.