On the second Friday of each month in 2019 we will be studying one of the most memorized chapters in the Bible: PSALM 23. Join me as we bring fresh application of this beloved psalm to our lives.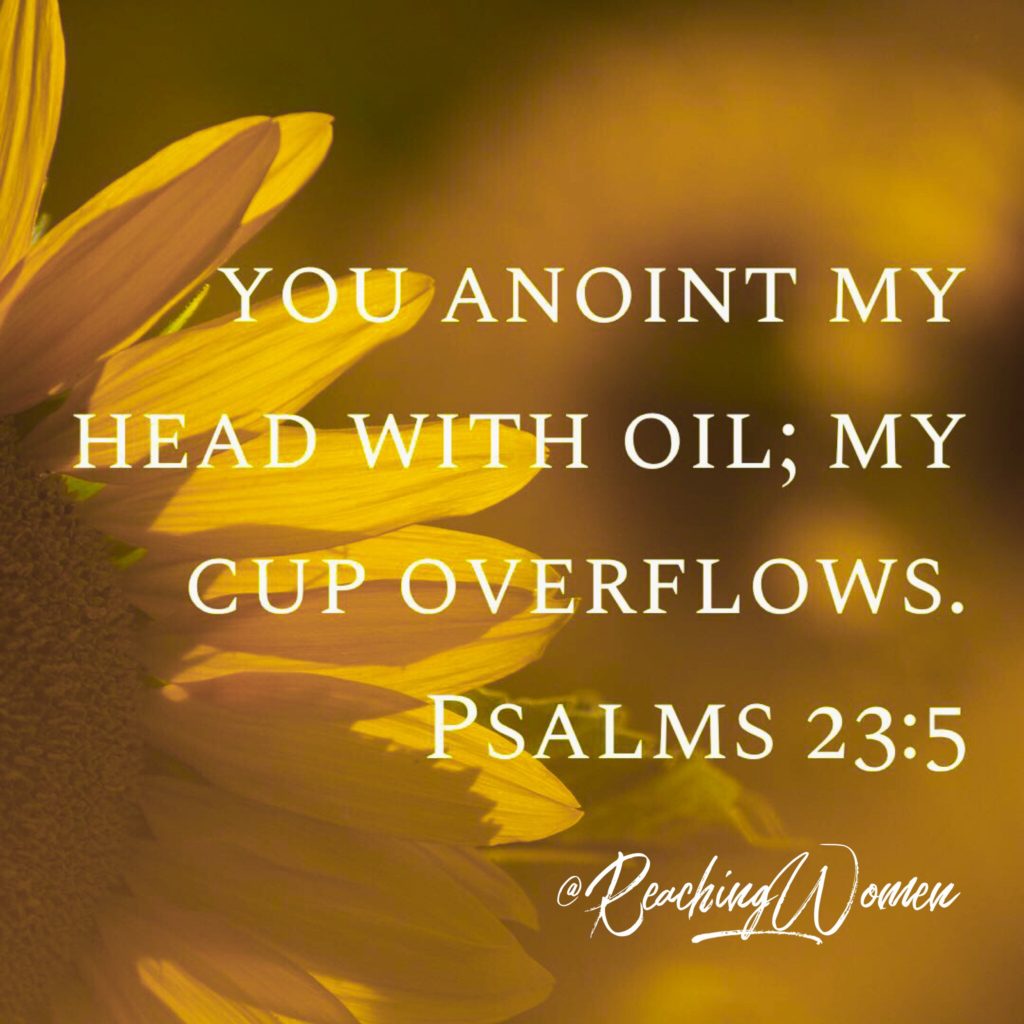 " The Lord is my Shepherd; I shall not want. He makes me to lie down in green pastures, He leads me beside the still waters. He restores my soul. He leads me in the paths of righteousness for His name's sake.
Yes, though I walk through the valley of the shadow of death, I will fear no evil; for You are with me; Your rod and Your staff they comfort me.
You prepare a table before me in the presence of my enemies; You anoint my head with oil; My cup runs over…"
In this section of Psalm 23 we see God represented as our Heavenly Host instead of our Shepherd. He has prepared a feast for us even though we are surrounded by enemies. During Biblical days a proper host would anoint their guests as a sign of honor and hospitality, as well as refreshment.
When priests, kings and various people were anointed in the Old Testament the sacred oil that was poured over their head signified that they were being set apart for divine use, they are now established to represent God to the people and that they were now empowered by the Holy Spirit for tasks at hand.
Today, we aren't anointed in this traditional way, rather we've been anointed by the Holy Spirit when we are born again. The symbolism of the oil anointing can be applied to the Holy Spirit anointing as well.
When we are anointed by the Holy Spirit: 
We have been honored by God.

We have been set apart for God's service.

We have been designated as God's representative.

We have been empowered to perform the tasks set for us.
Looking at the anointing by the Holy Sprit in this light gives it such a stronger meaning. Another thing to consider when God anoints us it isn't a one time thing. The anointing is always flowing. It's overflowing God's power, healing and blessings in our lives!
If you haven't accepted Christ as your Lord and Savior today is the best day to do that. Simply call out Jesus' name, ask Him to come into your heart and to set you free. Ask the Holy Spirit to anoint you with His blessings, power and healing today!
Allow the Holy Spirit to anoint you like a flood with this powerful spontaneous worship song by Molly Skaggs and Bethel Music.