On the second Friday of each month in 2019 we are studying one of the most memorized chapters in the Bible: PSALM 23. Join me as we bring fresh application of this beloved psalm to our lives.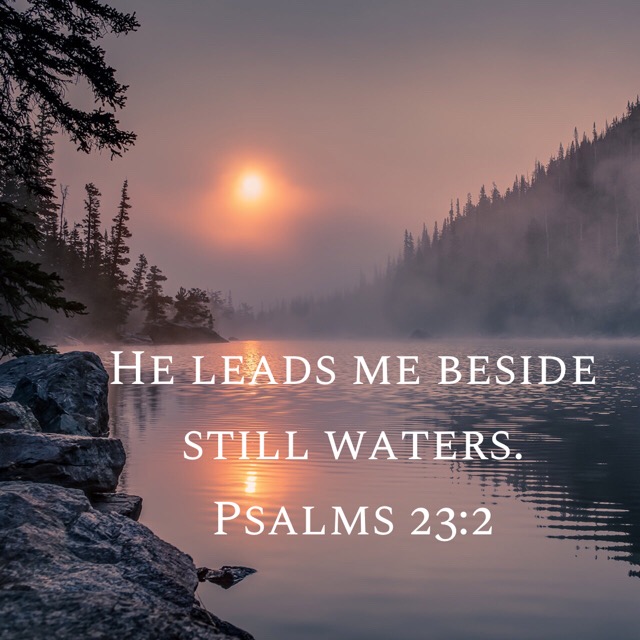 The Lord is my Shepherd; I shall not want. He makes me to lie down in green pasture, he leads me beside still waters…
We weren't created to live in state of frenzy… stressing to make it to the next paycheck so we can pay off the debt we accumulated buying things we never use… Hustling to make it to the next rung on the corporate ladder so we can feel better about ourselves.
Life seems to be focused on what we don't have today. Many of us are stretching ourselves to the breaking point just to get the next best newer things.
When God created Adam and Eve He gave them a peaceful home. They were privileged to live in a Garden created just for them where they walked with God in the cool of the morning. Because The Garden of Eden was the perfect home, I imagine it must have had a beautiful lake where Adam and Eve could sit by the still waters and enjoy the evening sunset with God at their side.
For me one of my most relaxing things is to sit beside water. Whether it's the ocean, a lake, a river or stream it makes no difference. Water soothes my soul. It brings peace to my spirit and resets my mind after a hard week.
Sheep require still waters before they will drink. Sheep are nervous around moving water and they won't drink. Because they fear flowing water they're unable to be refreshed unless the water is still.
We need to find stillness to be refreshed. This is a good lesson for us. It might not happen every day, but we can make a point to regularly find a place of stillness to spend alone time with ourselves and God.
Let technology help if you can't get to a natural source of water. There are apps and Internet videos galore that can give you a sense of being near water. I listen to an app during my lunch break at work most days. It helps me to rest, reset and prepare for the afternoon.
Seek time with the Living Water. In Scripture Jesus is called the Living Water. So as we're able to spend time reading God's Word our soul and spirit will be refreshed.
"All you thirsty ones, come to me! Come to me and drink! Believe in me so that rivers of living water will burst out from within you, flowing from your innermost being, just like the Scripture says!" ~ John 7:37-38
Contemplate the Still Waters that God provides to refresh your soul today as you watch/listen to this lovely video by Stephanie Bayne.