On the second Friday of each month in 2019 we are studying one of the most memorized chapters in the Bible: PSALM 23. Join me as we bring fresh application of this beloved psalm to our lives.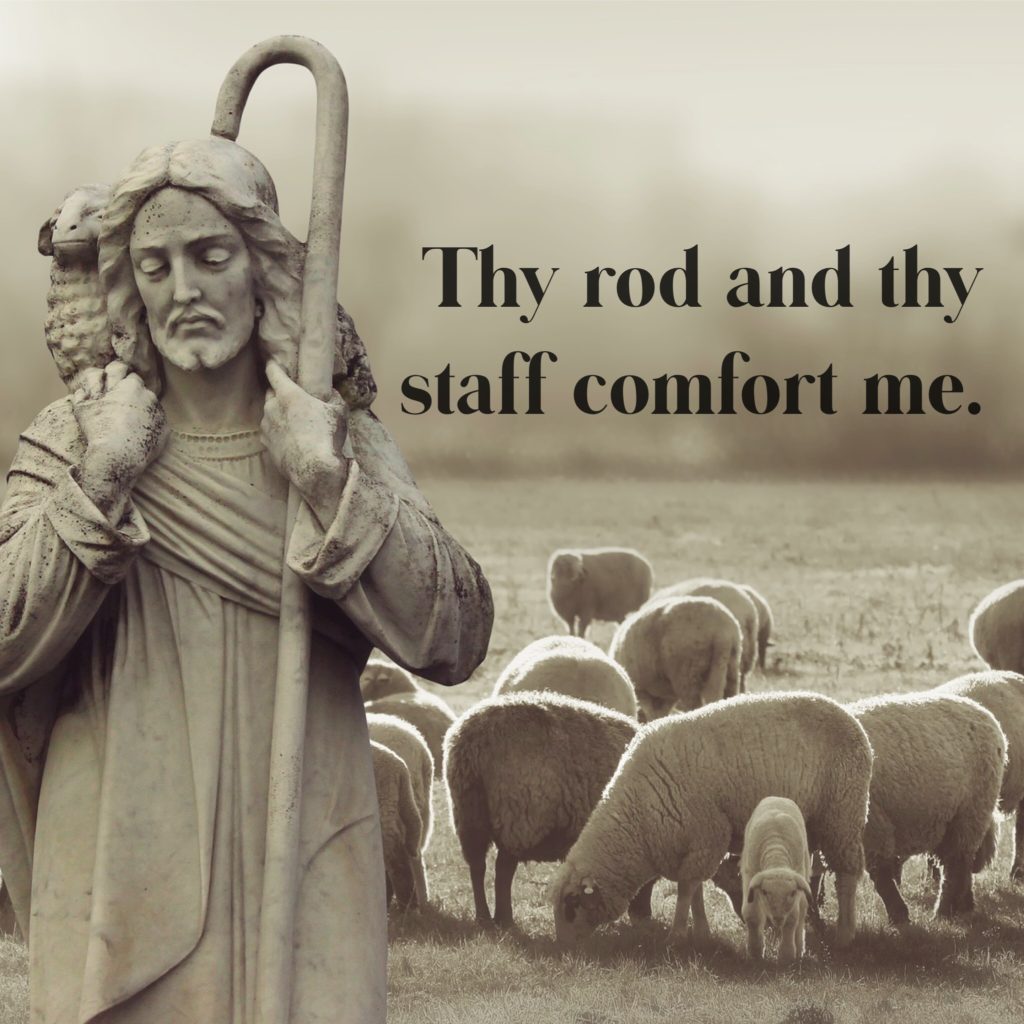 The Lord is my Shepherd; I shall not want. He makes me to lie down in green pastures, He leads me beside the still waters. He restores my soul. He leads me in the paths of righteousness for His name's sake. Yes, though I walk through the valley of the shadow of death, I will fear no evil; for You are with me; Your rod and Your staff they comfort me.
In the shepherd fields of David's day the sheep depended on their shepherd for everything. Because sheep aren't very smart creatures they need guidance to food and water; protection from predators and from getting lost or hurt. If a sheep wondered off from the fold they could easily get lost and die.
In his most famous psalm, David uses the rod to represent discipline and protection. While the staff represents grace and comfort.
When a sheep got lost it could look up and see the shepherds staff guiding them back to the fold. Or when a sheep got caught in a bush or a ravine the shepherd could use the crook at the top, which is the staff, to rescue it.
In much the same way God is always ready to guide us when we need it or to correct us when necessary. And with His sweet amazing grace He reaches down and rescues us from a bramble bush when we get caught.
Where can we find our Good Shepherd's rod and staff today?
How does God guide, discipline and rescue us today
The revelation of God is whole
    and pulls our lives together.
The signposts of God are clear
    and point out the right road.
The life-maps of God are right,
    showing the way to joy.
The directions of God are plain
    and easy on the eyes.
God's reputation is twenty-four-carat gold,
    with a lifetime guarantee.
The decisions of God are accurate
    down to the nth degree.
God's Word is better than a diamond,
    better than a diamond set between emeralds.
You'll like it better than strawberries in spring,
    better than red, ripe strawberries.
There's more: God's Word warns us of danger
    and directs us to hidden treasure.
Otherwise how will we find our way?
~ Psalm 19:7-11 (The Passion Translation)
Certainly God uses people and circumstances to direct, protect and discipline us. But primarily today God guides us through His living Word: The Holy Bible.
This is why it's so important that we stay close to God's Word everyday! As sheep, we're easily distracted. We may wonder off and put ourselves in a tempting, even dangerous situation.
Just like a loving parent, whose child has wondered away from them, we may need to be rescued and then disciplined. It's sometimes hard, but we need to see our corrections and rescues as comfort from a loving father.
With this sweet song by Ellie Holbomb contemplate God's loving arms reaching out to comfort you today.