REACHING HURTING WOMEN MINISTRIES
 OFFERS FOUR THEMES FOR STUDY AND CONTEMPLATION EVERY MONTH OF THE YEAR.
EACH OF THE FOUR POWER-PACKED THEMES ARE A 12-MONTH STUDY SERIES ASSIGNED TO A SPECIFIC FRIDAY OF EVERY MONTH. IN MONTHS WITH FIVE FRIDAYS I'LL BE REVIEWING TOUCHING INSPIRATIONAL MUSIC.
On the first Friday of each month in 2021 we will be studying Psalm 91. We'll be learning this powerful psalm and applying its phenomenal promises to our life one phrase at a time.  We complete our study series today with verse 16.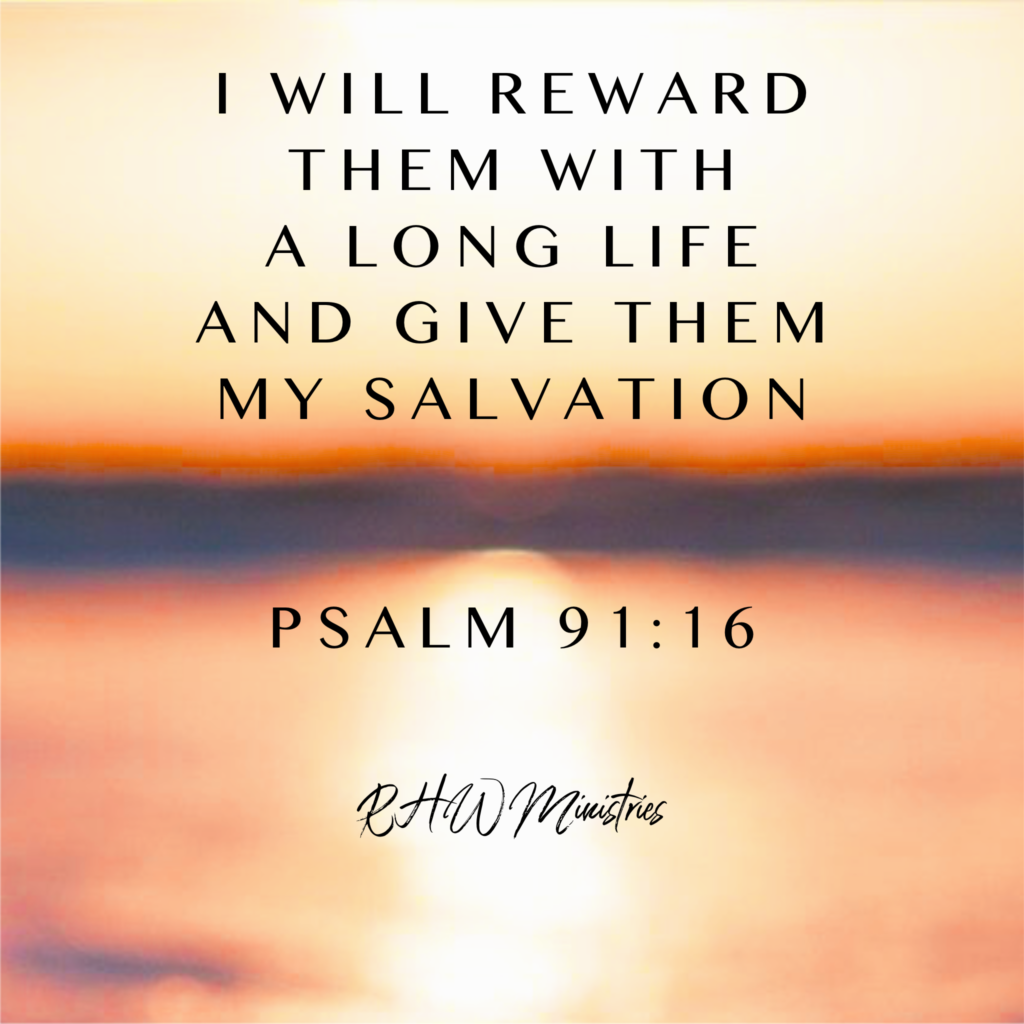 I will reward them with a long life

and give them my salvation.~ Psalm 91:16
This final verse may possibly be the most important verse of Psalm 91. In essence it wraps up the entire theme and purpose of this chapter. If after studying this powerful Psalm you still doubt that God loves you and wants a good life for you, this verse will be the answer you are looking for. However, it's up to us to take God at His Word and receive His promises as our very own!
CHECK WHERE YOUR FOCUS IS
The challenge comes in our day-to-day living. As human beings we become easily distracted by the world situations, financial difficulties, health problems, relationship issues and on the list could go. Even in the midst of all that, God is with us and for us. Instead of keeping our eyes on the world level we must bring our faith focus up to God's level. Look to God. Look to His promises. That is how they will be revealed and manifested in our reality.
I came so they can have real and eternal life, more and better life than they ever dreamed.~ John 10:10
WORSHIP THE LORD IN THE BEAUTY OF HIS HOLINESS
The book of Psalms is basically a hymn book. These poems were written to be sung in worship to the Lord. There is power in our worship. When we worship the Lord all our distractions and fears fall away.When we worship God we open ourselves up to the guidance of the Holy Spirit. We put ourselves in a place of perfect love, power, grace and protection.
My soul trusts in You; and in the shadow of Your wings I will make my refuge, until these calamities have passed by. ~ Psalm 57:1
In these uncertain times, when fear tries to sway your faith, look to God's promises of protection. Stay intimately close to your Lord and Savior. He wants to be involved in your daily life. The more we depend on Him, the more we will see Him lead us and protect us.
When we fill our mind, heart and mouth with God's promises it will become easier to live confidently without fear. We must turn to our Holy Refuge. When we do, we will see miracles play out in our lives.
Be blessed as you soak in Zoe Music's song about our Holy Refuge.