REACHING HURTING WOMEN MINISTRIES OFFERS FOUR TOPICS FOR CONTEMPLATION EVERY MONTH. EACH TOPIC IS A 12-MONTH STUDY ASSIGNED TO A SPECIFIC FRIDAY OF THE MONTH. IN MONTHS WITH FIVE FRIDAYS WE REVIEW INSPIRATIONAL CHRISTIAN MEDIA.
On the third Friday of each month in 2022 we're focusing our life recovery work on The Twelve Laws of Life Recovery: God's Wisdom and Guidance for Your Journey with Stephen Arterburn and David Stoop. This powerful study will take our life of recovery to a level of freedom most of us haven't yet experienced.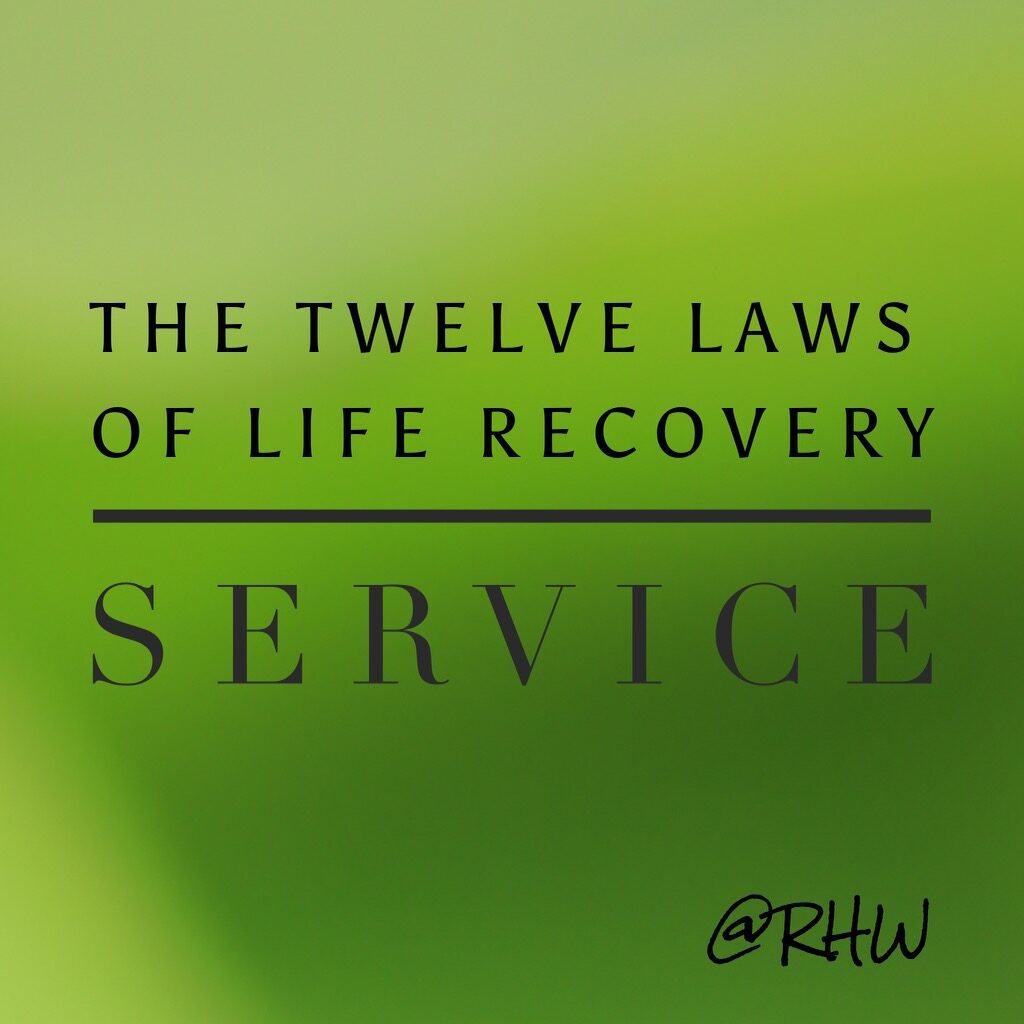 THE TWELVE LAWS OF LIFE RECOVERY 
Each month we're looking at a requirement that guides us to a specific result which will ultimately fill our lives with love, gratitude and the serenity we desire.
THE LAW OF SERVICE
REQUIREMENT: SERVICE
RESULT: REWARD
SERVICE: is labor of body and mind performed for the benefit of another; an attitude of the heart that spurs us to seek ways we can help others.*
In Christ Jesus, God made us new people so that we would do good works. God had planned in advance those good works for us. He had planned for us to live our lives doing them.~ Ephesians 2:10
Many of us in recovery are intimidated by the thought of trying to serve God. We may feel like we've messed up our lives so much that God can never use us.  However, chances are our lives were impacted to change because of another person's story.
"We cannot use our brokenness or imperfections as excuses not to live out a missional life with purpose and meaning. " ~ The Twelve Laws of Life Recovery
People all through the Old and New Testaments messed up. But they were committed and surrendered everything to God and He used them to work out His mission and plan for humanity.
God can do the same with us. When we have the courage to step out in faith and reach others with our story of a victorious life in recovery, our service will be rewarded beyond measure!
Be blessed with this sweet worship song by Daniel Lehmann.
* Webster 1828 Dictionary & The Twelve Laws of Life Recovery