REACHING HURTING WOMEN MINISTRIES OFFERS FOUR TOPICS FOR CONTEMPLATION EVERY MONTH. EACH TOPIC IS A 12-MONTH STUDY ASSIGNED TO A SPECIFIC FRIDAY OF THE MONTH. IN MONTHS WITH FIVE FRIDAYS WE REVIEW INSPIRATIONAL CHRISTIAN MEDIA.
On the third Friday of each month in 2022 we're focusing our life recovery work on The Twelve Laws of Life Recovery: God's Wisdom and Guidance for Your Journey with Stephen Arterburn and David Stoop. This powerful study will take our life of recovery to a level of freedom most of us haven't yet experienced.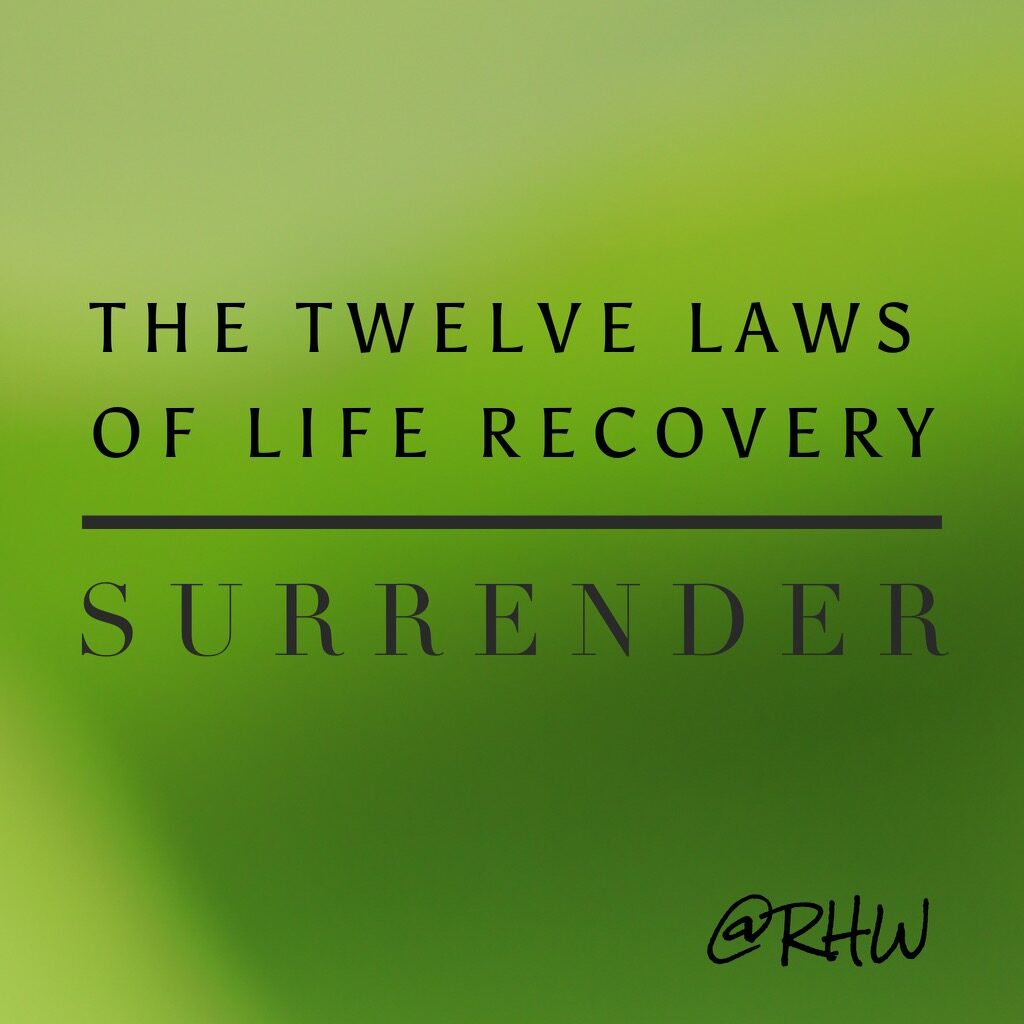 THE TWELVE LAWS OF LIFE RECOVERY 
Each month we're looking at a requirement that guides us to a specific result which will ultimately fill our lives with love, gratitude and the serenity we desire.
THE LAW OF SURRENDER
REQUIREMENT: SURRENDER
RESULT: VICTORY
SURRENDER: a decision to no longer rely on our own wisdom and strength but instead to allow God to help us—both directly and through others—so that we can accomplish good things. If you cannot find it within yourself to take this giant step toward healing, you will not be able to move forward in working the Twelve Steps.  (The Twelve Laws of Life Recovery)
The wisdom from above is first of all pure. It is also peace loving, gentle at all times, and willing to yield to others. It is full of mercy and the fruit of good deeds. It shows no favoritism and is always sincere. ~ James 3:17
In the verse above, James is describing surrender through the humble act of yielding ourselves to others. Our willingness is joined with our surrendering when we say to God that we accept His will versus our own will. Ultimately, our surrendered life will become a celebration of our victory in Christ that others will witness.
Fools think their own way is right,
    but the wise listen to others. ~ Proverbs 12:15
Surrender is critical to a victorious life of recovery. This cannot be overstated. If we continue to follow our own will and ways we will most certainly repeat our past mistakes and failures.
Humble yourselves before the Lord, and He will lift you up. ~ James 4:10
We must make the tough decision to fully surrender to what God's Word says about how life should be lived. It's not about our opinion of whether it is right or wrong. It's about being blessed because of our obedience.
I pray you are blessed by this victorious worship song below.