REACHING HURTING WOMEN MINISTRIES OFFERS FOUR TOPICS FOR CONTEMPLATION EVERY MONTH OF THE YEAR. EACH TOPIC IS A 12-MONTH STUDY SERIES ASSIGNED TO A SPECIFIC FRIDAY OF EVERY MONTH. IN MONTHS WITH FIVE FRIDAYS I'LL BE REVIEWING VARIOUS INSPIRATIONAL CHRISTIAN MEDIA.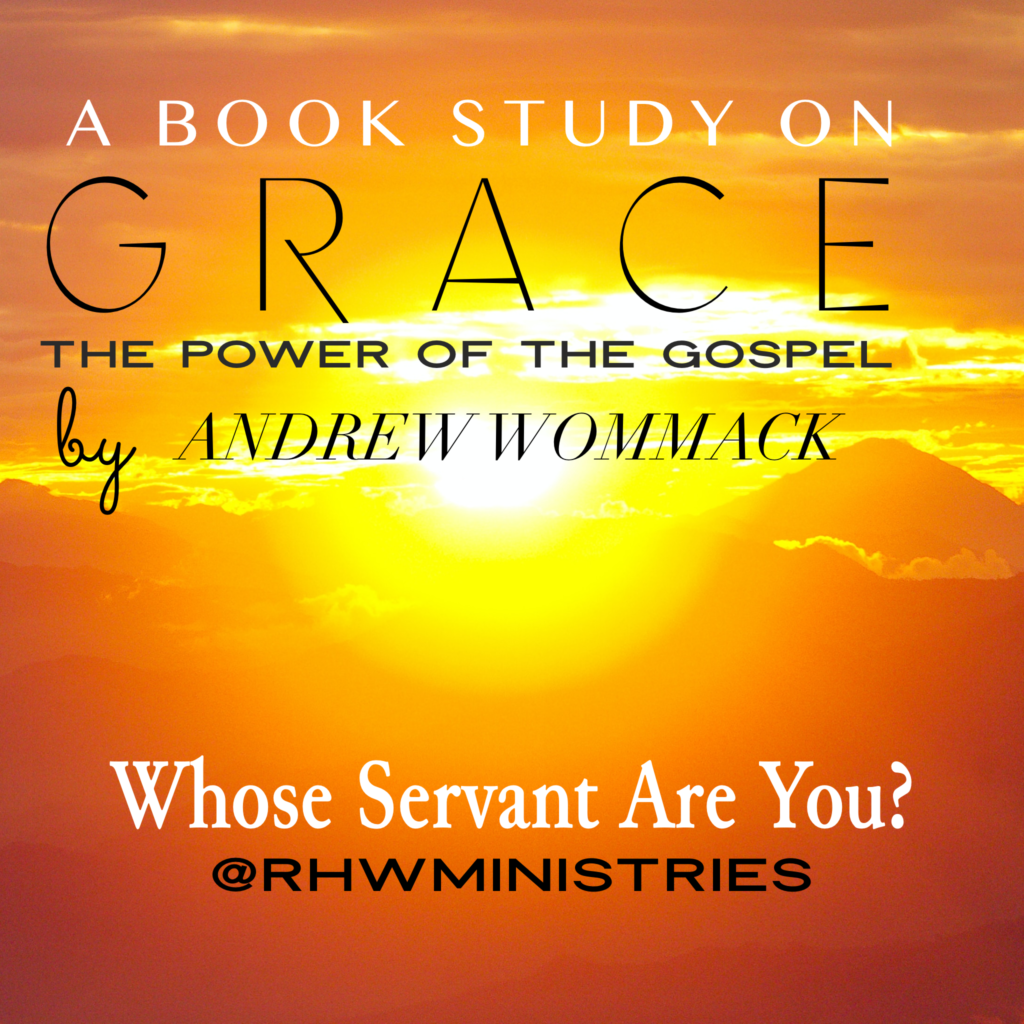 On the second Friday of each month in 2022 we're studying Andrew Wommack's life-changing book: GRACE: The Power of the Gospel. In this study we dig into the New Testament book of Romans — Apostle Paul's masterpiece on the subject of grace. I hope you will get a copy of Andrew's book and join me for this study. Today we highlight chapters nine, ten and eleven. Enjoy!
CH. 9: YIELDED TO SATAN OR JESUS
Sin reigned with life under the law, condemning all to eternal death. But because of what Jesus Christ has done for us on the cross, grace now reigns bringing all who accept Him, the gift eternal life.
Does it mean we are free to sin, because we are ruled by God's gift of undeserved grace and not by the Law? Certainly not! Don't you know that you are slaves of anyone you obey? You can be slaves of sin and die, or you can be obedient slaves of God and be acceptable to him. ~ Romans 6:15-16
Living an unholy life won't keep God from loving us. But it will allow Satan access to us that we don't want. Satan comes to steal, kill and destroy. So when we live a sinful life we open ourselves up to his evil tactics.
"God's grace teaches us to live a holy life." ~ Andrew Wommack
If we fully understand the power of the God's grace in our lives it will break the dominance of sin over us. As we continue growing in our relationship with God, we will naturally have the fruit of holiness as a result of our right standing with Him.
CH. 10: DESIRE PURITY
When we are born-again we become like Jesus in our spirits. We will become like Jesus in our minds and bodies when He returns. Like we stated above, under grace we manifest holiness and desire to fulfill an inner desire for purity.
Don't let sin keep ruling your lives. You are ruled by God's undeserved grace and not by the Law. ~ Romans 6:14
If we live our life under the law with a performance based relationship with God, we will empower sin in our life. But as we begin to allow our born-again, new nature to rule, our actions will begin to be purified.
"To the degree that you give yourself totally over to the things of God, I believe you can live free from sin." ~ Andrew Wommack
Because we are born-again in Jesus, Satan can't discredit the righteousness or right standing we now have in God, through Christ. He can no longer hold our unworthiness over our heads as a tool to distract and brow-beat us. He has lost all his power over us and will lose all those arguments because we have Jesus' Name over us now!
CH. 11: You Are What You Think
So letting your sinful nature control your mind leads to death. But letting the Spirit control your mind leads to life and peace. ~ Romans 8:6
Our heart is like a garden and our thoughts in our mind are the seeds that eventually take root in our heart and grow into actions that manifest in our lives in time. If we are constantly seeing ourselves as the old person we once were before we were born-again, we will continue to be that old person inside and out.
"You can tell what you've been thinking by what you're reaping. If you aren't reaping life and peace, then you haven't been spiritually minded." ~ Andrew Wommack
If we have been born-again with the Spirit of Christ in us, we aren't that old person any longer. Praise God we have been make new! All those old ways are gone away. We have become new, inside and out. That includes our thought process. But we must be intentional to stay in God's Word and continue to renew our minds each and everyday.
Be blessed by this teaching video from Andrew Wommack!