REACHING HURTING WOMEN MINISTRIES OFFERS FOUR TOPICS FOR CONTEMPLATION EVERY MONTH OF THE YEAR. EACH TOPIC IS A 12-MONTH STUDY SERIES ASSIGNED TO A SPECIFIC FRIDAY OF EVERY MONTH. IN MONTHS WITH FIVE FRIDAYS I'LL BE REVIEWING INSPIRATIONAL MEDIA.
On the first Friday of each month in 2022 we're studying the Ten Commandments; why we need to know, memorize and obey them.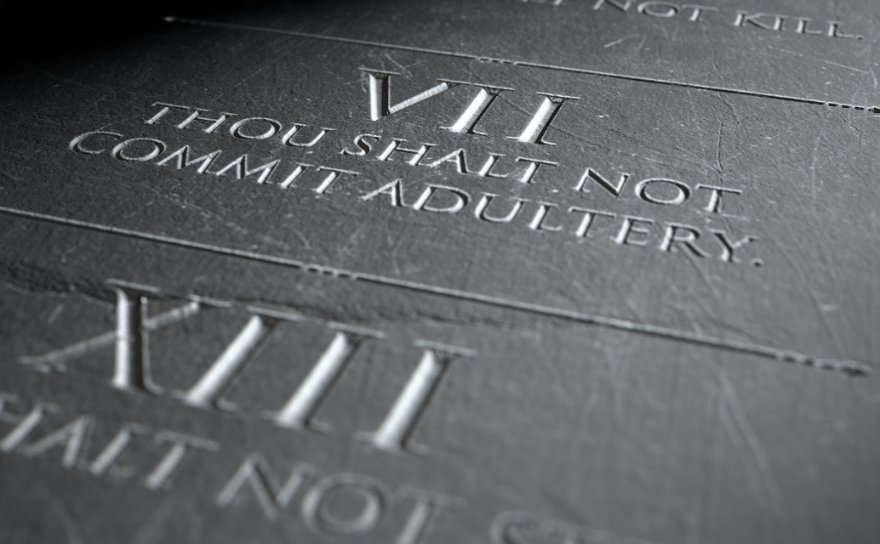 Do not commit adultery. ~ Exodus 20:14
ADULTERY: the unfaithfulness of any married person to the marriage bed; a betrayal and rejection of God's instructions.
In today's society adultery is rarely talked about and it is all but ignored from most pulpits. Our modern culture has become so desensitized to the promiscuity played out before our eyes in the media that it is accepted as normal, sadly even among Christians. But what most people forget is that God sees everything we do!
CREATED BY DESIGN
Then the Lord God said, "It is not good for the man to be alone. I will make a helper who is right for him." From the ground God formed every wild animal and every bird in the sky. He brought them to the man so the man could name them. Whatever the man called each living thing, that became its name. The man gave names to all the tame animals, to the birds in the sky and to all the wild animals. But Adam did not find a helper that was right for him. So the Lord God caused the man to sleep very deeply. While the man was asleep, God took one of the ribs from the man's body. Then God closed the man's skin at the place where he took the rib. The Lord God used the rib from the man to make a woman. Then the Lord brought the woman to the man. And the man said,

"Now, this is someone whose bones came from my bones.
    Her body came from my body.
I will call her 'woman,'
    because she was taken out of man."

So a man will leave his father and mother and be united with his wife. And the two people will become one body. ~ Genesis 2:18-24
A COVENANT RELATIONSHIP
In Genesis when God created marriage, He created a covenant relationship between a man and a woman that was to be sacred, exclusive, binding and life-lasting between them alone. The sanctity of marriage provides joy, safety and comfort for those who protect it. Our goal in marriage should be more than just a loving friendship but oneness in the Lord.
As with all the other Commandments, this rule is designed to protect us from the potential harm we can bring on ourselves, our community and ultimately our civilization.
"Marriage is not an accidental but a purposeful, essential element of creation. It is not a convention to be adopted as a humanly devised experiment, nor is it a consequence to be absorbed. It is a divine institution providing the cornerstone of civil society. It is, if you like, quite simply, God's idea." ~ Alistair Begg  (Pathway to Freedom)
GUARD WHAT GOD HAS GIVEN YOU
My child, pay attention to my words.
Listen closely to what I say.
Don't ever forget my words.
Keep them deep within your heart.
These words are the secret to life for those who find them.
They bring health to the whole body.
Be very careful about what you think.
Your thoughts run your life.
Don't use your mouth to tell lies.
Don't ever say things that are not true.
Keep your eyes focused on what is right. ~ Proverbs 4:20-25
PROTECT YOUR MARRIAGE
Those of us who are married, or planning to be married, should look at this commitment very seriously. Not only taking the time to get to know each other but committing high and strong boundaries to protect the precious gift we have been given in our husband.
We need to be on guard at all times, watching for the enemy who will try and trick us. One of the biggest challenges in marriage is the power of the human sex drive. And I believe the best way to manage that is to guard our senses and our thoughts. If we keep watch on who we are friends with, what we look at, listen to, and especially where we go and what we do. We will have greater success with marital fidelity if we do.
"We need to appoint moral sentries to guard our hearts, because losing the battle there is often the first step on the road to disaster. " ~ Alistair Begg  (Pathway to Freedom)
HAVE HIGH BOUNDARIES
When I say I have high boundaries on my life, I don't mean white picket fence type boundaries. No. I have tall cement barrier boundaries, the ones like you see on the side of freeways. I learned a long time ago, I must with all diligence protect who I am influenced by, what goes in my mind and heart. Because what I let in there may try to build a nest that can destroy my marriage and possibly my life.
I have hidden your word in my heart,
    that I might not sin against you. ~ Psalm 119:11
KEEP GOD'S WORD UP FRONT
Last but certainly not least is keeping God's Word in first place. Read God's Word often and put it to memory to protect your mind and your marriage. It literally is your life-line! The more of God's Word we keep in, the better chance we have of keeping out the evil messages floating around the world today.
I pray you will take this message to heart. All of these things will protect you from the potential for temptation that the enemy will definitely put in your path.
UPDATE YOUR MEMORY
Our memory aid for the Seventh Commandment shows us the image of a heart broken in the shape of a 7. This image reminds us when we don't honor the bounds of marriage and commit adultery hearts are broken.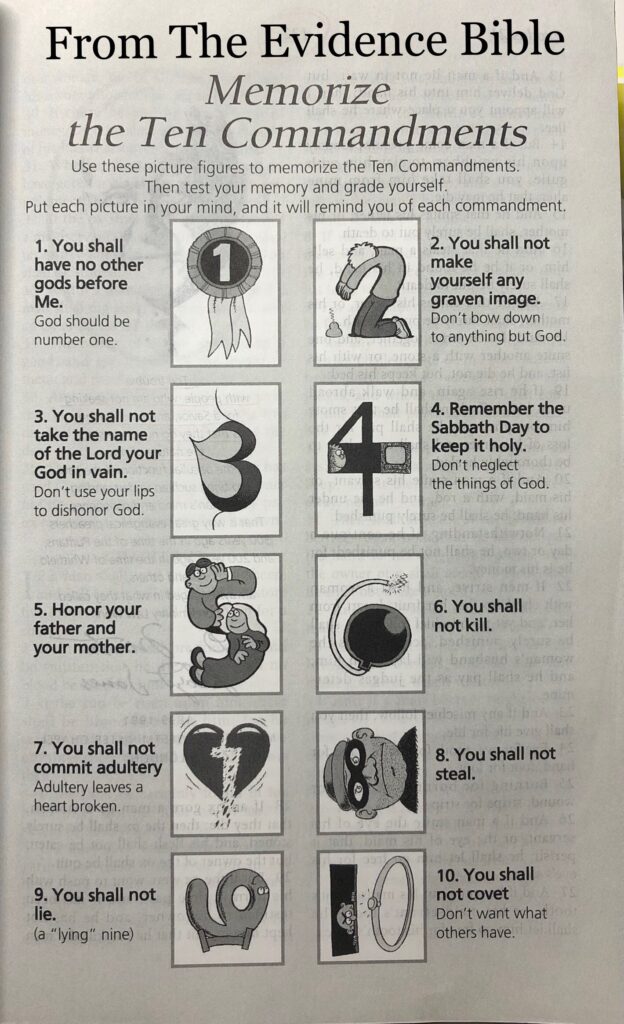 Take a few minutes and glean wisdom from Dennis Prager's teaching on The Seventh Commandment. Be blessed!
RESOURCES:
The Evidence Bible
Thompson Chain Reference Bible
New Living Parallel Study Bible*
Spirit-Filled Life Bible
The Rational Bible: Genesis by Dennis Prager
The Rational Bible: Exodus by Dennis Prager
The 10 Commandments: What They Mean, Why They Matter, and Why we Should Obey Them by Kevin DeYoung
Pathway to Freedom: How God's Laws Guide Our Lives by Alistair Begg
The Ten Commandments: Reasonable Rules for Life by Dwight L. Moody
The Evidence Bible: Ten Commandments Memory Aid