AT RHW WE PUBLISH A NEW COLUMN EACH FRIDAY. WE'RE GOING THROUGH FOUR SPECIFIC STUDIES WITH EACH SERIES BEING PUBLISHED ON A DESIGNATED friday OF THE MONTH.
In THE RED SEA RULES series we're using the wonderful book by Robert J. Morgan as our guideline for a deep study of Exodus 14. Join me on the fourth Friday of each month in 2020 as we apply Morgan's "10 God-Given Strategies for Difficult Times" to our lives today.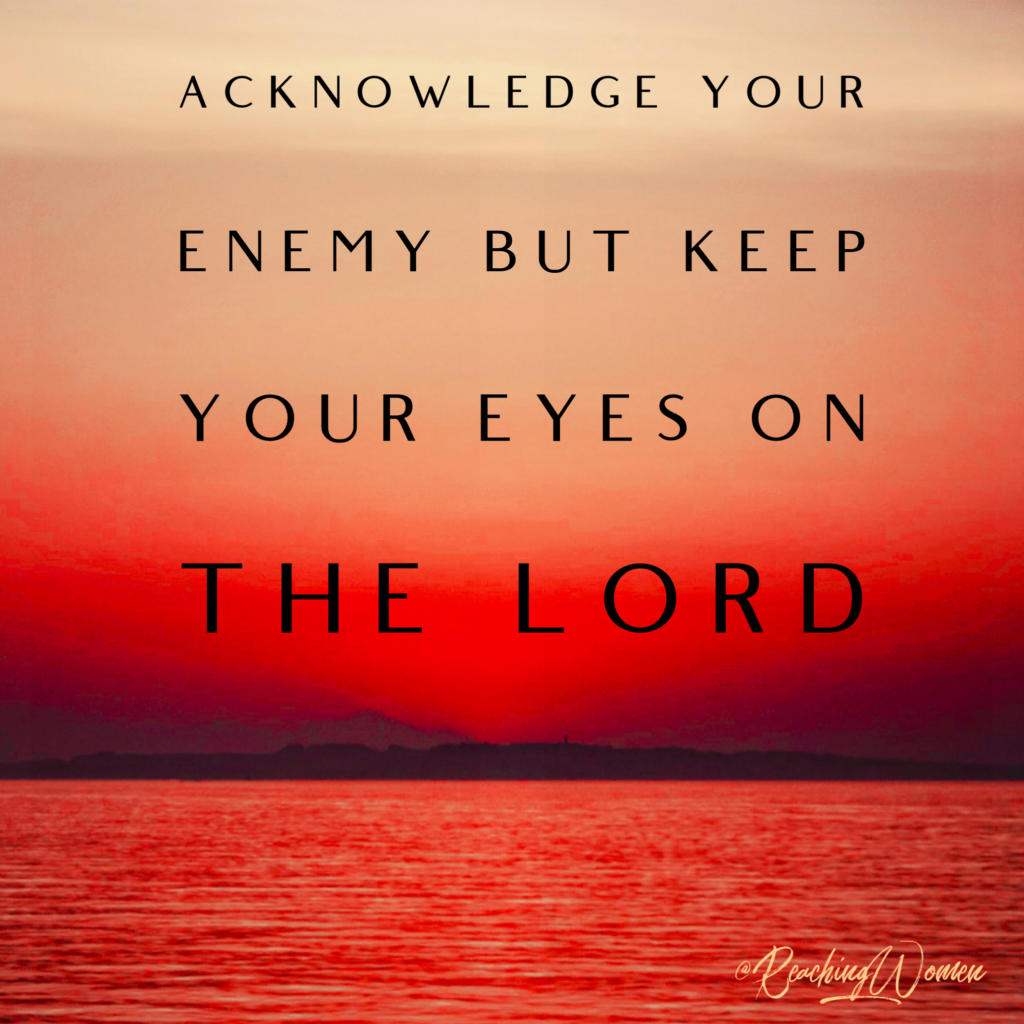 RED SEA RULE 3: Acknowledge your enemy, but keep your eyes on the Lord.
Now it was told the king of Egypt that the people had fled, and the heart of Pharaoh and his servants was turned against the people; and they said, "Why have we done this, that we have let Israel go from serving us?" So he made ready his chariot and took his people with him. Also, he took six hundred choice chariots, and all the chariots of Egypt with captains over every one of them. . . .  So the Egyptians pursued them. ~ Exodus 14:5-9
Satan Pursues Us
Like Pharaoh's army pursued the Israelites, Scripture tells us we too have an enemy ceaselessly pursuing us.  We mustn't take this lightly because Satan certainly doesn't. He is like a roaring lion seeking whomever he can devour. And like a lion in the jungle, the easy prey are the weak or those who let down their guard.
"Satan doesn't surrender his prey without a fight. He comes racing after the converted soul, chariot wheels churning the dust, seeking to discourage, you to defeat you. He pursues you with the intensity of Pharaoh. . .  Acknowledge Satan's activity, but don't be intimidated by him. You can resist him in the power God and by the blood of Jesus Christ. . .  When we resist his wiles, when we shake off discouragement, Satan falls from heaven faster than lightning. He is drowned in the Red Sea of the blood of Jesus Christ." ~ Robert J. Morgan

"Submit yourselves, then, to God. Resist the devil, and he will flee from you. Come near to God and he will come near to you. . .  Humble yourselves before the Lord, and he will lift you up." ~ James 4:7-8, 10
Don't Be Easy Prey
We can't foolishly live as easy prey for Satan. We must be aware and always on our  guard. To prevent ourselves from succumbing to the enemy's attacks we must humbly submit and draw near to God.
As we humble ourselves before God He will lift us up. Even in times of confusion, when we feel blocked by a seemly dead end, God will protect us. He provide an escape just in time!
"We all experience times of testing, which is normal for every human being. But God will be faithful to you. He will screen and filter the severity, nature, and timing of every test or trial you face so that you can bear it. And each test is an opportunity to trust him more, for along with every trial God has provided for you a way of escape that will bring you out of it victoriously." ~ 1 Corinthians 10:13 (TPT)
Contemplate the many victories you've had in God with this powerful song by Bethel Music.