AT RHW WE PUBLISH A NEW COLUMN EACH FRIDAY. WE'RE GOING THROUGH FOUR SPECIFIC STUDIES WITH EACH SERIES BEING PUBLISHED ON A DIFFERENT FRIDAY OF THE MONTH.
In The Lord's Prayer Jesus is teaching his disciples how to pray, giving them not just a prayer to recite, but also a model prayer for us all. On the first Friday of each month in 2020 we will study this beloved prayer phrase by phrase and bring fresh application to our lives for today.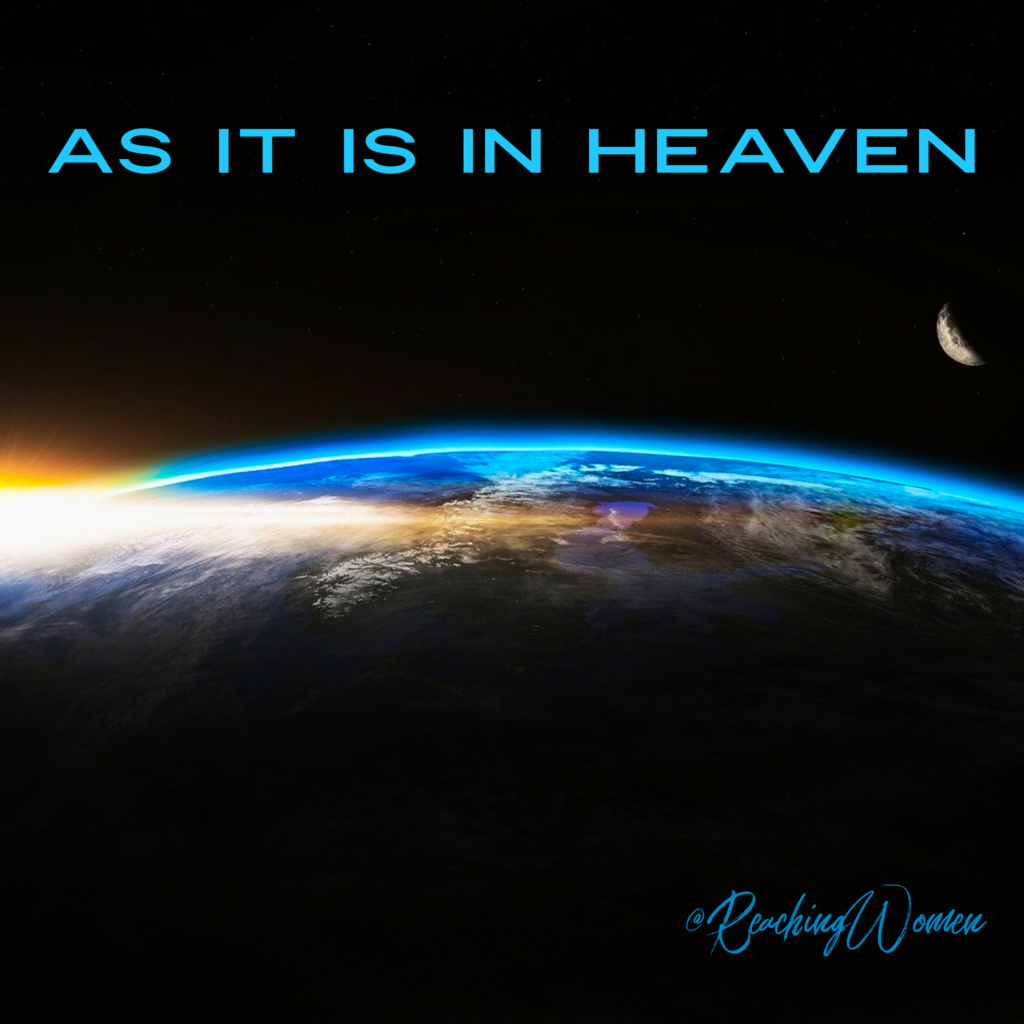 Our Father which art in heaven, Hallowed be thy name. Thy kingdom come. Thy will be done in earth, as it is in heaven. Give us this day our daily bread. And forgive us our debts as we forgive our debtors. And lead us not into temptation, but deliver us from evil. For thine is the kingdom, and the power, and the glory, for ever.  Amen. ~ Matthew 6: 9-13
IN EARTH AS IT IS IN HEAVEN
As believers we are not of this world, we are citizens of an unseen heavenly kingdom. We're in two realms at once. Our physical bodies inhabit the earth while our spirits are seated with Christ in heavenly places. Armed with the important truth that heaven dwells with in us, we must live each day reminded that we may be the only example of heaven that people around us see today.
Earthen Vessels Filled with Heaven's Breath
Our bodies are made from the dust of this earth. Our spirits are from the breath of God. Our bodies are drawn to earth yet our spirits are drawn to heaven. When our spirits have been reborn by the saving power of Jesus Christ, we experience a battle between our flesh and our spirits.
For now we must make the best of this earthly battle. Walk in wisdom by seeking God's word, faithfully praying for His will to be done on earth as it is in heaven. We want our earthly bodies to walk out heaven's will with God's power to strengthen us and His Spirit to guide us.
Earth Bound Yet Citizens of Heaven
As citizens of heaven we're called by God to live high and holy lives here on earth. To proclaim the excellencies of God who called us out of our darkness into His marvelous light. We are no longer our own. We've been bought with a price. We are God's people, citizens of an unseen heavenly kingdom but yet living as earthly servants of God and for His glory.
"On the earth as it is in heaven

Let it be here with us right now

 Where Your word is fulfilled

And your glory's revealed

Let it be here with us right now."  ~ As It Is In Heaven Lyrics
Enjoy this beautiful song by Corey Voss.