REACHING HURTING WOMEN MINISTRIES OFFERS FOUR TOPICS FOR CONTEMPLATION EVERY MONTH. EACH TOPIC IS A 12-MONTH STUDY ASSIGNED TO A SPECIFIC FRIDAY OF THE MONTH. IN MONTHS WITH FIVE FRIDAYS WE REVIEW INSPIRATIONAL CHRISTIAN MEDIA.
On the third Friday of each month in 2022 we're focusing our life recovery work on The Twelve Laws of Life Recovery: God's Wisdom and Guidance for Your Journey with Stephen Arterburn and David Stoop. This powerful study will take our life recovery to a level of freedom most of us haven't yet experienced.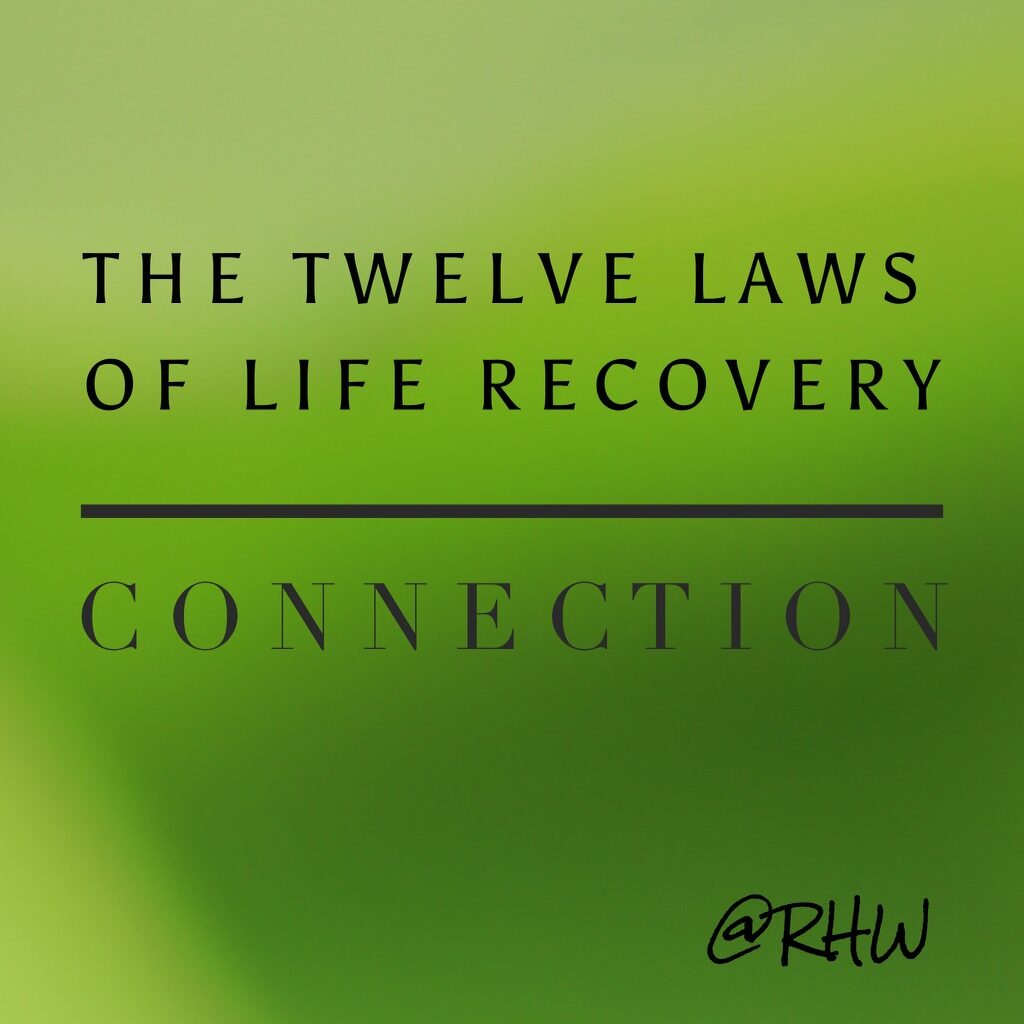 THE TWELVE LAWS OF LIFE RECOVERY 
Each month we're looking at a requirement that guides us to a specific result which will fill our lives with love, gratitude and serenity. Each of the Twelve Laws of Life Recovery are aligned with one of the Twelve Steps of Life Recovery. As you go through the study you will see how they work together.
THE LAW OF CONNECTION
REQUIREMENT: connection
RESULT: love
Let us continue to love one another, for love comes from God. Anyone who loves is a child of God and knows God. But anyone who does not love does not know God, for God is love…Dear friends, since God loved us that much, we surely ought to love each other. No one has ever seen God. But if we love each other, God lives in us, and his love is brought to full expression in us. ~ 1 John 4:7-8, 11-12

"If you fulfill the requirement of making healthy connections, you will find that your life is full of more love." ~ The Twelve Laws of Life Recovery

We all long to be loved
Even though we are all looking for love most of us don't realize that to receive love requires making connections. For some, that's too much work. Many people choose to live lonely, loveless lives rather than having to connect with other people.
unhealthy connections
Some of us grew up in homes where there was lots of rules and little emotional connection at all. Then there are those who are trapped in abusive relationships thinking that what they experience is love, when it is not love at all. What is the solution to both? God of course!
Transformed with Healthy Connections
We can transform our life by building deep healthy connections with other people. This may mean we have to forgive someone who has hurt us. Or it may require us to sever a toxic relationship.  It may also mean reaching out to someone you wouldn't normally be with.  God may lead you to a group of people who will return the healthy connection of love to you.
Love God – Love People
And I know it is important to love him with all my heart and all my understanding and all my strength, and to love my neighbor as myself. This is more important than to offer all of the burnt offerings and sacrifices required in the law. ~ Mark 12:33
It's important that we are intentional about deepening our connection with God. To do that we must first acknowledge God. Take time to listen. Meditate on God's Word. Talk to Him through prayer. As we become more closely connected to God we will naturally share the love we've received with those around us. Then we will be more connected to them too.
The more love we experience, the deeper and more valuable our connections with God and with others will become. ~ The Twelve Laws of Life Recovery

Take a few minutes and be blessed by Danny Gokey's uplifting song.