REACHING HURTING WOMEN MINISTRIES OFFERS FOUR TOPICS FOR CONTEMPLATION EVERY MONTH OF THE YEAR. EACH TOPIC IS A 12-MONTH STUDY SERIES ASSIGNED TO A SPECIFIC FRIDAY OF EVERY MONTH. IN MONTHS WITH FIVE FRIDAYS I'LL BE REVIEWING VARIOUS INSPIRATIONAL CHRISTIAN MEDIA.
On the second Friday of each month in 2022 we're studying Andrew Wommack's life-changing book: GRACE: The Power of the Gospel. In this study we dig into the New Testament book of Romans — Apostle Paul's masterpiece on the subject of grace. I hope you will get a copy of Andrew's book and join me for this study. Today we highlight Chapter Three.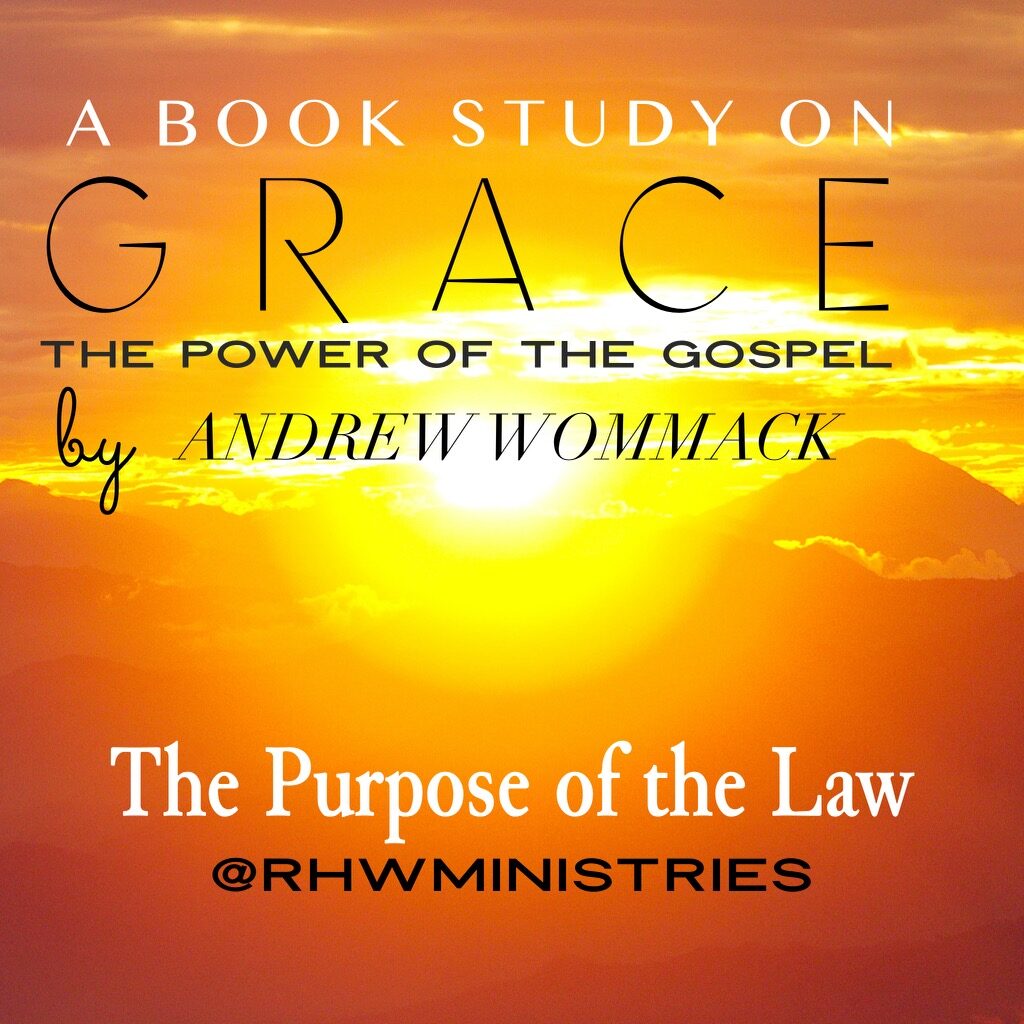 Obviously, the law applies to those to whom it was given, for its purpose is to keep people from having excuses, and to show that the entire world is guilty before God.

 

For no one can ever be made right with God by doing what the law commands. The law simply shows us how sinful we are.

~ Romans 3:19-20

THE PURPOSE OF THE LAW
No matter who we are, religious or not, we are all guilty in God's eyes. Our religion won't bring us closer to God, but it does make us more accountable. Because we should know better than the person who hasn't learned God's standards.
WhO THE LAW IS FOR
In Romans Paul is writing to the Jewish Christians who thought that before the Gentiles (non Jews) could become believers in Christ they needed to convert to Judaism and observe the laws. But the law was not give to the Gentiles. It  was given to the religious Jews only.
The Law Shuts every mouth
The law reveals our sin and how guilty we are before God. It shuts every mouth from comparing and making excuses. Fearing God's wrath and our knowledge of sin might motivate us to stop sinning. But it can't cleanse us from the sin or bring us forgiveness.
But God has a way to make people right with him without the law. And God has now shown us that way which the law and the prophets told us about. God makes people right with himself through their faith in Jesus Christ. This is true for all who believe in Christ, because all are the same. All people have sinned and are not good enough for God's glory. ~ Romans 3:21-23
The Law Points to Jesus
All the Old Testament Law and Prophets point to the Eternal One. The law was just a temporary way of dealing with the people's sins until Jesus could come. The only way anyone can become righteous without the law is through Jesus. To be right with God apart from the law was a radical concept for the Jewish believers.
Under the Law we are All the same
With the law God's raised the standard so high that no one could meet in in their own merit. This shows us our need for a Savior–Jesus Christ. We might follow the law well but it won't effect our right standing with God. His holy and perfect righteousness can only come through Christ. None of us can measure up to Jesus!
So we are made right with God through faith and not by obeying the law. ~ Romans 3:28
Conclusion
Fearing God might encourage someone to stop sinful behavior. But it won't clean the wrong motives in their heart. The law may get people's attention but it doesn't change our hearts. It is only God's mercy and goodness that brings us to a place of real repentance and change for the right reasons. None of us can measure up to what Jesus has done for us. By faith in Christ we are made right with God not by obeying the law.
Be blessed with this excellent teaching video from Andrew Wommack.