AT RHW WE PUBLISH A NEW COLUMN EACH FRIDAY. WE'RE GOING THROUGH FOUR SPECIFIC STUDIES WITH EACH SERIES BEING PUBLISHED ON A DESIGNATED FRIDAY OF THE MONTH.
In THE RED SEA RULES series we're using the wonderful book by Robert J. Morgan as our guideline for a deep study of Exodus 14. Join me on the fourth Friday of each month in 2020 as we apply Morgan's "10 God-Given Strategies for Difficult Times" to our lives today.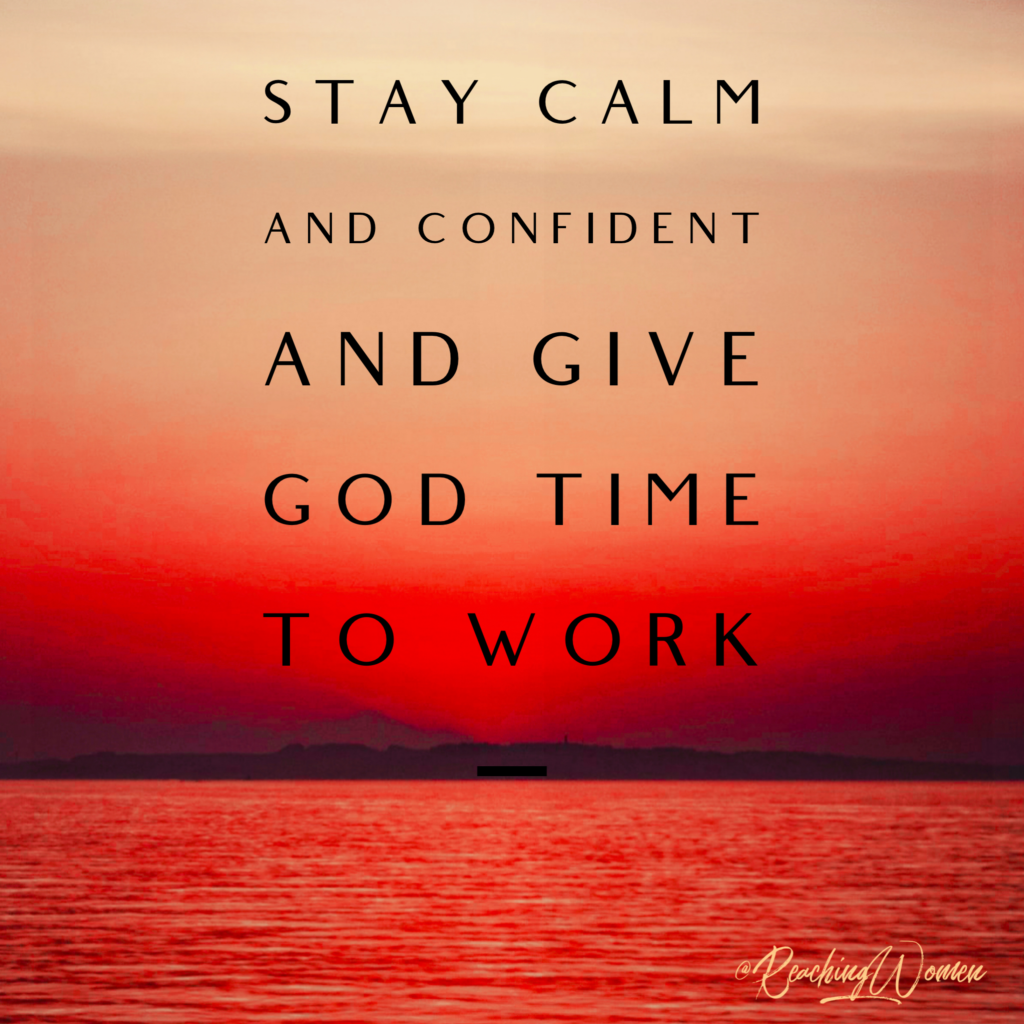 RED SEA RULE 5: Stay calm and confident, and give God time to work. 

Moses said to the people: "Do not be afraid. Stand still, and see the salvation of the Lord, which He will accomplish for you today. For the Egyptians whom you see today you shall see again no more forever. The Lord will fight for you, and you shall hold your peace." ~Exodus 14:13-14
If there was ever a reminder I needed to hear everyday it is this one. With all the unrest in our world, family, financial and health issues… I need to be reminded almost on a daily basis to…
Stay calm, confident and give God time to work!
It's Not MyJob To Find The Solution
Like most people, I'm always trying to find the solution to my seemingly impossible dilemmas and life dramas. But I must remember God specializes in the impossible.
With men this is impossible, but all things are possible with God. ~ Galatians 6:9
God Sees Our Impossible Situations
Cornered by the Egyptian army at the edge of the Red Sea, the Israelites faced impossible odds. Scripture tells us God doesn't show favoritism. Meaning that I am just as important to God as the Israelites were. My impossible situation is just as important to God. Just like the Red Sea opened up for the Israelites, my impossible situation can be solved by God. It's up to me to stay calm, confident in whom I trust, and wait for God to work the solution out in HIS timing.
So do not throw away this confident trust in the Lord. Remember the great reward it brings you! ~ Hebrews 10:35
Join me in recommitting "Red Sea" situations to God.
Let's take a few minutes and prayerfully listen to this beautiful song by Hillsong Worship. Trust God to do His work.