AT RHW WE PUBLISH A NEW COLUMN EACH FRIDAY. WE'RE GOING THROUGH FOUR SPECIFIC STUDIES WITH EACH SERIES BEING PUBLISHED ON A DIFFERENT FRIDAY OF THE MONTH.
In The Lord's Prayer Jesus is teaching His disciples how to pray, giving them not just a prayer to recite, but also a model prayer for us all. On the first Friday of each month in 2020 we will study this beloved prayer phrase by phrase and bring fresh application to our lives for today.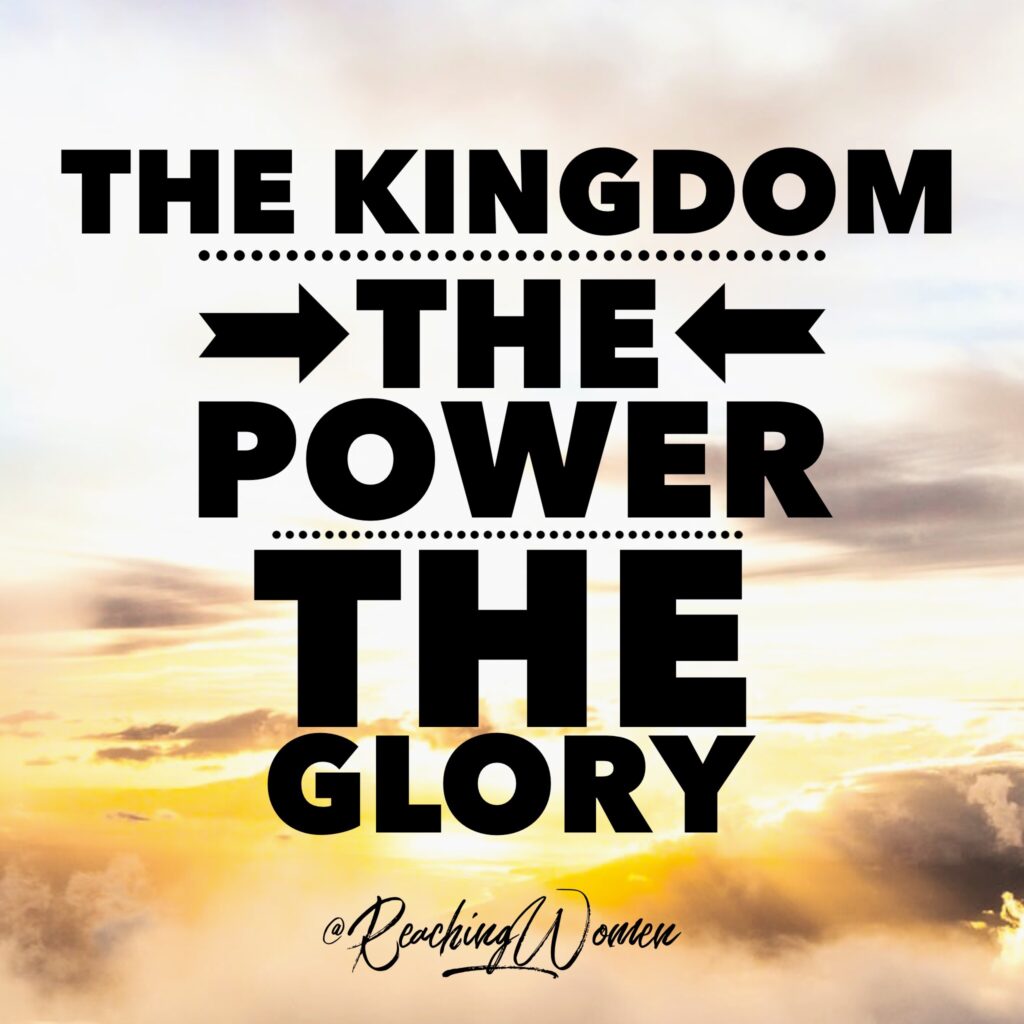 Our Father which art in heaven, Hallowed be thy name. Thy kingdom come. Thy will be done in earth, as it is in heaven. Give us this day our daily bread.  And forgive us our trespasses as we forgive those who trespass against us. And lead us not into temptation, but deliver us from evil. For thine is the kingdom, and the power, and the glory, for ever. Amen. ~ Matthew 6: 9-13
This portion of the Lord's Prayer, often referred to as the doxology, isn't present in the early manuscripts of the New Testament. However, it was found in the ancient liturgies used during the time of the apostles. The doxology beautifully completes what we've been praying thus far and affirms foundational truths of the Christian faith.
Thine is the Kingdom
God's Kingdom is present here on earth through the Holy Spirit in the body of His church. As we pray for God's kingdom to come, we are manifesting that presence through the power of the Holy Spirit working in and through the lives of all believer walking the earth today.
Thine is the Power
God's power is available to us as we connect to Him. As we humbly pray for God's will to be done in our life and our world, God will show us His power and might in ways we can't imagine.
Thine is the Glory
As we pray and honor God's holy name we are giving him glory. By this act of connecting through the Spirit we become participants in His kingdom, exhibiting His power working in our daily lives and bringing glory to His name.
A Heavenly Focused Journey
Along our journey with the Lord, if we focus on the dirt beneath our feet we will be overly sensitive to every rock and bump in the road–distracting us from the purpose God has for us. But by praying the Lord's Prayer our focus will be on heaven and God's presence.
...live the kind of life that pleases God, who calls you to share in his own Kingdom and glory. ~ 1 Thessalonians 2:12
Let's stay inspired, to represent God's kingdom here on earth, filled with the Spirit of power, bringing glory to His name among the peoples of the earth.
Join me as we pray and worship with this great song by Worship Central.