REACHING HURTING WOMEN MINISTRIES OFFERS FOUR THEMES FOR CONTEMPLATION EVERY MONTH OF THE YEAR.
EACH OF THE FOUR POWER-PACKED THEMES ARE A 12-MONTH STUDY SERIES ASSIGNED TO A SPECIFIC FRIDAY OF EVERY MONTH. IN MONTHS WITH FIVE FRIDAYS I'LL BE REVIEWING TOUCHING INSPIRATIONAL MUSIC.
On the second  Friday of each month in 2021 we're studying the Holy Spirit. We will learn who the Holy Spirit is, about His gifts and fruit given to us as believers and how to walk those out in our life each day. This is the sixth post in The Holy Spirit Study series.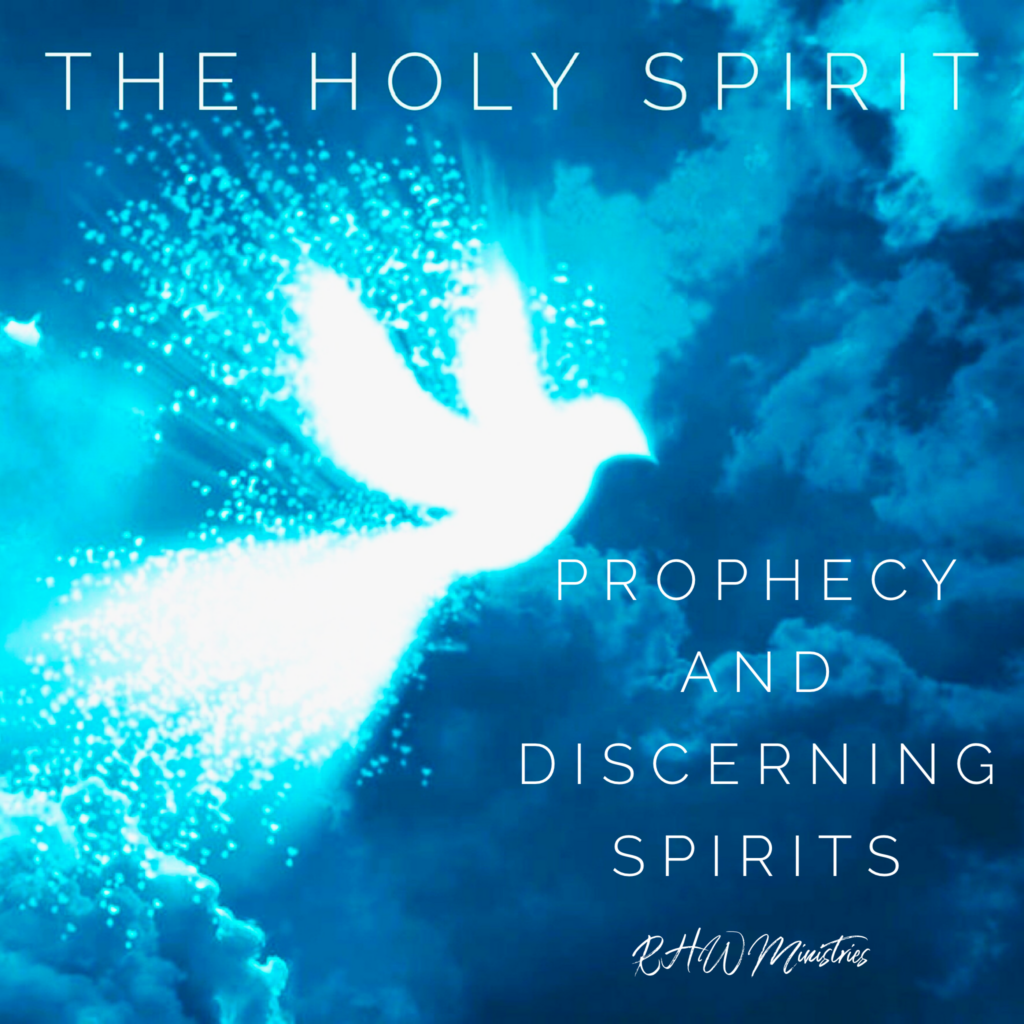 And to another the gift of prophecy.

And to another the gift to discern what the Spirit is speaking. ~ 1 Corinthians 12:10
Many of the gifts and fruit of the Holy Spirit are very mysterious. Because of that they're often misinterpreted, misunderstood and even ridiculed in traditional denominational churches. The gifts of prophecy and discerning of spirits certainly fall into those categories.
The gift of prophecy is thought to be about predicting the future. That isn't what it's about at all. The gift of prophecy is a person reporting a divine revelation given to them by God. In the simplest of terms the spiritual gift of prophecy is God speaking to people through people.
It is good that you are enthusiastic and passionate about spiritual gifts, especially prophecy. ~ 1 Corinthians 14:1
Can any believer have the gift of prophecy? Yes. The Apostle Paul encouraged every believer to desire this gift. God wouldn't tell us to desire something He wouldn't make possible for us to have.
Are some prophecies incorrect? Absolutely. God's Word is infallible. But where there are human beings involved there is always a potential for interpretation errors.
Constantly be on your guard against phony prophets. They come disguised as lambs, appearing to be genuine, but on the inside they are like wild, ravenous wolves! ~ Matthew 7:15
What about false prophets? Jesus warned us there would be false prophets, especially in the last days. One thing to remember, Satan comes to steal, kill and destroy. He only perverts and counterfeits the things that are most valuable to the church and God's message. Which brings us to the next gift…
The gift of discerning spirits gives a believer spiritual insight regarding another person's spirit. It may also give them the ability to sense a specific demonic spirit in a place or on a person.
Discerning spirits is imparted by the Holy Spirit and operates only as the Holy Spirit wills, not as a person wills. How it operates varies. Where one person may see things in places with the eyes of their spirit, another believer might only have a sense about things.
Now these are the gifts Christ gave to the church: the apostles, the prophets, the evangelists, and the pastors and teachers. Their responsibility is to equip God's people to do his work and build up the church, the body of Christ. ~ Ephesians 4:11-12
The gifts of prophecy and discerning spirits are both very powerful gifts and extremely important. Not only are they a valuable avenue for sharing the Gospel and draw unbelievers to Christ. They encourage and lift up the church as a whole.
If you have questions regarding these important spiritual gifts, I encourage you to prayerfully do your own study of Scripture. God will honor that and with the help of the Holy Spirit He will lead you to a place of clear direction and understanding.
Be blessed by this lovely worship song by Maverick City Music.