REACHING HURTING WOMEN MINISTRIES OFFERS FOUR THEMES FOR STUDY AND CONTEMPLATION EVERY MONTH OF THE YEAR.
EACH OF THE FOUR POWER-PACKED THEMES ARE A 12-MONTH STUDY SERIES ASSIGNED TO A SPECIFIC FRIDAY OF EVERY MONTH. IN MONTHS WITH FIVE FRIDAYS I'LL BE REVIEWING TOUCHING INSPIRATIONAL MUSIC.
On the first Friday of each month in 2021 we will be studying Psalm 91. We'll be learning this powerful psalm and applying its phenomenal promises to our life one phrase at a time. We continue with verses seven and eight.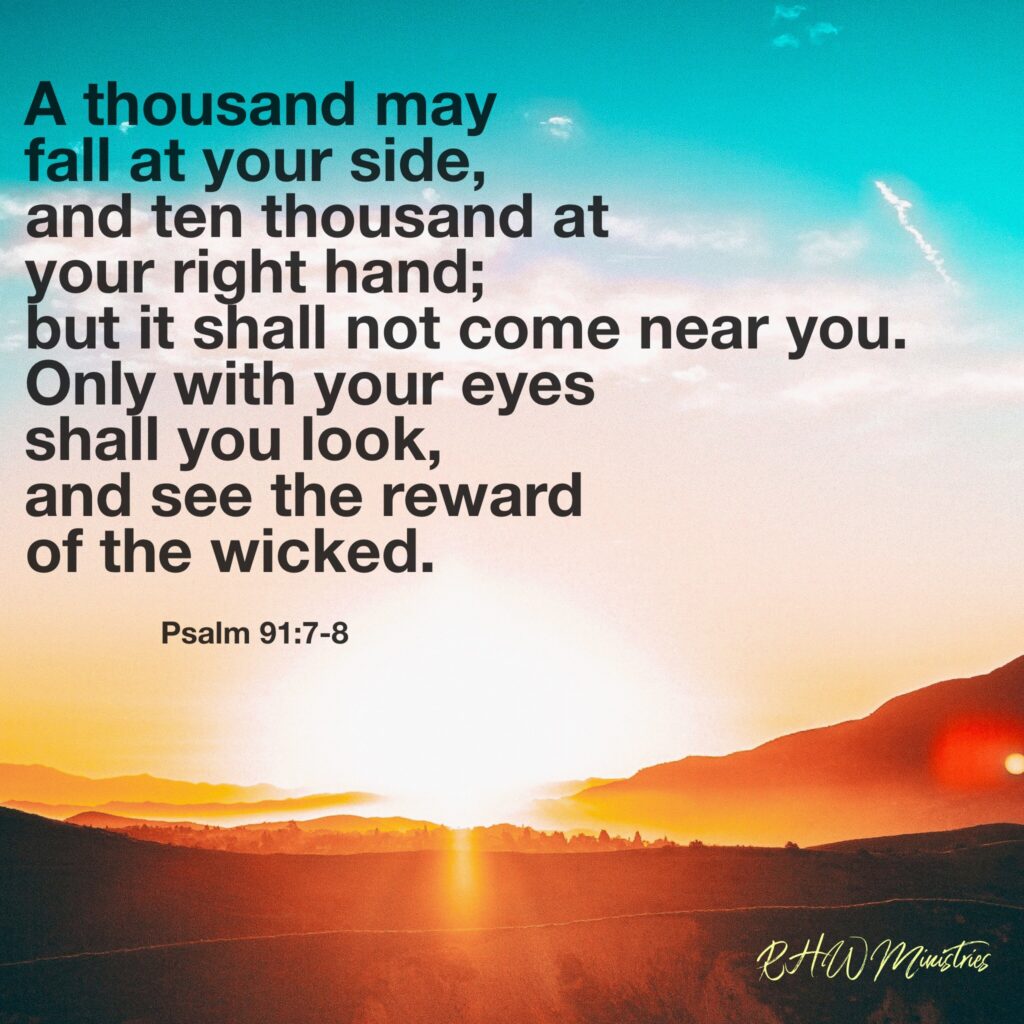 Even in a time of disaster, with thousands and thousands being killed,

you will remain unscathed and unharmed.

You will be a spectator as the wicked perish in judgment,

for they will be paid back for what they have done! ~ Psalm 91:7-8
This portion of Scripture is often quoted. A favorite for many who are walking through perilous times. Even these last several months with the pandemic outbreak, many believers have stood on this verse, myself included.
I have told you all this so that you may have peace in me. Here on earth you will have many trials and sorrows. But take heart, because I have overcome the world. ~ John 16:33
There is much wickedness in the world. And believers are not immune to being attacked. Jesus promised we would have troubles in our world. He also tells us we should take heart because He has overcome the world and the wicked ruler of it.
For I am watching to see that my word is fulfilled.  ~ Jeremiah 1:12
God's Word promises that no matter what calamity, disaster or pandemic may surround us, God is going to bring us through is. It is up to us to believe and stand on God's promises. And we shouldn't stop there. We must confess God's Word in prayer back to HIm. His Words have power. He tells us that He is watching over His Word to bring it to pass.
Thank you Lord, that no matter what may surround me, You will keep me safe. And the wicked will get their just reward! Amen
Enjoy this beautiful song as you contemplate the shelter of God.