REACHING HURTING WOMEN MINISTRIES OFFERS FOUR THEMES FOR CONTEMPLATION EVERY MONTH OF THE YEAR.
EACH OF THE POWER-PACKED THEMES ARE A 12-MONTH STUDY SERIES ASSIGNED TO A SPECIFIC FRIDAY OF EVERY MONTH BEGINNING IN JANUARY. IN MONTHS WITH FIVE FRIDAYS I'LL BE REVIEWING TOUCHING INSPIRATIONAL MUSIC. COME ALONG. LET'S LEARN SOME NEW THINGS TOGETHER!
For my addiction recovery work this year I'm going through The Twelve Gifts of Life Recovery by Stephen Arterburn and David Stoop. On the third Friday of each month in 2021 I will be sharing the blessings God brings us to honor our choices and encourage our recovery journey.
This is the sixth post in the series. Today we are learning about the gift of abundance.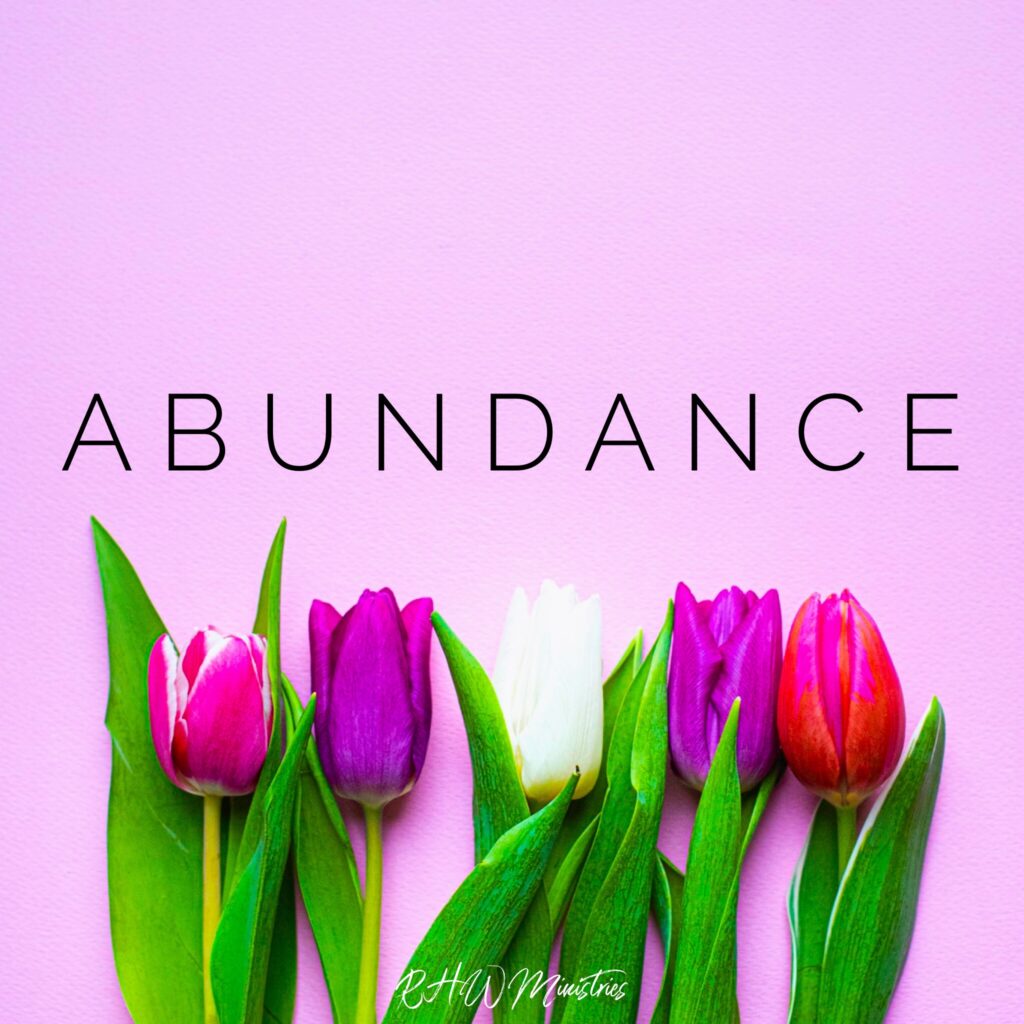 "When we have a scarcity mindset we cling to our possessions and our toxic relationships….The gift of abundance leads us to lives filled with new and fulfilling opportunities that we may never have dreamed of or thought possible."   ~ The Twelve Gifts of Life Recovery
Actively living in our addiction we had a scarcity mind-set. We were always making sure we didn't run out of our drug of choice. We were living guarded lives that robbed us of much joy and pleasure.
The thief has only one thing in mind—he wants to steal, slaughter,

 

and destroy. But I have come to

give you everything in abundance,

more than you expect

—life in its fullness until you overflow! ~ John 10:10
When we give our lives over to Jesus Christ and begin the life recovery journey, the gift of abundance begins to emerge. Instead of having a fear-based scarcity mind-set that is focused on losing what we have, we begin to have a grateful heart attitude and appreciate what we do have.
Never doubt God's mighty power to work in you and accomplish all this. He will achieve infinitely more than your greatest request, your most unbelievable dream, and exceed your wildest imagination! He will outdo them all, for his miraculous power constantly energizes you. ~ Ephesians 3:20
As we work our life recovery steps, especially Steps 4 (Looking Within), 9 (Making Amends) and 10 (Daily Inventory), we mustn't focus on what we've lost.  Instead we can reframe every past mistake and every current problem into an opportunity for something new and good to come about in our life.
"As we learn how much God loves us, we will become confident that He is able to do far more in and through us than we could ever imagine! We can bank our recovery on this truth!" ~ The Life Recovery Bible
As we stay obedient to God and faithful to the life recovery journey we begin to see God's promised gift of abundance displayed in our daily lives. Soon we will have an abundance of peace, harmony, time, energy, money and health in ways some of us have never seen in our lifetime
Contemplate how the gift of abundance is showing up in your life as you enjoy this beautiful song by Jesus Culture. Be blessed… Tamara