REACHING HURTING WOMEN MINISTRIES OFFERS FOUR THEMES FOR CONTEMPLATION EVERY MONTH OF THE YEAR.
EACH OF THE FOUR POWER-PACKED THEMES ARE A 12-MONTH STUDY SERIES ASSIGNED TO A SPECIFIC FRIDAY OF EVERY MONTH. IN MONTHS WITH FIVE FRIDAYS I'LL BE REVIEWING TOUCHING INSPIRATIONAL MUSIC.
On the fourth Friday of each month in 2021 we're studying Joyce Meyer's newest book: Do It Afraid. We're learning how to understand fear, to recognize how it works in our life and finally how to confront fear. We will learn new mindsets that position us for freedom from our most common fears.
Today we wrap up our Do It Afraid Book Study by reviewing Mamma Joyce's chapters on Confronting Fear.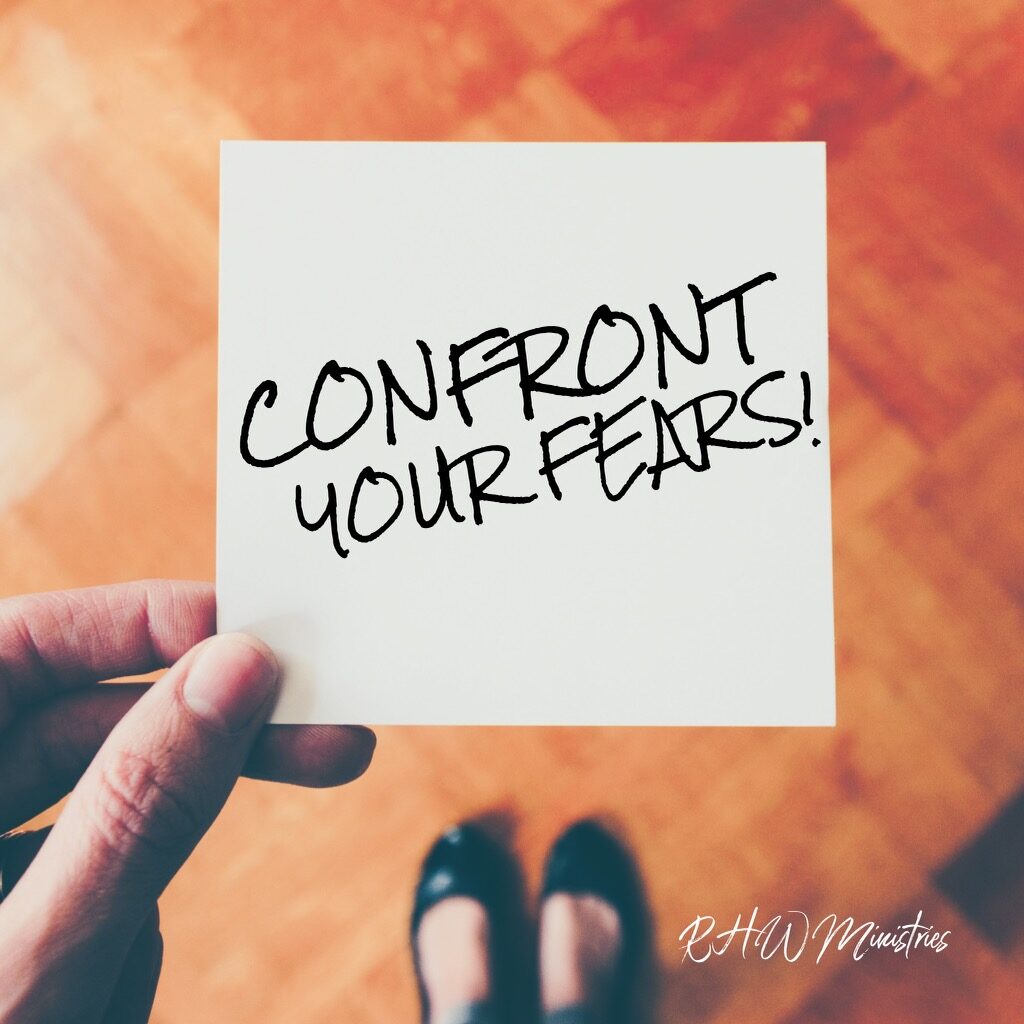 The Lord directs the steps of the godly. He delights in every detail of their lives. ~ Psalm 37:23

"Anything you do in obedience to God is something you never have to do alone."~ Joyce Meyer
One of the best ways to overcome anything is to take it one step at a time. Scripture tells us that God's mercies are new every morning. With that we know He is trying to teach us to trust Him as we go on our journey each day. Every journey starts with the first step. All God asks us to do is to take that first step with faith that He will be with us all the way.
He said to them, " Why are you troubled, and why do doubts rise in your minds?" ~ Luke 24:38

If we truly want to live free from fear, we must learn to live without doubt. ~ Joyce Meyer
Doubt is just fear by another name. It's sneaky. It doesn't show up in the same way but yet it is fear nonetheless. Doubt means uncertainty, perplexity, to be without a way. These all imply fearfulness. The key with doubt is to believe we are going to hear from God. Begin by surrendering our will to His and continue on our path in faith thanking God for His direction as we go.
Refuse to Regret the Past or Dread the Future
Let your eyes look straight ahead; fix your gaze directly before you. ~ Proverbs 4:25

"Don't miss what God has for you today by living in regret. Today is an important day in your life. It is actually the most important day of your life, because right at this moment it is the only day you are assured of, so live it fully and trust God to take care of your past and your future." ~ Joyce Meyer
It's easy to live with regrets from our past and to dread the future. But if we do we are missing out on what God has for us today. Regrets are just rehearsing past mistakes over and over again that keeps us stuck in the past. Dread is much the same except we are worried about what may or may not happen in the future. And when we get there we will probably have a bad attitude and not enjoy it either. If you struggle with these areas, ask God to help you and He will.
Take Courage and Be Strong
Be strong and courageous. Do not be afraid. ~ Joshua 1:9

"Don't just pray for fear to go away. Instead pray for God to fill you with boldness, courage, and confidence." ~ Joyce Meyer
It's important that we manage our thought life. If we are focusing on our fears they will control us. We can instead, choose to focus on being courageous rather than what we are afraid of. Keep a confession of God's Word in your heart, mind and words. Don't think about what can go wrong. Thank God for His direction, strength and courage. Remember, courage is always stronger than fear.
Learn to Be Secure and Confident
Now faith brings our hopes into reality and becomes the foundation needed to acquire the things we long for. It is all the evidence required to prove what is still unseen. ~ Hebrews 11:1

"The more you use your faith, the stronger it will become. Faith is confidence in God… when you have faith that something will take place, you have it in your heart first (you believe), and then you will have it in reality in God's perfect timing." ~ Joyce Meyer
Ask God for what you want. Scripture says He wants to give us the desires of our hearts. And God cannot lie. But we must have faith to ask and believe for the things we want, not just for the things we need. Every time we have a prayer answered our confidence grows.
As we watch God work in our life we will gradually become more secure in our faith. We will be able to courageously take one step at a time; to stop doubting our decisions; refuse to regret our past and to not dread the future. We will stand strong, confront our fears and show the devil how big our God is!
Be blessed with this message on Confrontation by Mama Joyce!