REACHING HURTING WOMEN MINISTRIES OFFERS FOUR TOPICS FOR CONTEMPLATION EVERY MONTH. EACH TOPIC IS A 12-MONTH STUDY ASSIGNED TO A SPECIFIC FRIDAY OF THE MONTH. IN MONTHS WITH FIVE FRIDAYS WE REVIEW INSPIRATIONAL CHRISTIAN MEDIA.
On the third Friday of each month in 2022 we're focusing our life recovery work on The Twelve Laws of Life Recovery: God's Wisdom and Guidance for Your Journey with Stephen Arterburn and David Stoop. This powerful study will take our life of recovery to a level of freedom most of us haven't yet experienced.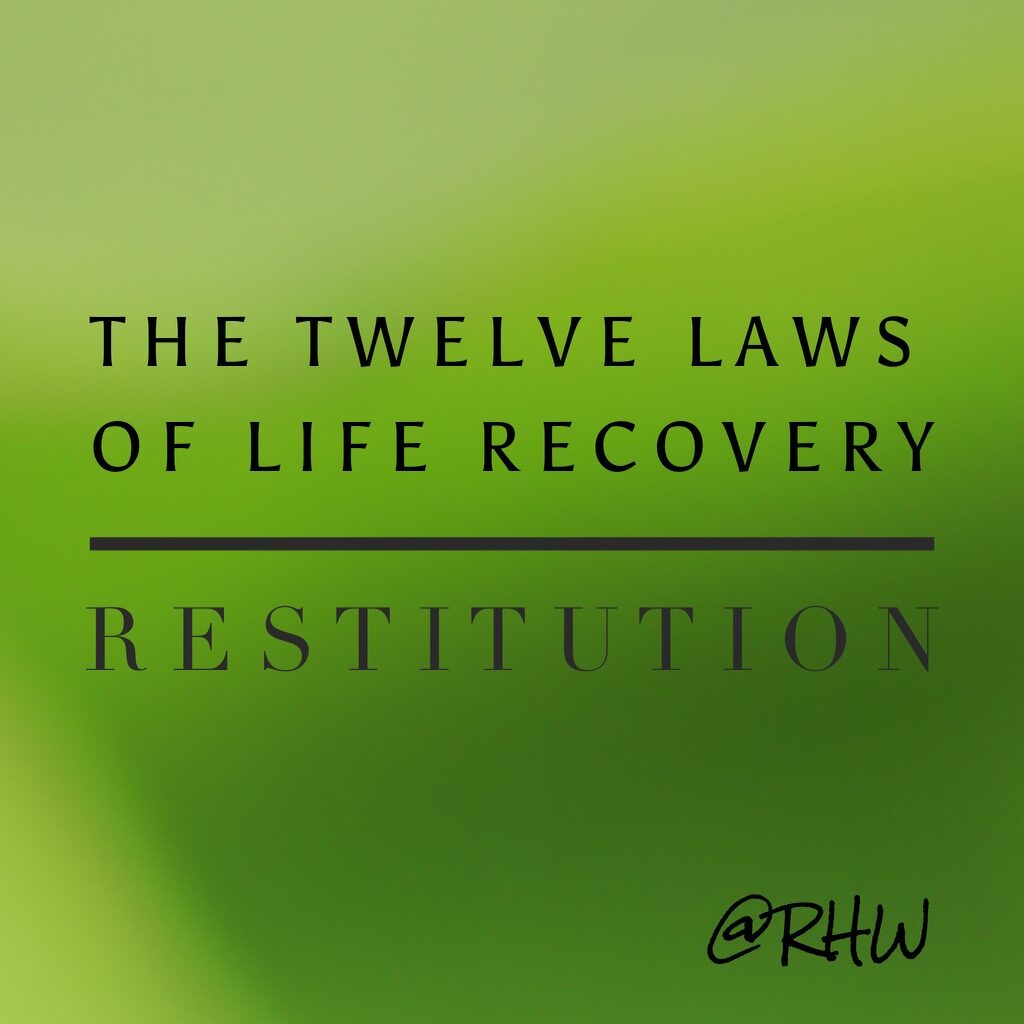 THE TWELVE LAWS OF LIFE RECOVERY 
Each month we're looking at a requirement that guides us to a specific result which will ultimately fill our lives with love, gratitude and the serenity we desire.
THE LAW OF RESTITUTION
REQUIREMENT: RESTITUTION
RESULT: CLOSURE
They must confess their sin and make full restitution for what they have done, adding an additional 20 percent and returning it to the person who was wronged. ~ Numbers 5:7

Step 9: We made direct amends to such people wherever possible, except when to do so would injure them or others.
As recovering addicts working the 12 Steps, we all at one time will need to make our amends. The law of restitution is similar to making amends but it takes it a little bit further. Rather than trying to amend a broken relationship when we make restitution we are working to resolve what may have been lost or destroyed by our behavior: financial mistakes, physical injuries, sexual sins, etc.
So if you are about to offer your gift to God at the altar and there you remember that your brother has something against you, leave your gift there in front of the altar, go at once and make peace with your brother, and then come back and offer your gift to God.~ Matthew 5:23-24

"We cannot sincerely worship God with our words and sacrifices until we have made things right with other people." ~ The Twelve Laws of Life Recovery
It's important that we make every effort possible, if possible to restore healing to the relationships that we can. Prayerfully, go to God for direction on who He wants you to make restitution with. Take time to write a letter if necessary or even see them in person. Ask them what it would take from you for them to feel like you have really restored the relationship.
Remember, we are not called to be in relationship with everyone we have hurt in the past. Some people we must make restitution through our Father from a distance.
Be blessed with this beautiful song by Casting Crowns.