REACHING HURTING WOMEN MINISTRIES OFFERS FOUR TOPICS FOR CONTEMPLATION EVERY MONTH OF THE YEAR. EACH TOPIC IS A 12-MONTH STUDY SERIES ASSIGNED TO A SPECIFIC FRIDAY OF EVERY MONTH. IN MONTHS WITH FIVE FRIDAYS I'LL BE REVIEWING VARIOUS INSPIRATIONAL CHRISTIAN MEDIA.
On the second Friday of each month in 2022 we're studying Andrew Wommack's life-changing book: GRACE: The Power of the Gospel. In this study we dig into the New Testament book of Romans — Apostle Paul's masterpiece on the subject of grace. I hope you will get a copy of Andrew's book and join me for this study. Today we highlight Chapter Two.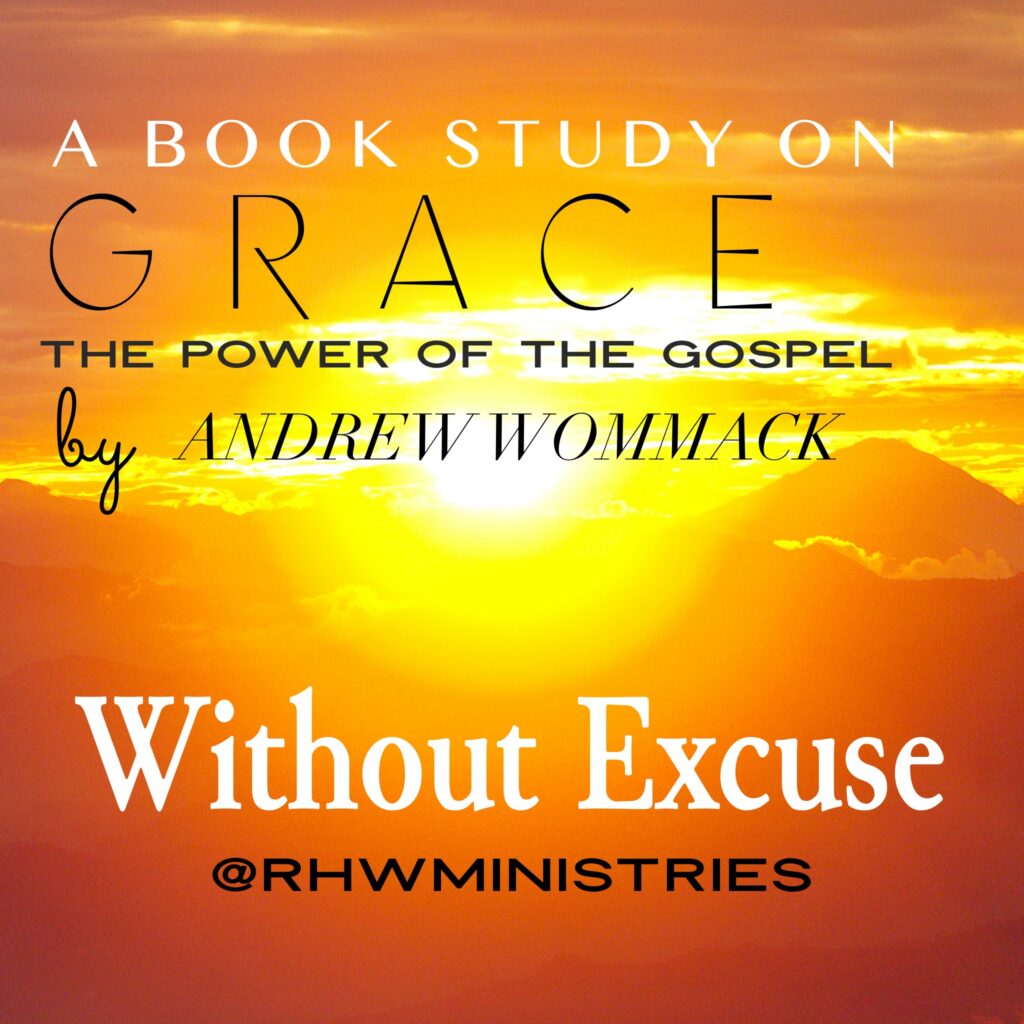 I refuse to be ashamed of the wonderful message of God's liberating power unleashed in us through Christ! For I am thrilled to preach that everyone who believes is saved—the Jew first, and then people everywhere! ~ Romans 1:16  (TPT)
What is Salvation?
Salvation is everything that Jesus bought for us through His death, burial and resurrection. Grace brings the power of God to prosper, deliver from sin and heal everyone who has been born again.
And the prayer of faith will heal the sick and the Lord will raise them up, and if they have committed sins they will be forgiven. ~ James 5:15
What does Satan do?
Satan's biggest weapon is deception. He wants us to believe that we have to earn God's love by keeping the law and being more holy. The enemy wants us to operate in fear rather than faith in God's love. We should focus on the goodness of God which draws hearts to change.
God has been very kind to you, and he has been patient with you. God has been waiting for you to change. But you think nothing of his kindness. Perhaps you do not understand that God is kind to you so that you will change your hearts and lives. ~ Romans 2:4
Without Excuse
Scripture tells us that we each have the intuitive knowledge of God against living an ungodly life built within us. And if that isn't enough we can look to all creation around us and see the wonder working power of God in our world.
For ever since the world was created, people have seen the earth and sky. Through everything God made, they can clearly see his invisible qualities—his eternal power and divine nature. So they have no excuse for not knowing God. ~ Romans 1:20

Looking at all we've learned in this chapter from Grace: The Power of the Gospel we can truly say we are without excuse to know God!
Take some time to enjoy this excellent teaching video from Andrew Wommack.