REACHING HURTING WOMEN MINISTRIES OFFERS FOUR TOPICS FOR CONTEMPLATION EVERY MONTH. EACH TOPIC IS A 12-MONTH STUDY ASSIGNED TO A SPECIFIC FRIDAY OF THE MONTH. IN MONTHS WITH FIVE FRIDAYS WE REVIEW INSPIRATIONAL CHRISTIAN MEDIA.
On the third Friday of each month in 2022 we're focusing our life recovery work on The Twelve Laws of Life Recovery: God's Wisdom and Guidance for Your Journey with Stephen Arterburn and David Stoop. This powerful study will take our life recovery to a level of freedom most of us haven't yet experienced.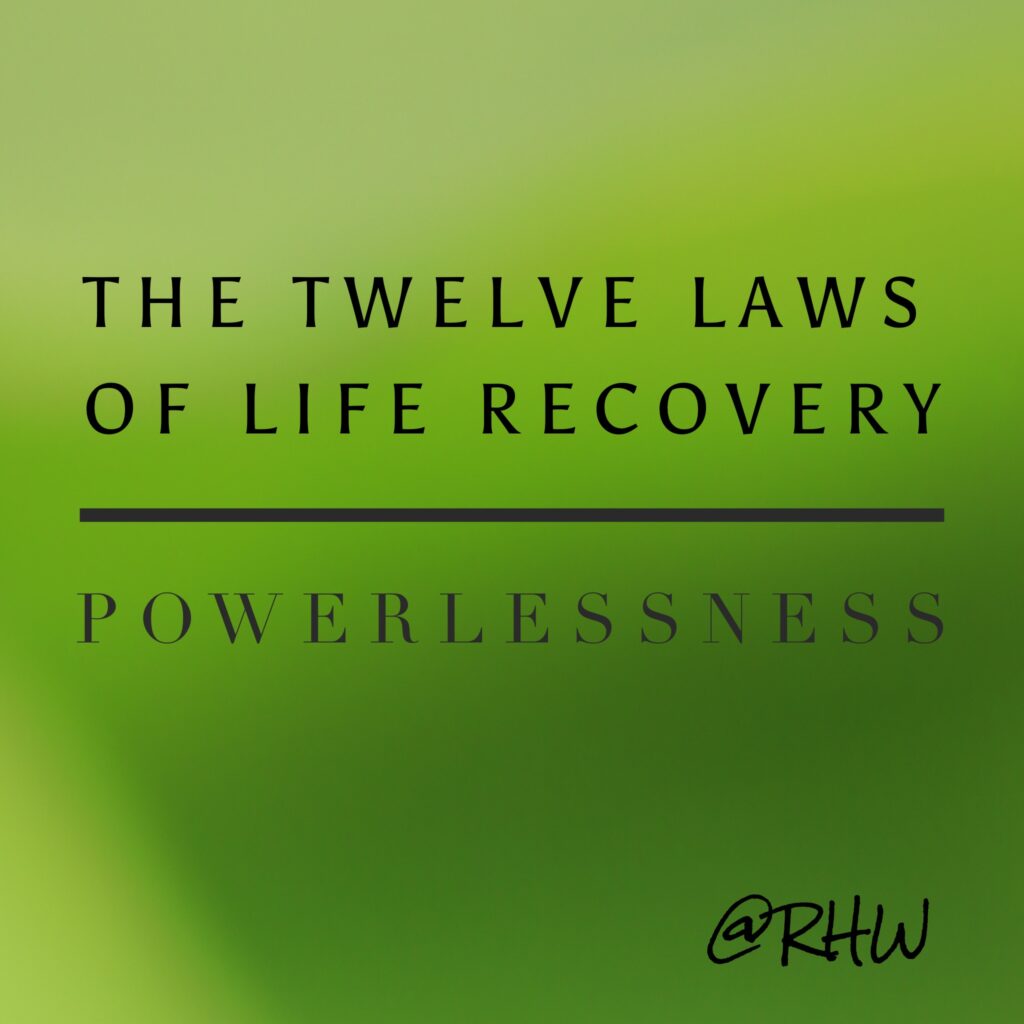 THE TWELVE LAWS OF LIFE RECOVERY 
Each month in this study we'll look at one of the twelve laws that will guide us toward a specific RESULT. THE RESULT will fill our lives with love, gratitude and serenity. This powerful study of GOD'S  RECOVERY LAWS will take US to a level of freedom most of us haven't yet experienced.
THE LAW OF POWERLESSNESS 
REQUIREMENT: powerlessness
RESULT: strength
"The law of powerlessness says that, if you truly understand and acknowledge that you are powerless, you are about to be provided with real strength." ~ The Twelve Laws of Life Recovery
But He answered me, "My grace is always more than enough for you, and my power finds its full expression through your weakness." So I will celebrate my weaknesses, for when I'm weak I sense more deeply the mighty power of Christ living in me. ~ 2 Corinthians 12:9
WEAKNESS BECOMES STRENGTH
Even the foolishness of God is wiser than men. Even the weakness of God is stronger than men. ~ 1 Corinthians 1:25

"If you are feeling weaker than you have ever felt, you are right in the place where God does his very best work." ~ The Twelve Laws of Life Recovery
The idea of powerlessness can be uncomfortable because it makes us feel like we are helpless or weak. God turns our areas of weakness into strength when we give them to Him. As we recognize that we don't have any power over the weak areas of our life, we will find the gift of great strength from God.
IMPOSSIBLE BECOMES POSSIBLE
Jesus responded, "What appears humanly impossible is more than possible with God. For God can do what man cannot." ~ Luke 18:27
"The more impossible something seems, the more possible it is with the strength of God empowering you."  ~ The Twelve Laws of Life Recovery
In God's kingdom things are counterintuitive from the way of the world. The world tries to tell us that our powerlessness is hopeless; that it will never change, that we will always be this way. But God's Word tells us what is impossible with humans is more than possible with God!
Does your life seem hopeless?
Do you have an impossible circumstance to overcome?
Are you feeling powerless in some area today?
Then I have good news for you! God has been waiting for you to come to the end of yourself and call upon Him. He is inviting you to admit and accept that powerlessness. Confess your weaknesses to God. Let Him strengthen you as you reach out to Him.
Contemplate how your powerlessness could result in strength and allow God's mighty power to come into your life today!
We admitted we were powerless over our problems and that our lives had become unmanageable. ~ Step One
As you contemplate what God is revealing to you, I pray you'll be blessed by this perfect song for today by The Response.
RESOURCES:
THE TWELVE LAWS OF LIFE RECOVERY: God's Wisdom and Guidance for Your Journey by Stephen Arterburn and David Stoop