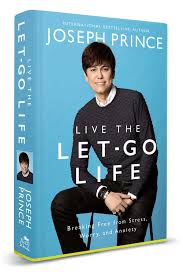 LIVE THE LET-GO LIFE:
Breaking Free from Stress, Worry and Anxiety
by
Joseph Prince
With beautifully applicable stories and a fresh look at some familiar Scriptures, Pastor Joseph Prince challenges us to take a different walk through our daily life.
Rather than allowing the worry, stresses and challenges of life to choke the flow of God's grace; we must relax and let go of situations that are ultimately out of our control and allow God's amazing grace to flow as He intends it to to the needed areas of our life.
"God is always supplying by His grace. Our part is to let go and let His supply flow." ~ Joseph Prince
Pastor Prince tells us, as long as we are worried and in strife, we preventing the flow of God's grace to come where we need it the most. While we are so caught up in the worries and trying to solve issues, we are actually preventing God from doing the work we are asking for.
"If it's a miracle you need, a miracle you will get— if you remain in peace." ~ Joseph Prince
The teachings in LIVE THE LET-GO LIFE  go against everything in our human nature. It takes committed determination to persevere to the peace that God wants us to have in our lives. We must labor to rest, to believe in the promise that Jesus made,  that the peace He left us is ours. It's up to us to accept it and keep accepting it each and every moment of every day.
I highly recommend LIVE THE LET-GO LIFE by Joseph Prince. If you struggle with stress, worry and anxiety, this is God's answer for you today!