REACHING HURTING WOMEN MINISTRIES OFFERS FOUR TOPICS FOR CONTEMPLATION EVERY MONTH OF THE YEAR. EACH TOPIC IS A 12-MONTH STUDY SERIES ASSIGNED TO A SPECIFIC FRIDAY OF EVERY MONTH. IN MONTHS WITH FIVE FRIDAYS I'LL BE REVIEWING VARIOUS INSPIRATIONAL MEDIA.
On the first Friday of each month in 2022 we're studying the Ten Commandments; why we need to know, memorize and obey them.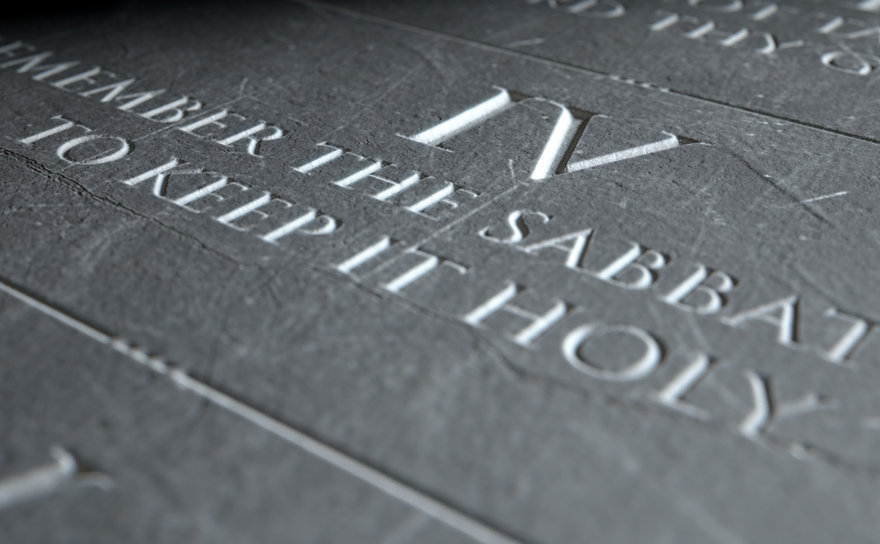 "Remember to observe the Sabbath day by keeping it holy.

You have six days each week for your ordinary work,

 but the seventh day is a Sabbath day of rest dedicated to the 

Lord

 your God. On that day no one in your household may do any work. This includes you, your sons and daughters, your male and female servants, your livestock, and any foreigners living among you. For in six days the 

Lord

 made the heavens, the earth, the sea, and everything in them; but on the seventh day he rested. That is why the 

Lord

blessed the Sabbath day and set it apart as holy." ~ Exodus 20:8-11
While some see the Ten Commandments as rules to keep us from having a fun time, the Ten Commandments are God's laws given to humanity to help us, protect us and make our lives better. After the fall in The Garden of Eden, God began working on a plan to restore His relationship with humanity. With sin separating us from God's holiness, He needed a way to show us our need for a Savior who could provide the way to bring people back to Him.
NOT JUST RULES
God knew what kind of life He wanted us to have. He also knew that we couldn't do that on our own. The Law was given to show us that no matter how hard we try we can't do life without God and be happy, healthy or successful. If He didn't love us, God wouldn't have give us rules to live by. Just like a good human parent puts rules in place to guide and protect their children, God gave us the law to help us.
THE GRACE OF REST
God's grace is seen through all the commandments. Here we see the grace of rest bestowed on us as a blessing from being obedient. In Genesis chapter 2 we see the first six days of creation showed God separating light out of the darkness and water from the dry land. When God rested He separated what was ordinary from what is holy. This would later be the foundation for Israel's worship and pave the way for the ultimate rest in Christ taught in the New Testament book of Hebrews.*
FREEDOM TO WORSHIP
When we honor the Sabbath by resting from our ordinary duties, chores, activities and the sort, we free ourselves from the cares of life so that we can freely focus on time to be with our Creator and Lord Jesus. This allows us to bring ourselves fully to a sweet place of worship in the Holy Spirit, where God can minister to us, energize and renew us for our upcoming week. If we fail to do this, not only are we dishonoring what God has put in place for us out of His ultimate best for us. But we are setting ourselves up for unnecessary stress and possibly potential illness. Certainly our marriages and families are happier and healthier when we take a full day to be with God and with them.
Not in a spirit of legalism, but for the sake of our physical & mental health, for the health of our families and our growing relationship with God, let's commit ourselves to honoring God by faithfully keeping the Sabbath to the best of our ability.
UPDATE YOUR MEMORY
Our memory aid for the Fourth Commandment shows us the image of someone watching television. This is a good reminder for us not to waste a day on frivolous activities.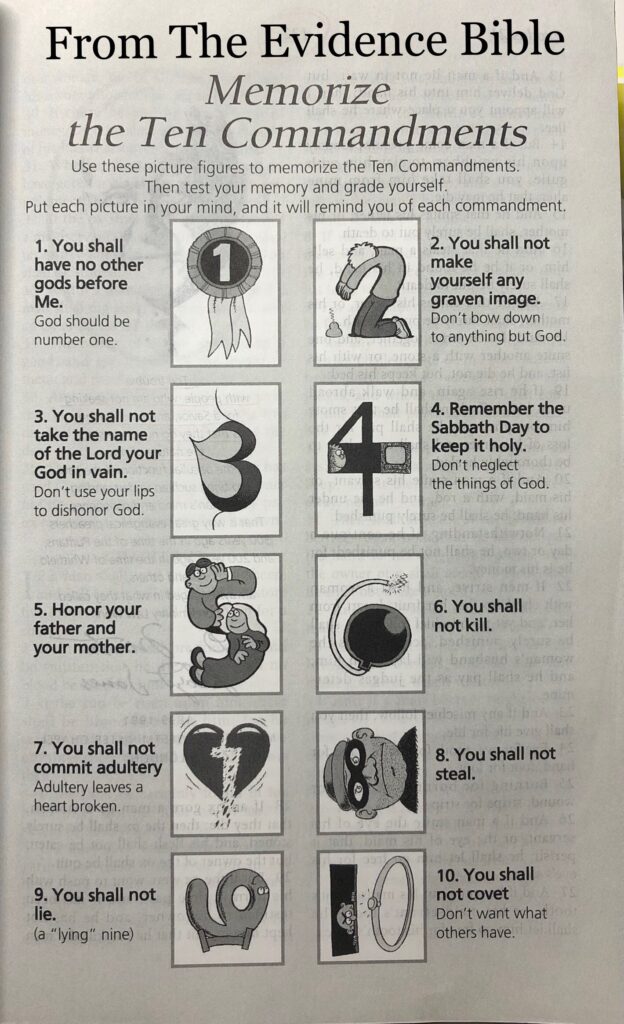 Take a few minutes to watch this short video from PragerU with Dennis Prager teaching on the fourth Commandment.
RESOURCES:
The Evidence Bible
Thompson Chain Reference Bible
New Living Parallel Study Bible*
Spirit-Filled Life Bible
The Rational Bible: Genesis by Dennis Prager
The Rational Bible: Exodus by Dennis Prager
The 10 Commandments: What They Mean, Why They Matter, and Why we Should Obey Them by Kevin DeYoung
Pathway to Freedom: How God's Laws Guide Our Lives by Alistair Begg
The Ten Commandments: Reasonable Rules for Life by Dwight L. Moody
The Evidence Bible: Ten Commandments Memory Aid