REACHING HURTING WOMEN MINISTRIES OFFERS FOUR TOPICS FOR CONTEMPLATION EVERY MONTH OF THE YEAR. EACH TOPIC IS A 12-MONTH STUDY SERIES ASSIGNED TO A SPECIFIC FRIDAY OF EVERY MONTH. IN MONTHS WITH FIVE FRIDAYS I'LL BE REVIEWING VARIOUS INSPIRATIONAL CHRISTIAN MEDIA.
On the second Friday of each month in 2022 we're studying Andrew Wommack's life-changing book: GRACE: The Power of the Gospel. In this study we dig into the New Testament book of Romans — Apostle Paul's masterpiece on the subject of grace. I hope you will get a copy of Andrew's book and join me for this study. Today we highlight Chapter Five.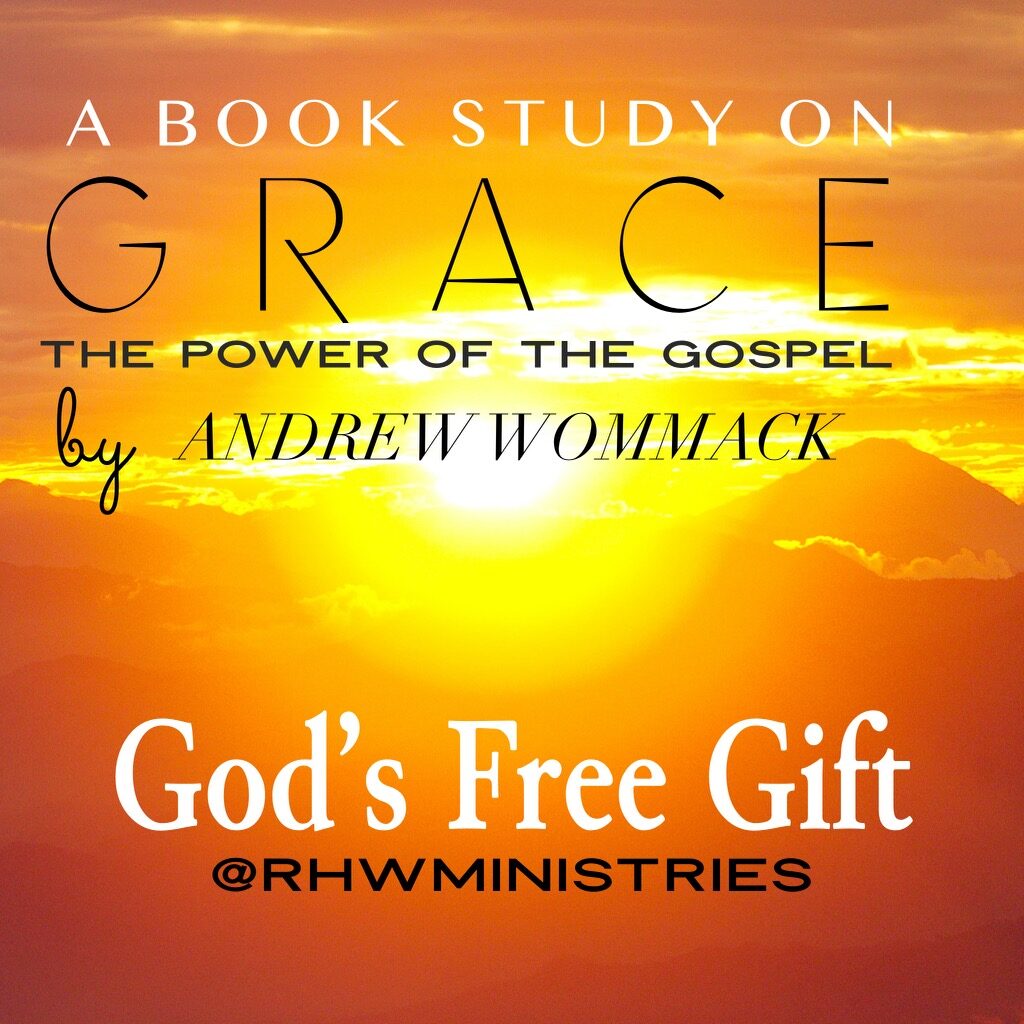 But God showed his great love for us by sending Christ to die for us while we were still sinners. And since we have been made right in God's sight by the blood of Christ, he will certainly save us from God's condemnation. ~ Romans 5:8-9
MAINTAINED BY GRACE
Just as you accepted Christ Jesus as your Lord, you must continue to follow him. ~ Colossians 2:6
We are not only saved by grace but we also continue our relationship with God with that same grace.  Grace not only saves us, it heals us, delivers us from addictions, and prospers us.  All of these are not benefits based on our performance. before God.  Rather all the benefits of salvation come from God's precious grace through Jesus Christ.
"The same way your were born again is the same way you should continue walking with Him." ~ Andrew Wommack
Many Christians receive grace for their salvation, but believe it is up to their performance to maintain their relationship with God. This is allowing the devil to deceive us. We must put our faith in and receive all the benefits of the entire Gospel of Christ!
ACCEPT THE TRUTH
For the sin of this one man, Adam, caused death to rule over many. But even greater is God's wonderful grace and his gift of righteousness, for all who receive it will live in triumph over sin and death through this one man, Jesus Christ. ~ Romans 5:17
The gift of righteousness came through Jesus Christ-not from anything we do. Our right standing with God comes by our faith in what Christ has done for us. The only thing we have to do is believe and accept the grace that comes from that faith. If we can believe that we were born a sinner, we have to believe the other side of that truth–when we are born again we are made right with God.
"As you understand God's grace, His love will abound in your life. Faith will work by love, and everything you need will come through the power of the Gospel. The Gospel is the power of God! ~ Andrew Wommack
Take some time and watch this great teaching from Andrew Wommack that goes perfectly with this chapter. Be blessed!