REACHING HURTING WOMEN MINISTRIES OFFERS FOUR TOPICS FOR CONTEMPLATION EVERY MONTH OF THE YEAR. EACH TOPIC IS A 12-MONTH STUDY SERIES ASSIGNED TO A SPECIFIC FRIDAY OF EVERY MONTH. IN MONTHS WITH FIVE FRIDAYS I'LL BE REVIEWING VARIOUS INSPIRATIONAL MEDIA.
On the first Friday of each month in 2022 we're studying the Ten Commandments; why we need to know, memorize and obey them.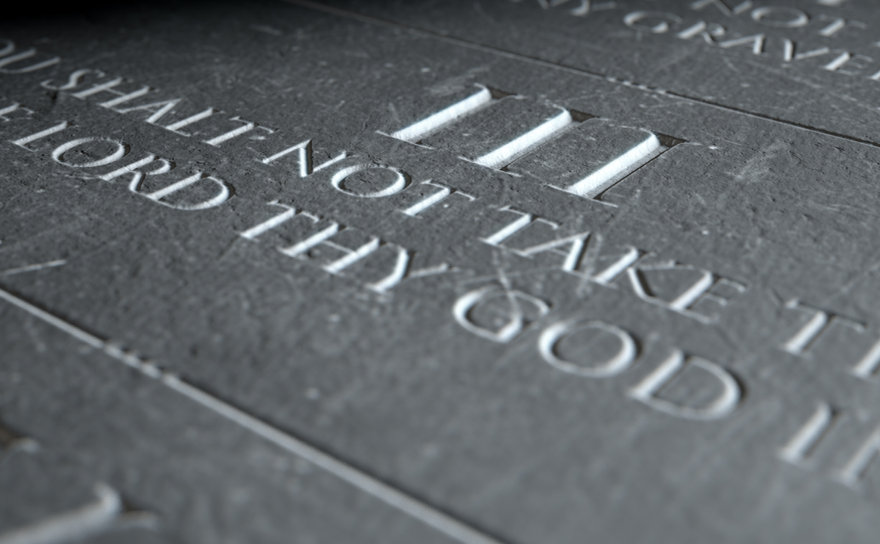 You must not misuse the name of the 

Lord

 your God. The 

Lord

will not let you go unpunished if you misuse his name. ~ Exodus 20:7 NLT
The Third Commandment is focused on how we use God's name. Sadly, in our modern culture, misusing God's name is commonplace certainly by unbelievers but even by some believers.
In the Hebrew tradition a person's name describes their character. When we casually use God's name we are not respecting His nature and Who God is. Whether we're taking an oath that we have no intention of keeping or more importantly doing evil in God's name, we bring shame on God's name.
When we misuse God's name we are representing God as being worthless. Not only are we disrespecting God's name, but we are making other people believe wrong ideas about God. We don't know how the words we use affect those who hear them.
Don't use foul or abusive language. Let everything you say be good and helpful, so that your words will be an encouragement to those who hear them. ~ Ephesians 4:29 NLT
How we use God's name shows what we really believe about Him. If we show respect and honor to His name that shows the state of our faith and heart toward Him. We must remember God's name is connected to Who God is as a person. It is also connected to His presence and power. We cannot separate God's name from Who He is.
The Third Commandment deals with honoring God's name but it also deals with how holy our language is and the use of profanity. Interestingly, the root of the word profanity means "to take out of the temple." So when we use God's name in profanity we are dishonoring God rather than worshiping Him. And with that dishonor comes judgement.
A good person produces good things from the treasury of a good heart, and an evil person produces evil things from the treasury of an evil heart. And I tell you this, you must give an account on judgment day for every idle word you speak. The words you say will either acquit you or condemn you. ~ Matthew 12:35-37 NLT
Let's commit our lips to Honoring God's name with all our words!
UPDATE YOUR MEMORY
Our memory aid for the Third Commandment shows us the image of lips. Reminding us not to misuse God's name with our words.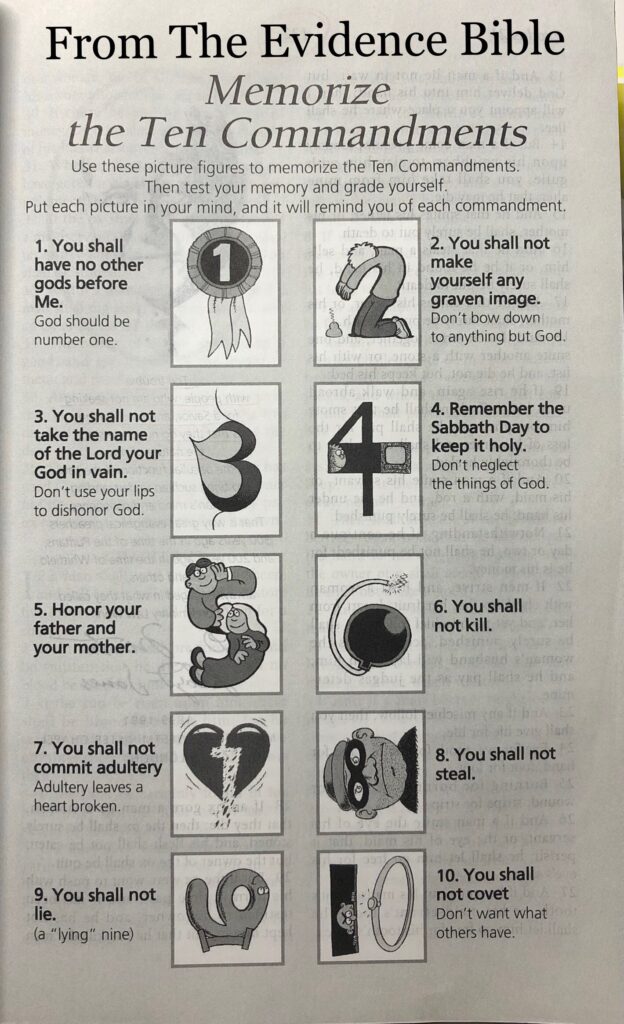 Take a few minutes to watch this short video from PragerU with Dennis Prager teaching on the third Commandment.
RESOURCES:
The Evidence Bible
Thompson Chain Reference Bible
New Living Parallel Study Bible
Spirit-Filled Life Bible
The Rational Bible: Genesis by Dennis Prager
The Rational Bible: Exodus by Dennis Prager
The 10 Commandments: What They Mean, Why They Matter, and Why we Should Obey Them by Kevin DeYoung
Pathway to Freedom: How God's Laws Guide Our Lives by Alistair Begg
The Ten Commandments: Reasonable Rules for Life by Dwight L. Moody
The Evidence Bible: Ten Commandments Memory Aid