AT RHW WE PUBLISH A NEW COLUMN EACH FRIDAY. WE'RE GOING THROUGH FOUR SPECIFIC STUDIES WITH EACH SERIES BEING PUBLISHED ON A DESIGNATED WEEK OF THE MONTH.
In The Spiritual Disciplines series we'll be learning 12 disciplines that will guide us as we grow deeper in our walk with God. These columns will post on the second Friday of each month in 2020.
Spiritual Disciplines are not a list of religious duties. But rather habits that nurture and mature our spiritual growth. They are inward, spiritual attitudes walked out by behaviors and actions. These habits are critical for lasting spiritual growth and true life transformation.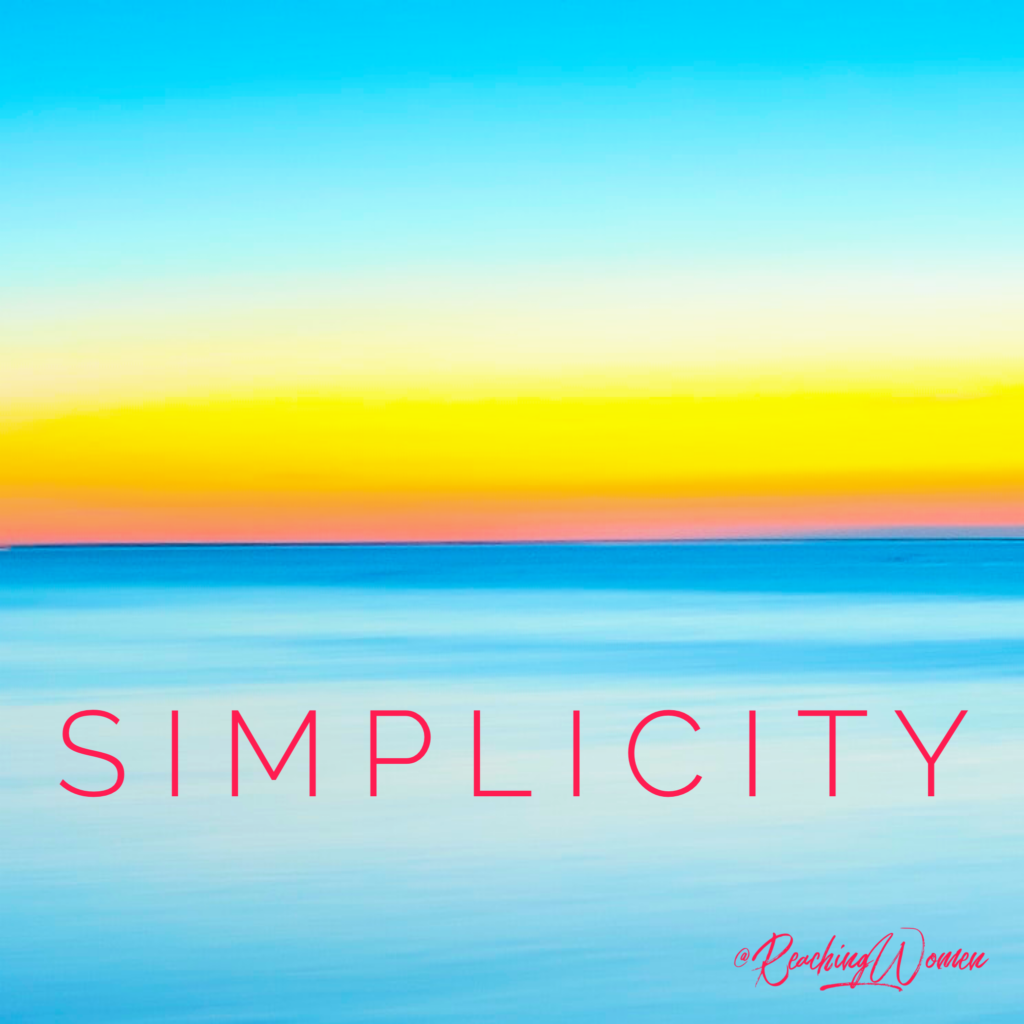 SIMPLICITY: The inward reality of single-hearted focus upon God and His kingdom, which results in an outward lifestyle of modesty, openness, and unpretentiousness and which disciplines our hunger for status, glamour and luxury. ~ The Life With God Bible ~
It requires determined intentionality to live a life of simplicity amid the growing chaos
 of this world. The importance of the spiritual discipline of simplicity isn't just about our mental and physical health. It is intrinsically connected to our ability to hear from God and enter into His Kingdom.
…Jesus called over a child, whom he stood in the middle of the room, and said, "I'm telling you, once and for all, that unless you return to square one and start over like children, you're not even going to get a look at the kingdom, let alone get in. Whoever becomes simple and elemental again, like this child, will rank high in God's kingdom.  ~ Matthew 18: 2-5 (MSG)
When we think about a very young child, one that has yet to be influenced much by society, we can recognize their simplicity of thought and behavior. They exhibit a sense of wonderment and an ability to enjoy even the simplest of things. This is what Jesus is asking us as adults to do.
Let's break it down…
Simplicity of Body: Examine yourself as you are today, accepting your body as it is not as you wish it could be.
Simplicity of Mind: Lean into the uncomfortable quietness of a moment without social media distractions or entertainment. 
Simplicity of Heart: Embrace contentment in anonymity without desiring attention and acknowledgement from others. 
Simplicity of Spirit: Experience the presence of God in nature; walk among the trees, listen to the birds, watch the clouds, smell a flower.
As with all the spiritual disciplines simplicity must begin with an inner heart change, one that is focused on God and His Kingdom. The result will be a sincere, uncomplicated lifestyle that has a deep appreciation for creation, and by refusing to be a slave to anything but God becomes free of the attachments to material possessions.
Blessed are the pure in heart for they shall see God.
~ Matthew 5:8
Following the words of Jesus, let's come with the simplicity of a child's heart and worship God with this beautiful song by Rend Collective.