REACHING HURTING WOMEN MINISTRIES OFFERS FOUR THEMES FOR CONTEMPLATION EVERY MONTH OF THE YEAR.
EACH OF THE FOUR POWER-PACKED THEMES ARE A 12-MONTH STUDY SERIES ASSIGNED TO A SPECIFIC FRIDAY OF EVERY MONTH. IN MONTHS WITH FIVE FRIDAYS I'LL BE REVIEWING TOUCHING INSPIRATIONAL MUSIC.
On the second  Friday of each month in 2021 we're studying the Holy Spirit. We will learn who the Holy Spirit is, about His gifts and fruit given to us as believers and how to walk those out in our life each day. This is the seventh post in The Holy Spirit Study series.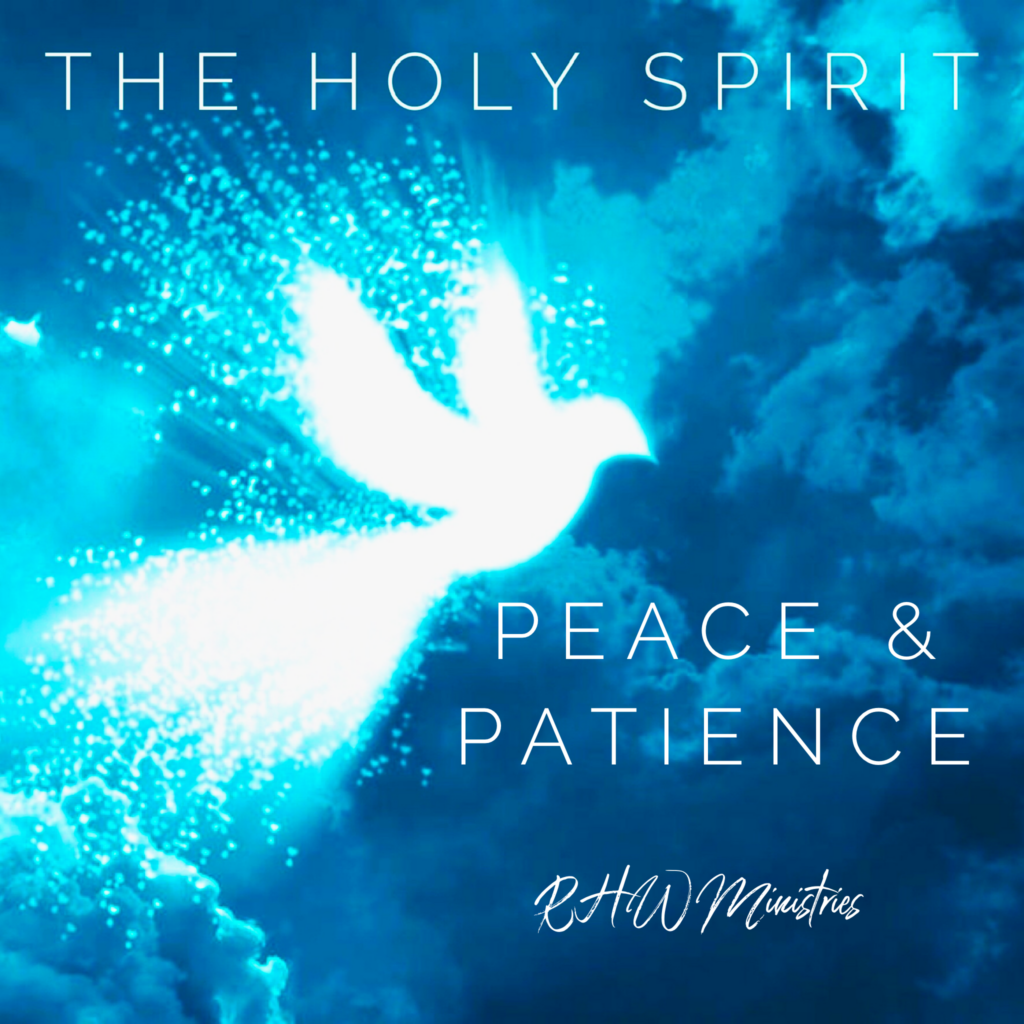 While the gifts of the Holy Spirit are virtues, the fruit are the resulting moral actions that flow from those gifts. With the help of Holy Spirit we are able to daily walk in these fruit and display them to those around us. In today's post we will focus on the fruit of peace and patience.

But the fruit produced by the Holy Spirit within you is divine love in all its varied expressions:

joy that overflows,

peace that subdues,

patience that endures,

kindness in action,

a life full of virtue,

faith that prevails,

gentleness of heart, and

strength of spirit.

Never set the law above these qualities, for they are meant to be limitless. ~ Galatians 5:22-23
God has given us the powerful fruit of the Spirit to help us live a life of victory and to protect us from our enemy, Satan. As born again believers we're all filled with the Holy Spirit and have the ability to walk in His fruit of peace and patience. We also have the ability to squelch the power of the Holy Spirit in our lives with worldly behavior or lack of faith.
THE FRUIT OF PEACE

: a state of quiet of tranquility, calmness and rest; freedom from strife or agitation; denotes perfect well-being, health, welfare, prosperity; harmony in all relationships: spiritual, familial, the world and among nations.
You will keep in perfect peace all who trust in you, all whose thoughts are fixed on you! ~ Isaiah 26:3
True peace isn't the absence of problems but rather the presence of God. It's our job to stay closely connected to God in His Word, in prayer and fellowship so we will remain in the perfect peace that is promised to us.
And let the peace that comes from Christ rule in your hearts. For as members of one body you are called to live in peace. And always be thankful. ~ Colossians 3:15
Jesus, The Prince of Peace, came to bring the world peace with God but also peace with themselves and others. Jesus promised us His gift of peace, not a worldly type of peace. He told His disciples the Father would be sending the Holy Spirit to reveal all truth. Then just before Jesus ascended to heaven He breathed on them and told them to receive the Holy Spirit.
Now may God, the fountain of hope, fill you to overflowing with uncontainable joy and perfect peace as you trust in him. And may the power of the Holy Spirit continually surround your life with his super-abundance until you radiate with hope! ~ Romans 15:13
THE FRUIT OF PATIENCE

:  an attitude of cheerful endurance during tests, hopeful forbearance, long-suffering; the emotional and mental strength to face difficulties with courage; the quality that doesn't surrender to circumstance or under trial.
While all the fruit of the Holy Spirit are available to us when we're born again, they're mostly in a seed form and haven't had time to develop. They need to be nurtured and mature with God's Word and by exercising them in practical application in our daily lives. That's where the real learning and growth begins.
Dear brothers and sisters, when troubles of any kind come your way, consider it an opportunity for great joy. For you know that when your faith is tested, your endurance has a chance to grow. So let it grow, for when your endurance is fully developed, you will be perfect and complete, needing nothing. ~ James 1:2-4
The fruit of patience gives you the strength to overcome temptation… enables you to wait faithfully without giving up. It helps you remain steadfast in faith, believing God for the impossible no matter what. Patience is often the key to our prayers becoming reality and the supernatural manifestation of miracles.
Stand firm with patient endurance and you will find your souls' deliverance. ~ Luke 21:19
These fruit of the Holy Spirit: peace and patience go together in such a perfect way. If we our impatient we're likely not walking in peace. When we're not walking in peace we can easily succumb to impatience.
Let's lean into a closer fellowship with God and His Word. Holy Spirit will lovingly guide us into a deeper dimension and experience of these fruit. As we do, our lives will become a rich walking testimony of God's goodness for others to witness. And we will have the goodness of God fulfilled in our own lives.
Be blessed by this beautiful video by Hillsong Young & Free.