REACHING HURTING WOMEN MINISTRIES OFFERS FOUR TOPICS FOR CONTEMPLATION EVERY MONTH OF THE YEAR. EACH TOPIC IS A 12-MONTH STUDY SERIES ASSIGNED TO A SPECIFIC FRIDAY OF EVERY MONTH. IN MONTHS WITH FIVE FRIDAYS I'LL BE REVIEWING VARIOUS INSPIRATIONAL CHRISTIAN MEDIA.
On the second Friday of each month in 2022 we're studying Andrew Wommack's life-changing book: GRACE: The Power of the Gospel. In this study we dig into the New Testament book of Romans — Apostle Paul's masterpiece on the subject of grace. I hope you will get a copy of Andrew's book and join me for this study. Today we highlight Chapters six and seven.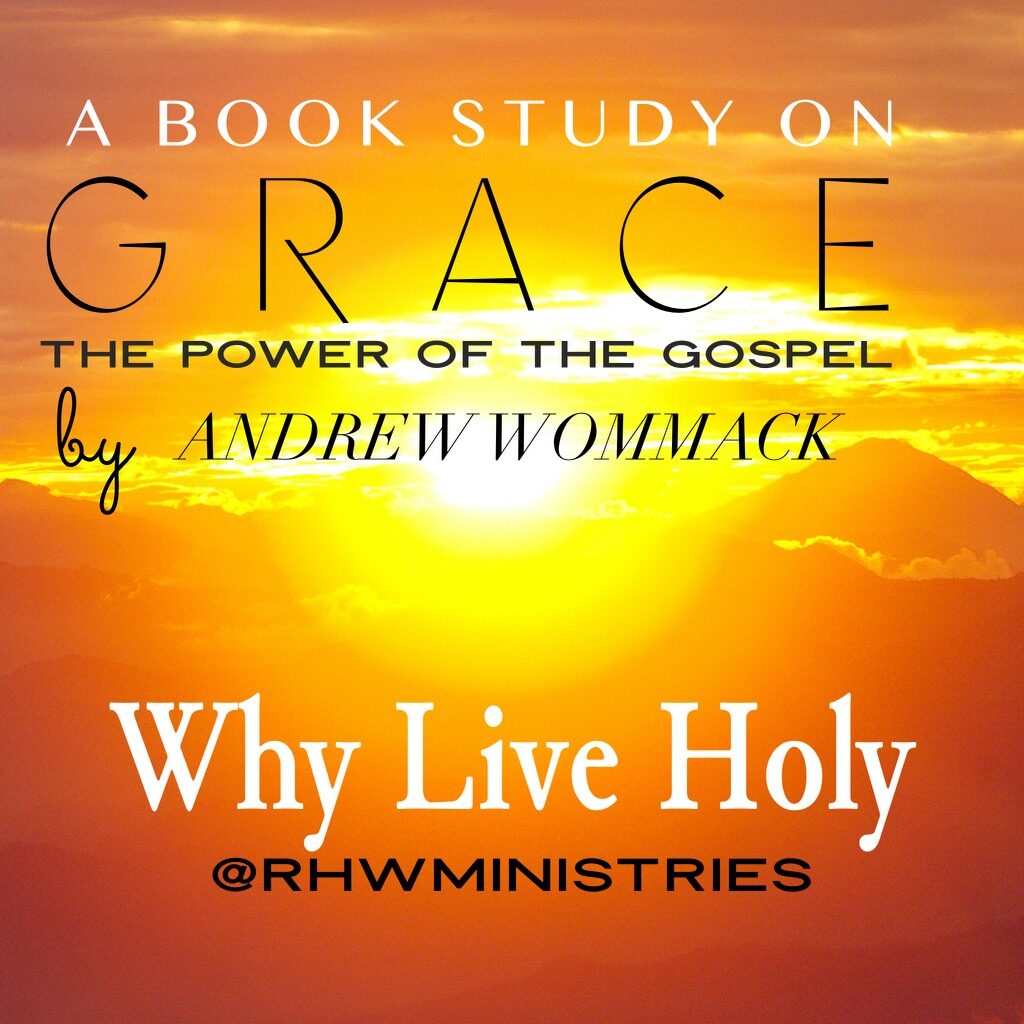 The Gospel is the good new that our right standing with God is not based on our performance but rather on God's grace. The Law was brought about to show us how much we need our Savior Jesus Christ. Salvation isn't just about forgiveness of sins when we are born-again. Salvation also includes other things that were purchased by Jesus on the Cross: our healing, prosperity and deliverance.
Chapter 6: WHY LIVE HOLY
So do you think that we should continue sinning so that God will give us more and more grace? No! We died to our old sinful lives. So how can we continue living with sin?  ~ Romans 6:1-2
As born-again believers we live a holy life because:
After we have Christ in our heart it's our nature to live a holy life.
Living a holy life prevents the devil from having open doors into our life.
Living a holy life is a result of having a right relationship with God.
Living a holy life helps us know the Word more and correct our attitudes.
CHAPTER 7: DEAD TO SIN
Did you forget that all of us became part of Christ when we were baptized? We shared his death in our baptism. So when we were baptized, we were buried with Christ and shared his death. We were buried with him so that we could live a new life, just as Christ was raised from death by the wonderful power of the Father. Christ died, and we have been joined with Christ by dying too. So we will also be joined with him by rising from death as he did. We know that our old life died with Christ on the cross. This was so that our sinful selves would have no power over us, and we would not be slaves to sin. Anyone who has died is made free from sin's control. ~ Romans 6:3-6
Because of what Christ has done for us we can live free from sin.
It's important that we remember the Apostle Paul was talking about our sin nature not individual actions of sin in our daily life.
Through Adam the sin nature entered humanity.
God took the root of our sin nature and dealt with through Christ on the Cross.
Through Christ, we are dead with Him to our sin nature.
Through Christ, we are alive also in His resurrection.
Praise God I have been freed from the domination of a sinful lifestyle because of what Jesus Christ has done for me!
Be blessed with Andrew Wommack's teaching video that focuses on much of what we have covered today.