AT RHW WE PUBLISH A NEW COLUMN EACH FRIDAY. WE'RE GOING THROUGH FOUR SPECIFIC STUDIES WITH EACH SERIES BEING PUBLISHED ON A DESIGNATED FRIDAY OF THE MONTH.
In THE RED SEA RULES series we're using the wonderful book by Robert J. Morgan as our guideline for a deep study of Exodus 14. Join me on the fourth Friday of each month in 2020 as we apply Morgan's "10 God-Given Strategies for Difficult Times" to our lives today.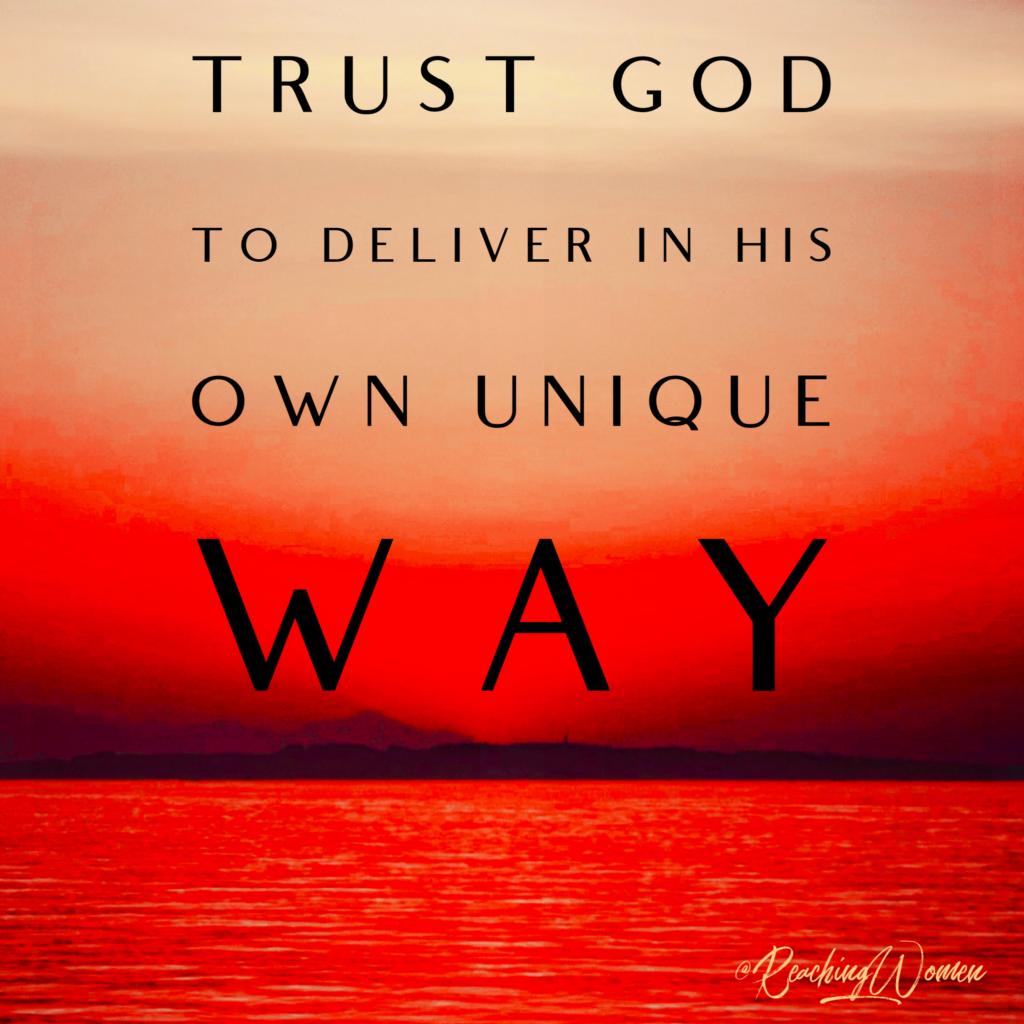 RED SEA RULE 8: Trust God to deliver in His own unique way. 
Moses stretched out his hand over the sea; and the Lord caused the sea to go back by a strong east wind all that night, and made the sea into dry land, and the waters were divided. So the children of Israel went into the midst of the sea on the dry ground, and the waters were a wall to them on their right hand and on their left. ~ Exodus 14:21-22
God's Ways Are Miraculous
God doesn't see things like we do. Just like we need to see all of life from God's perspective, we must try to see our deliverance from His perspective. God treats every trial individually. Each deliverance is as unique as we are. God designs each deliverance to each individual trial or trouble.
The Lord says: "My thoughts and my ways
are not like yours. ~ Isaiah 55:8
God's Ways Are Providential
God's ways have a higher purpose and His ways of providing for us are higher that anything we could understand. God watches over us and His unseen hand guides and arranges our life situations in a far greater way than we could ever hope or imagine.
In the unfolding of His providence, burdens become blessings, tears lead to triumph, and the redemptive grace of God overcomes the undercurrents of life in the experiences of His children. ~ Robert J Morgan
God's Ways Are Mysterious
There will be times we don't understand why things are happening the way they are. Whether God delivers us in a miraculous way or not, every intervention He makes in our lives will make us better to serve in His kingdom now or for eternity. Although God's ways are mysterious one day we will understand. Today we need to trust His plan for us and know it's going to be for our good and for His glory!
The Lord will deliver me from every evil work and preserve me for His heavenly kingdom. To Him be glory forever. ~ 2 Timothy 4:18
Take a few moments and read a portion of the lyrics from the classic hymn below. Contemplate the mysterious and miraculous way God is working out your unique, providential deliverance today…
" Take courage now you fearful saints
The clouds you so much dread
Are big with mercy and shall break
In blessings on your head " ~ William Cowper