AT RHW WE PUBLISH A NEW COLUMN EACH FRIDAY. WE'RE GOING THROUGH FOUR SPECIFIC STUDIES WITH EACH SERIES BEING PUBLISHED ON A DESIGNATED WEEK OF THE MONTH.
In The Lord's Prayer Jesus is teaching his disciples how to pray, giving them not just a prayer to recite, but also a model prayer for us all. This series will be published the first Friday of each month in 2020. We will be studying this beloved prayer phrase by phrase and bringing fresh application to our lives today.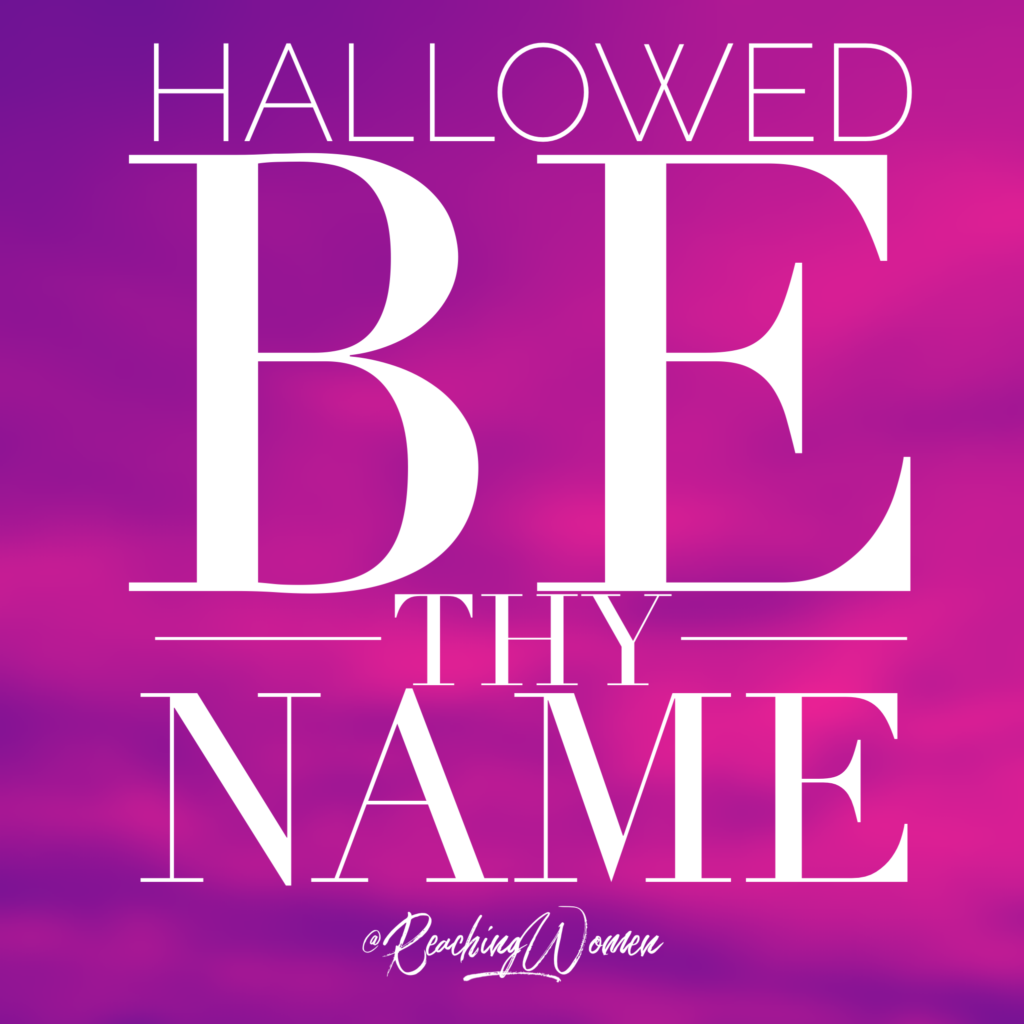 Our Father which art in heaven, Hallowed be thy name. Thy kingdom come. Thy will be done in earth, as it is in heaven. Give us this day our daily bread. And forgive us our debts as we forgive our debtors. And lead us not into temptation, but deliver us from evil: For thine is the kingdom, and the power, and the glory, for ever.  Amen. ~ Matthew 6: 9-13
"HALLOWED BE THY NAME"
hallowed: consecrated to a sacred use; reverenced
holy: perfectly pure and immaculate
In the Webster's 1828 Dictionary definitions above you can see the word "hallowed" in our phrase for this week speaks to the holiness of the Father's name.  Jesus is teaching us that at the very beginning of our prayer we need to remember who we are addressing. We aren't talking to just anyone.
Honoring God's Name.
You shall not misuse the name of the Lord your God. ~ Exodus 20:7
The use of God's name is so important it made God's top ten list: The Ten Commandments. God's name isn't to be used lightly or thrown about casually. God's name is to be set apart from all others, respected and reverenced.
Walking Examples of God's Name.
As Christians our lives are to be set apart from the rest of the world. Because we are Christians, people expect us to live differently, especially if they knew us before we became Christians. We now have Jesus' name linked with ours. Life isn't just about us anymore.
Be holy as God is holy. ~ 1 Peter 1:16
In the Scripture above Peter challenges us with a humanly impossible task: to be holy as God is holy. Our behaviors may not always match up. But by accepting Christ as our savior, through Jesus we can be holy because he is holy.
Called To Holy Living.
 As God's obedient children, never again shape your lives by the desires that you followed when you didn't know better. Instead, shape your lives to become like the Holy One who called you. ~ 1 Peter 1:14-15
We must honor and respect, the holiness of God's name by the way we live. Somedays it's hard especially if we're trying to do it in our own strength. But because the Holy Spirit lives in us He can guide us and our desires,
As we live in reverential fear of the Lord, surrender our lives daily, read His Word regularly for direction, our lives become a walking testimony that blesses the Lord's Hallowed Name and brings Him glory and honor.
Take a few minutes to worship God with Matt Redman's beautiful video.