REACHING HURTING WOMEN MINISTRIES OFFERS FOUR TOPICS FOR CONTEMPLATION EVERY MONTH. EACH TOPIC IS A 12-MONTH STUDY ASSIGNED TO A SPECIFIC FRIDAY OF THE MONTH. IN MONTHS WITH FIVE FRIDAYS WE REVIEW INSPIRATIONAL CHRISTIAN MEDIA.
On the third Friday of each month in 2022 we're focusing our life recovery work on The Twelve Laws of Life Recovery: God's Wisdom and Guidance for Your Journey with Stephen Arterburn and David Stoop. This powerful study will take our life recovery to a level of freedom most of us haven't yet experienced.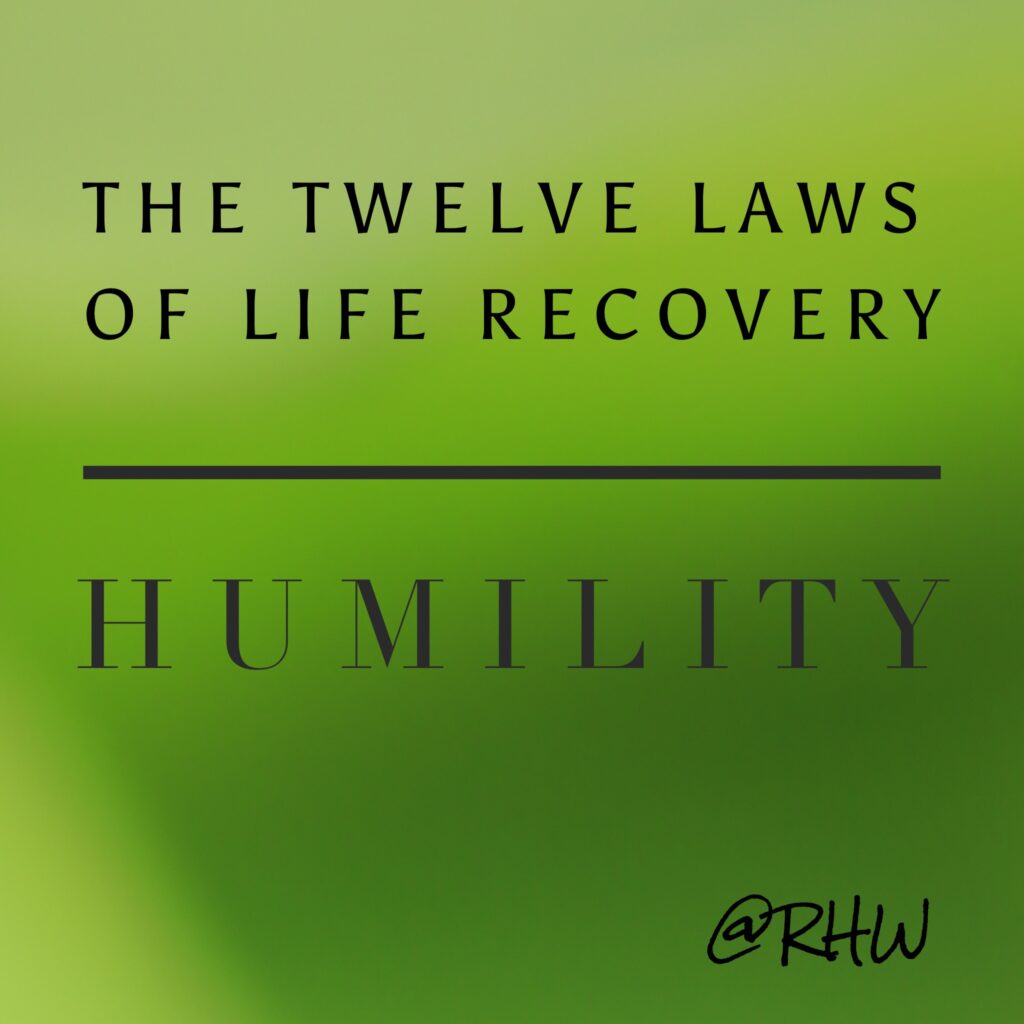 THE TWELVE LAWS OF LIFE RECOVERY 
Each month we'll look at a requirement that guides us to a specific result which will fill our lives with love, gratitude and serenity. Each of the Twelve Laws of Life Recovery are aligned with one of the Twelve Steps of Life Recovery. As you go through the study you will see how they work together.
THE LAW OF HUMILITY
REQUIREMENT: humility
RESULT: honor
The fear of the Lord teaches wisdom; humility precedes honor. ~ Proverbs 15:33

We came to believe that a Power greater than ourselves could restore us to sanity. ~ Step Two

"God asks us to give up on our self-engineered crashes, admit that only He can restore us to sanity, and lay ourselves at His feet." ~ The Twelve Laws of Life Recovery
Powerlessness Leads to Humility
Having worked through Step One and its requirement of powerlessness, we're in a better place to humble ourselves before God than when we were at the peek of our self-sufficiency and pride. To move forward in true humility requires us to look within and search for the root of our selfish motives.
When our self-delusions crumble we will see that God is the source of all things good in our lives. As we grow in the Lord and humility we begin to embrace our own successes. We're able to look past our own pain and begin to recognize others around us.
Humble yourselves before the Lord, and He will lift you up. ~ James 4:10

"Choosing humility and recognizing our powerlessness are what it takes to stop all of our anti-recovery acts of futility. When we are able to truly humble ourselves before God, life starts to work again." ~ The Twelve Laws of Life Recovery

Graced With Honor
In obeying the Life Recovery Step Two law of humility we are graced by God with the result of being honored in some way. It may not look like what we might expect. But God always honors those who humbly obey Him.
Honored With Freedom
As we walk in humility with God, He gives us the courage, strength and wisdom we need to grow through each step of our journey. By the grace of God our worst is turned into His best. We're able to honor in Him, live a life of freedom God intends for us and bring glory to His name.
Contemplate walking in humility with the Lord as you watch this beautiful music video. Be blessed.