AT RHW WE PUBLISH A NEW COLUMN EACH FRIDAY. WE'RE GOING THROUGH FOUR SPECIFIC STUDIES WITH EACH SERIES BEING PUBLISHED ON A DESIGNATED WEEK OF THE MONTH.
In THE NEW LIFE series we're studying one of my favorite chapters in the Bible: Colossians 3:1-17. As you will see in the coming months, this is a rich chapter full of valuable life transforming lessons. Join me on the third Friday of each month in 2020 for this in-depth Bible study with real world application.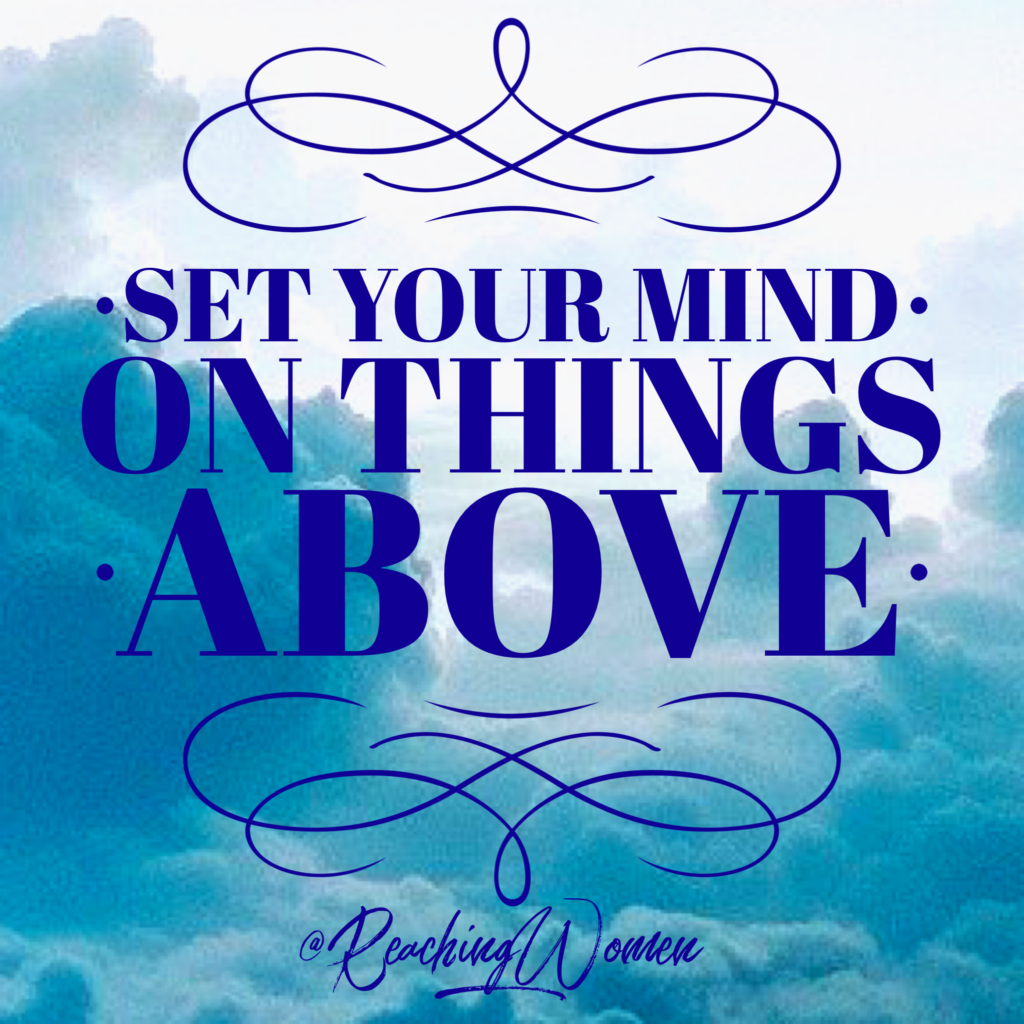 Set your minds on things above, not on earthly things.~ Colossians 1:2
Living a heaven-focused life isn't easy. Worldly distractions abound… freeway billboards, pop-up ads on our Internet browser, club music in the grocery store and that doesn't count television, radio and magazines. It's estimated that we're hit with up to 10, 000 influences almost every day.
How on earth can we keep our minds set on heaven?
MADE IN GOD'S IMAGE
Because human beings are made in God's image we have the ability to think like God thinks. Scripture teaches us to think higher thoughts like God does. If God tells us to do something it's possible to do it. When we ask God for help, make every effort to be obedient He will give us good success.
Whatever is true, whatever is honorable, whatever is just, whatever is pure, whatever is lovely, whatever is commendable, if there is any excellence, if there is anything worthy of praise, think about these things. ~ Philippians 4:8
DEVELOP A SPIRITUALLY DISCIPLINED LIFE
There is incredible value in learning and applying spiritual disciplines such as: prayer, study, service, confession and worship.  On the 2nd Friday of 2020 at RHW we are doing a Spiritual Disciplines study. One of my favorite Bibles: The Life With God Bible is developed around the spiritual disciplines. It's an excellent resource and great place to begin your study to grow more disciplined.
You're only truly happy when you walk in total integrity,
walking in the light of God's word. What joy overwhelms everyone who keeps the ways of God, those who seek him as their heart's passion! They'll never do what's wrong but will always choose the paths of the Lord. God has prescribed the right way to live: obeying his laws with all our hearts. ~ Psalm 119:1-4 (TPT)
REJECT WHAT ISN'T FROM GOD
It's easy to be influenced by worldly things. I'm very strict with what I allow to grab my attention. Whether it's the tv in the lunch room at work or the radio playing at a co-worker's desk; I have to be intentional to not let ungodly influences creep in.
Stop imitating the ideals and opinions of the culture around you, but be inwardly transformed by the Holy Spirit through a total reformation of how you think. This will empower you to discern God's will as you live a beautiful life, satisfying and perfect in his eyes. ~ Romans 12:2
SEEK HEALTHY FELLOWSHIPS
There's no question we become like the people we hang out with. It's critical that we choose our friends carefully. Jesus may have eaten dinner with sinners but they weren't his closest companions. Having godly friendship is a form of accountability helps protect us from falling back into sinful patterns.
If we are living in the light of God's presence, just as Christ does, then we have wonderful fellowship and joy with each other, and the blood of Jesus his Son cleanses us from every sin. ~ 1 John 1:7
As we fellowship with other believers, practice the spiritual disciplines and keep godly influences around us it will be easier to be Kingdom minded individuals–keeping our minds set on things above.