REACHING HURTING WOMEN MINISTRIES OFFERS FOUR TOPICS FOR CONTEMPLATION EVERY MONTH. EACH TOPIC IS A 12-MONTH STUDY ASSIGNED TO A SPECIFIC FRIDAY OF THE MONTH. IN MONTHS WITH FIVE FRIDAYS WE REVIEW INSPIRATIONAL CHRISTIAN MEDIA.
On the third Friday of each month in 2022 we're focusing our life recovery work on The Twelve Laws of Life Recovery: God's Wisdom and Guidance for Your Journey with Stephen Arterburn and David Stoop. This powerful study will take our life of recovery to a level of freedom most of us haven't yet experienced.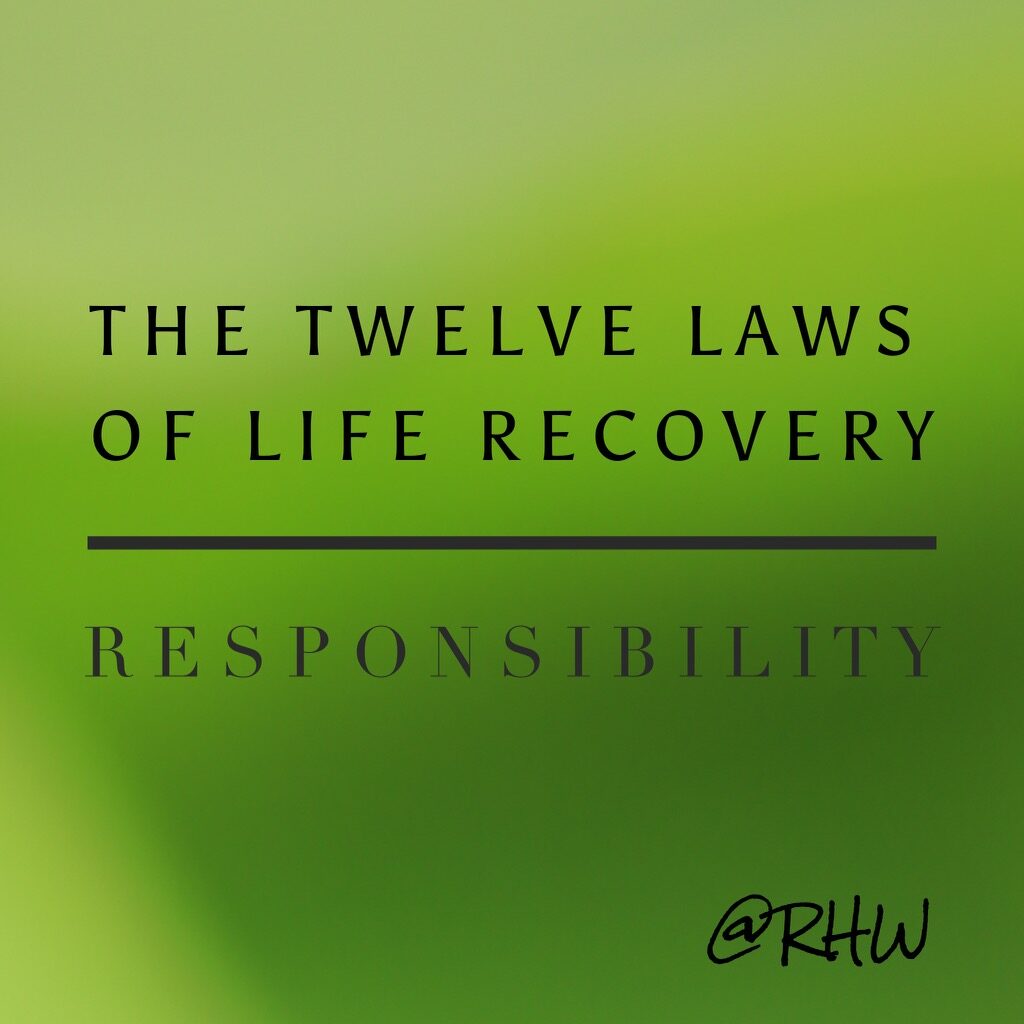 THE TWELVE LAWS OF LIFE RECOVERY 
Each month we're looking at a requirement that guides us to a specific result which will ultimately fill our lives with love, gratitude and the serenity we desire.
THE LAW OF RESPONSIBILITY
REQUIREMENT: RESPONSIBILITY
RESULT: SECURITY
God said to Abraham, "Your responsibility is to obey the terms of the covenant. You and all your descendants have this continual responsibility." ~ Genesis 17:9

Responsibility means living up to our part of life, not blaming others or expecting someone else to make up for what we lack. When we do our part by living responsibly in our everyday lives, we experience a genuine sense of security.~ The Twelve Laws of Life Recovery
Life can be complicated and difficult. But more often than not, our choices have made it that way. We must make the tough decisions to deliberately and intentionally take responsibility to manage our own lives with God's help to the best of our ability.
Ask for forgiveness and make restitution to others where we can. Respond in an understanding and compassionate grace filled way to people and situations out of our control.
One of the best ways to forgive those who have harmed us is to see them as people who have been harmed themselves. When we look at others through God's eyes, it's easier to forgive. Remembering that just because we have forgiving someone doesn't mean we have to continue in relationship with them.
Most importantly, responsibility means taking ownership of what we own: our emotions, our spiritual growth, the gifts we have been given by God and the hurts we have caused others. When we begin doing this we are living responsibly.
Enjoy this clip from Stephen Arterburn that is related to this topic. Blessings!