REACHING HURTING WOMEN MINISTRIES OFFERS FOUR THEMES FOR CONTEMPLATION EVERY MONTH OF THE YEAR. EACH OF THE FOUR POWER-PACKED THEMES ARE A 12-MONTH STUDY SERIES ASSIGNED TO A SPECIFIC FRIDAY OF EVERY MONTH. IN MONTHS WITH FIVE FRIDAYS I REVIEW TOUCHING INSPIRATIONAL MEDIA.
TODAY WE'RE LOOKING AT A WONDERFUL NEW FILM.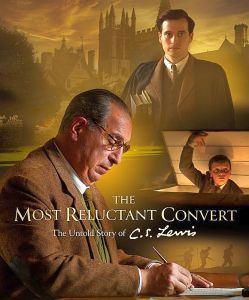 THE MOST RELUCTANT CONVERT: The Untold Story of C.S. Lewis
In this poignant autobiographical docudrama, Max McLean beautifully portrays C.S.Lewis narrating highlights of his distinguished life. The Most Reluctant Convert excellently relives the childhood, scholarly education and thought-provoking spiritual birth of one of the 20th Century's well-known Christian apologists.
The Most Reluctant Convert begins in an unusual fashion with a behind-the-scenes look at the making of the movie. At first I was taken back by this being at the beginning. But after the film ended it made perfect sense.
In a one-on-one conversation with the audience, C.S. Lewis goes down memory lane sharing his remarkable life story. He recounts many life-changing events along with their captivating backstories.
The production of The Most Reluctant Convert stands out with its exquisite cinematography and spectacular period settings. Brilliantly filmed where C. S. Lewis grew up, lived, taught and worshipped makes you feel like you've stepped back in time with this incredible author/teacher/writer.
Those familiar with C. S. Lewis' writings will no doubt recognize lines taken from his many books. After watching The Most Reluctant Convert I'm greatly inspired to read more of his work.  I highly recommend The Most Reluctant Convert: The Untold Story of C.S. Lewis!
Enjoy this sneak peek below.