REACHING HURTING WOMEN MINISTRIES OFFERS FOUR TOPICS FOR CONTEMPLATION EVERY MONTH OF THE YEAR. EACH TOPIC IS A 12-MONTH STUDY SERIES ASSIGNED TO A SPECIFIC FRIDAY OF EVERY MONTH. IN MONTHS WITH FIVE FRIDAYS I'LL BE REVIEWING VARIOUS INSPIRATIONAL MEDIA.
On the first Friday of each month in 2022 we're studying the Ten Commandments; why we need to know, memorize and obey them.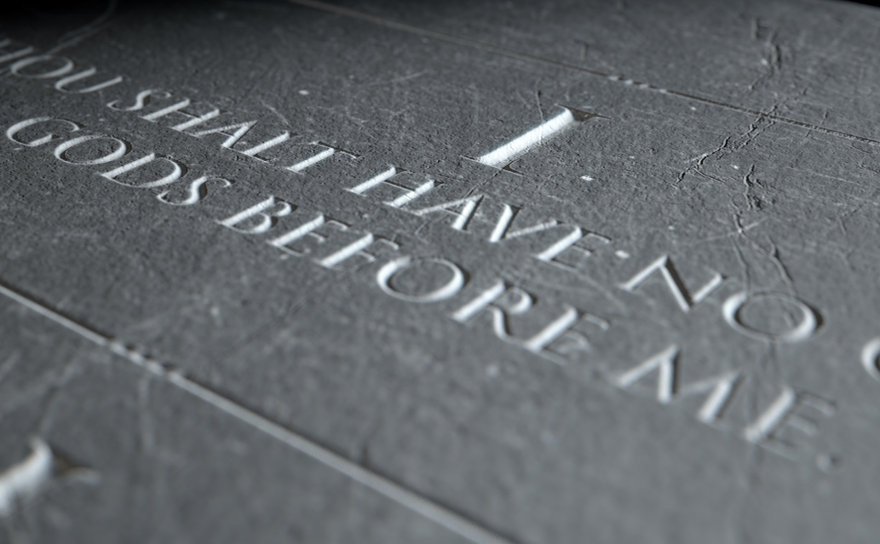 Then God spoke all these words saying: "

I am the Lord your God, Who has brought you out of the land of Egypt and out of the house of bondage.

You shall have no other gods before or besides Me."

~ Exodus 20:1-3
THE PREAMBLE
"I am the Lord your God, Who has brought you out of the land of Egypt and out of the house of bondage." ~ Exodus 20:2
The verse above is what Jewish teaching calls the first of ten statements. Whereas, Christian teaching considers it a preamble or introduction to the Ten Commandments. For the sake of our study, and to coincide with PragerU's related video teaching which is attached at the bottom of this post, I've put the preamble and the first commandment together. In the preamble, God is introducing Himself to the children of Israel in terms which were very relevant to them. It's also important to recognize that God introduced Himself to the people as their savior. He isn't just some arbitrary god. He heard their cries for help. He cared for them personally and wanted them freed from the bondage of slavery.
THE TEN COMMANDMENTS TWO SEGMENTS
 Commandments 1 – 4 relate to the relationship between us and God in heaven. They primarily deal with doctrine and teach us our responsibility to God; how to love and honor God.
Commandments 6 – 10 relate to relationships we have with people on earth. These deal with ethics; teaching us our responsibility to other people; how to respect and love them.
If you were going to draw the two segments as an image: a vertical line would represent commandments 1 – 4.  And a horizontal line would represent commandments 6 – 10.
Together they form a cross. This brings to mind Jesus' words:
"Don't misunderstand why I have come. I did not come to abolish the law of Moses or the writings of the prophets. No, I came to accomplish their purpose." (Matt 5:17)
In other words, when Jesus came He completed the true purpose and meaning of what the Law was all about. Later Jesus goes on to say:
" 'Love the Lord your God with all your heart, soul and mind.' This is the first and most important command. And the second command is like the first: 'Love your neighbor as you love yourself.' All the law and the writings of the prophets depend on these two commands." (Matt 22:37-40) 
THE SUM OF ALL TEN COMMANDMENTS
By following the first four commandments we are loving the Lord our God with all our heart, soul and mind: The vertical line on the cross.
By following the sixth through the tenth commandments we are loving our neighbor as we love ourself: The horizontal line of the cross.
THE COVENANT
God is following the ancient form of making covenants or treaties; which the people at that time would have been familiar with. He is revealing His deity, power and care for the people by making a personal covenant with them. Every covenant prior to this was made between God and individuals: Adam, Noah and Abraham. In this covenant God is inviting the children of Israel into a formal relationship with Him. But this relationship has specific stipulations.
THE LAW
"You shall have no other gods before or besides Me." ~ Exodus 20:3
When we liken our relationship with God to that of a married couple, it's easier to grasp the concept of God being jealous. A husband or wife, in a healthy marriage, doesn't want to share their spouse with another person. In the same way, God doesn't want us to divide our affections which should only be directed to Him, not other gods.
In this first commandment, God is putting first things first; telling us that we must keep Him first above all. God may have enemies in this world. But He refuses to have rivals to Him in our lives. Because the Israelites had been living among the idol worshiping Egyptians for hundreds of years, they had grown indifferent in their relationship with the one true God. So it stands to reason that's why God started His covenant with the children of Israel with this preamble and commandment.
THE LAW, GRACE AND FREEDOM
But if you look carefully into the perfect law that sets you free, and if you do what it says and don't forget what you heard, then God will bless you for doing it. ~ James 1:25
It seems conflicting to say that the law sets us free. But by looking at ourselves through the reflecting mirror of the law and God's Word we can recognize our sins that keep us from having a right relationship with God. While God's Word brings us salvation and new life, it also requires that we be obedient to what it says. Because of the grace available to us through Jesus Christ we are now free from the control that sin once had on our lives.
We can obey God's laws through the gift of grace and enjoy true freedom!
UPDATE YOUR MEMORY
Sadly, too many of us today have no idea what the Ten Commandments are, much less follow them seriously, or teach them to the children. As this study progresses, I encourage you to begin putting the Ten Commandments to memory. I have supplied you with a wonderful tool to help you. Please check out The Evidence Bible Memory Aid attached under the resource list below. It's a very easy and effective way to memorize the Ten Commandments.
The memory aid for the first commandment below shows us the image of a first place ribbon, reminding us that God should be number one in our life!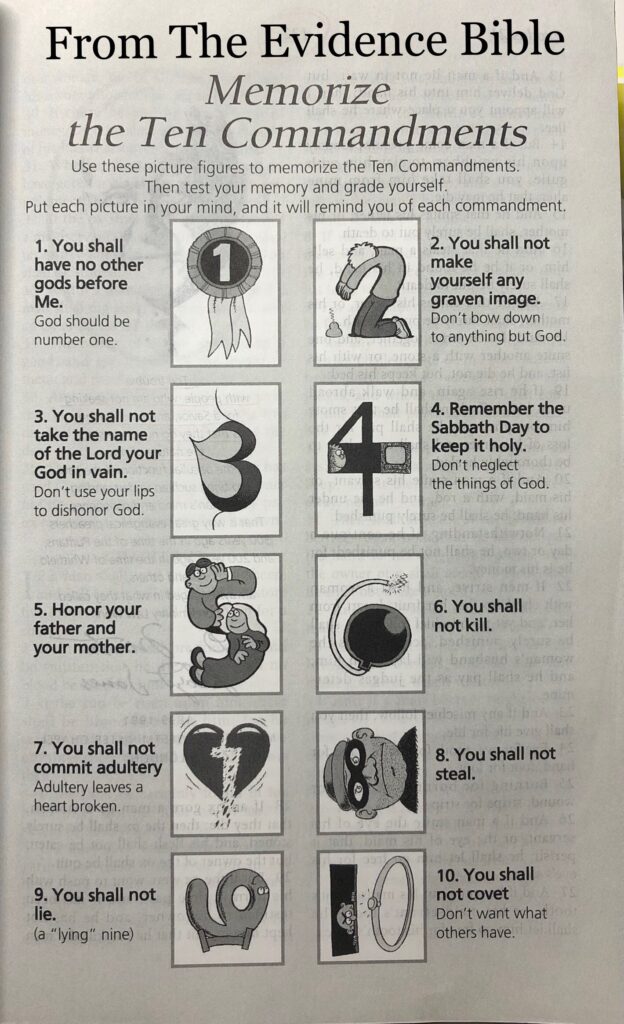 Video Disclaimer: As mentioned in The Preamble section above, the Jewish teaching is a little different than what most Christians have been taught regarding the first and second commandments. This is reflected in the first and second PragerU videos I include in each commandment teaching.
However, the entire video series, like all things on PragerU, is excellent. I will be attaching one of PragerU's Ten Commandment videos to each of our Ten Commandment lessons which post on the first Friday of each month in 2022. Enjoy!
RESOURCES:
The Evidence Bible
Thompson Chain Reference Bible
New Living Parallel Study Bible
Spirit-Filled Life Bible
The Rational Bible: Genesis by Dennis Prager
The Rational Bible: Exodus by Dennis Prager
The 10 Commandments: What They Mean, Why They Matter, and Why we Should Obey Them by Kevin DeYoung
Pathway to Freedom: How God's Laws Guide Our Lives by Alistair Begg
The Ten Commandments: Reasonable Rules for Life by Dwight L. Moody
The Evidence Bible: Ten Commandments Memory Aid