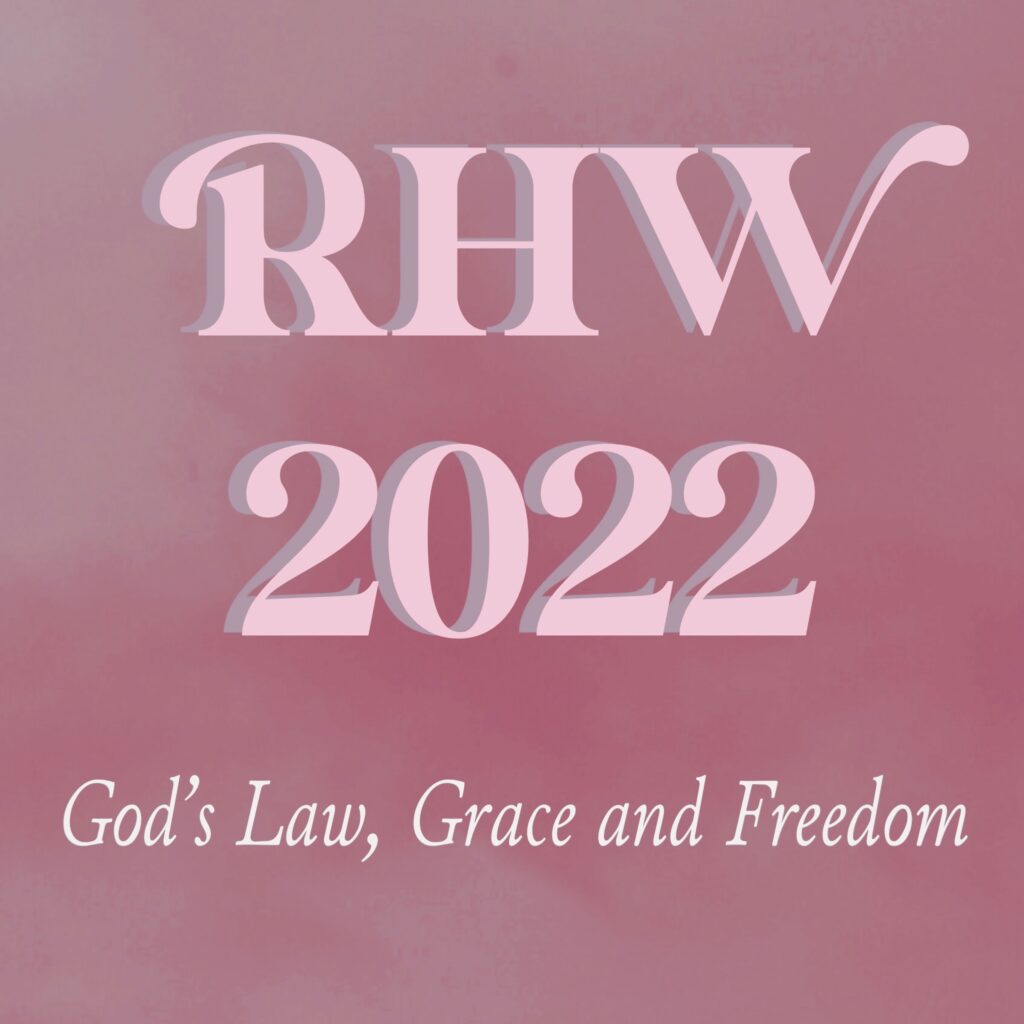 Welcome to RHW 2022!
I'm super excited and motivated about the 2022 theme and topics of study! I believe the focus God has put on my heart for the upcoming year is very timely and will benefit many of us.
The Reaching Hurting Women Ministry continues to offer four themes for contemplation each month. The yearly themes and weekly topics focus on what God is teaching me in my personal walk with Him as well as my current life recovery work and journey. It's my hope and prayer along the way that my columns will help other women who may be struggling in their journey as well.
A few months ago, I was contemplating the lawlessness abounding in our world when God pricked my heart with a reminder of the 10 Commandments. I thought about how Jesus fulfilled that law and the grace we as believers enjoy and the freedom it brings to us in our everyday lives. Then this sentence came to me:
Without God's law and grace there is no opportunity for recovery from any addiction and therefore no true freedom!
Immediately I knew what I needed to focus on for the upcoming year.
Here is a preview of the RHW 2022 theme and what to expect each month:
GOD'S LAW, GRACE AND FREEDOM
1st Friday of Each Month: The Ten Commandments Study
In The Ten Commandments Study we are going to take a deep dive into the study of God's law as given to Moses in the book of Exodus. We will learn why The Ten Commandments are as important today as they were when God gave them thousands of years ago. We will discuss why we should not only study them, but know and follow them to make a better, safer and happier society.
2nd Friday of Each Month: BOOK STUDY: Grace: The Power of the Gospel by Andrew Wommack
In our book study this year, we are going through, what I believe will be, a life changing study for myself and those who join. Andrew Wommack is a powerful and anointed teacher of God's Word and his book Grace: The Power of the Gospel looks to be amazing. It is a deep study of the first eight chapters of the New Testament book of Romans which was written by the Apostle Paul. This is going to be really good!
3rd Friday of Each Month: The Twelve Laws of Life Recovery with Stephen Arterburn
For my addiction recovery work in 2022, I'm going through The Twelve Laws of Life Recovery by Stephen Arterburn and David Stoop. I've been using the Life Recovery Bible and their excellent spin-off books since 2005. In this study we will learn how each of the laws of recovery has a requirement and produces a reliable outcome. I hope you will join me in this study. I believe this book is going to be a game changer for my recovery journey.
4th Friday of Each Month: God's Law, Grace and Our Freedom
Just like there are laws of physics that govern the universe and the planet, and laws of nature that govern the plant and animal kingdoms, there are biblical laws given by God that govern the human race. In this study we are going to look at the history of humanity from the Bible and see how God's laws, man's acceptance or rebellion of those laws impacted life. We will see how God's law and the grace that has come to us through Christ are connected. And how God's law and grace brings us the true freedom we are all looking for. It's going to be powerful.
5th Friday Months:  Reviews
Over the years in months with five Fridays I've reviewed many books.  Two years ago I began reviewing inspirational Christian music. And last year I found some great movies to add to my review mix.  I'm excited to see what God will put in my path this year that I can share with you in my Review column.
I'm super excited and honestly more motivated for this upcoming year that I have been in a long time. I believe God is going to do some amazing things not only in my own life, but in the lives of the women who join me on this journey. I'm looking forward to a wonderful year in the Lord together. Join me and bring along a friend!
Contemplate the freedom offered by Christ with this Hillsong Worship video below. I pray God's many blessings upon you and your family for this coming year and always… Tamara